Over the River and Through the Woods
05 Nov 2020
Mountain holidays at Primland

By Katie McElveen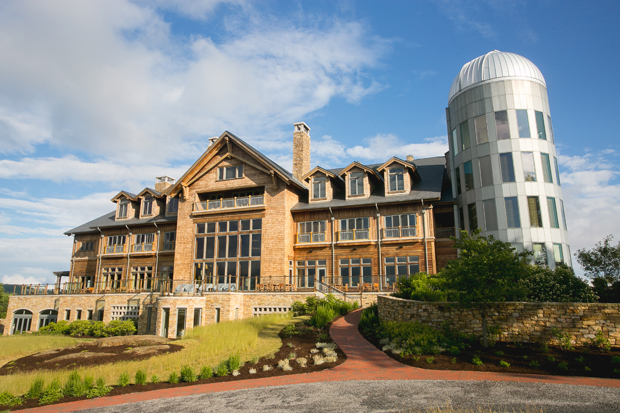 Most of the mountain resorts I've visited share a common trait: a narrow, miles-long driveway that weaves through woods, around switchbacks and over hills as it makes its way from the main road to the resort. So, as I passed through the gate at Primland Resort, in the Meadows of Dan, Virginia, I rechecked my seatbelt, gently hit the gas and prepared myself.

I needn't have worried. Instead of a rutted gravel pathway, Primland's drive is a smooth ribbon of asphalt that, as it gently corkscrews its way to 3,000 feet, offers up brief moments to glimpse widening views of the Blue Ridge Mountains. It's not only gorgeous, but eminently drivable, even during the winter.

Less than an hour later, having traded my station wagon for an open-air Utility Terrain Vehicle (UTV) and asphalt for rutted, hard-packed earth, I was taking in the scene from a very different perspective, splashing through creeks and zooming down hillsides with BJ Ayers, a former policeman who now spends his days leading guests through Primland's 12,000 acres of barely tamed wilderness. "I've never been anywhere prettier," he said, as we pulled to a stop atop a breezy bluff to take in a spectacular sea of blue-tinged hills. "On the mountain and below are like two different worlds."

He was right. Set in a meadow atop the mountain aerie, Primland's lodge is surrounded by the stunning Donald Steel-designed Highland Course. Hiking paths, some quite challenging, loop around the course and into a forest thick with deciduous oak, hickory, maple, poplar, locust, pine, beech, and black gum trees. My only company on the trail was a small herd of friendly deer who barely moved as I huffed my way up the hill; for an even better workout, there's the new Bootlegger Fitness Trail, which combines hiking with eight workout stations. Further down the slope is the set of rugged routes I had traversed via UTV, which intersect with trails and byways used by mountain bikers and equestrians.

Tucked into a clearing at the base of the mountain stands a sporting clay area that comprises a mile-long, 14-station course, two European-style parkour ranges and space for clay competitions between pairs and groups of shooters. Harkening back to its roots as a private hunting lodge, Primland continues to offer guests the opportunity to participate in guided hunts for deer, pheasant, quail, turkey and chukar partridge; during the warmer months, there's fishing from ponds stocked with trout, bass and catfish and along two stretches of the Dan River, which is rife with wild brown, rainbow and brook trout. In the evenings, stargazing events at the resort's observatory offer a fascinating glimpse into the celestial world, which, at the end of 2020 will include a pair of meteor showers and a chance to see Jupiter and Saturn passing closer to each other than they have since 1623.

After my outdoor adventures, I traded nature for nurture with a massage at Primland's pampering subterranean spa. Spa designer, Garance Primat, whose family owns the resort, gleaned inspiration for the spa from Native Americans and local historians, who shared information on traditional therapies, ingredients and even décor. In response to Covid-19, the indoor/outdoor pool is open by reservation only; steam, sauna and hot tubs remain closed.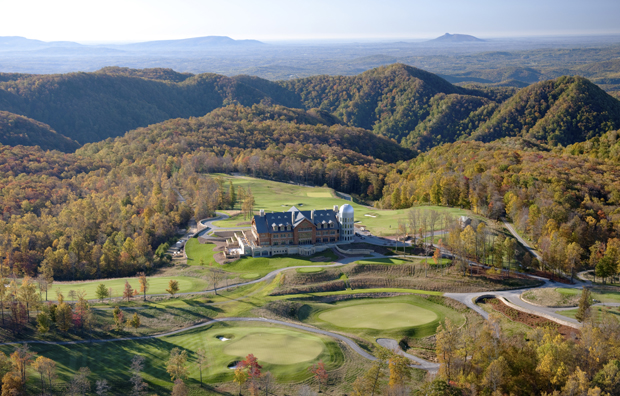 Though grand and luxurious, Primland's LEED-certified lodge was constructed with keen sensitivity to the land. The wormy oak and chestnut, walnut, oak, pine and maple used for the walls, floors, ceilings, beams, columns and furniture throughout the lodge was repurposed from a variety of old buildings and salvaged from crumbling tobacco-curing barns in Virginia and North Carolina; wood for the exterior was cut and milled right on the property. Instead of natural slate, the roof is sheathed in shingles made from shredded recycled tires. But this is no country cabin: low-slung George Nakashima-inspired tables add rustic elegance to the lobby, which leads into a soaring sitting area where massive Pintupi works on canvas flank a two-story window offering uninterrupted views of the landscape. The space morphs into elements, the resort's sleek fine dining restaurant that serves updated takes on local flavors from the Virginia Highlands. The wine list includes several Cabernet Francs and Bordeaux blends from Virginia that are bold but smooth and lovely with flavors from delicious but hard-to-pair accompaniments like collards, dirty rice and pickled berries.

With its expansive acreage, Primland could have easily been planned as a mega-resort, instead, there are just a covid-friendly 51 rooms, divided between the main lodge, 16 Pinnacle Cottages that overlook the Dan River Gorge and six Fairway Cottages. There are also three treehouses, which were designed exclusively for the resort and are actually set within the strong limbs of decades-old trees. Built deep within the woods, each treehouse is fronted by a large deck cantilevered over the valley.

During the holidays, families can learn Native American dances, participate in a candy-making workshop, stroll along a sparkling Christmas lights trail, construct edible gingerbread houses and, on Saturday nights, bundle up to watch movies on the driving range. There will also be special themed menus (oysters reign in November!), warming drinks scented with holiday spices to enjoy under the lights of a massive holiday tree and, on New Year's Eve, a masked ball for adults.

For more information, visit primland.com