Paws for Applause
29 Dec 2018
Wilmington's top vets for your pet

By LAUREN KROUSE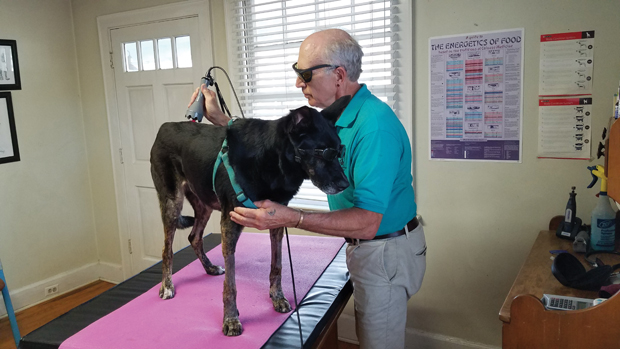 Whether your beloved pup's gotten into your favorite dark chocolate or a sick turtle has wandered into your backyard, it helps to have a quality veterinarian on call. Wilmington is home to over 30 veterinary practices ranging from small, traditional clinics to large, full-service hospitals. Mobile vets bring their services to fraidy cats and elderly dogs, while animal specialists provide care for exotic pets and local wildlife from the Cape Fear River to Carolina Beach. Looking to find the right vet for your pet? Here are a few to consider.


Wilmington Animal Healthcare

Led by husband and wife team Drs. Jeff and Stacy Ward, Wilmington Animal Healthcare is a full-service veterinary medical facility. With a team of six veterinarians, Wilmington Animal Healthcare provides care for cats and dogs as well as rabbits, hedgehogs, chinchillas, guinea pigs, sugar gliders, ferrets, hamsters, mice and rats, snakes, lizards, and turtles and tortoises. Wilmington Animal Healthcare guarantees its facility is welcoming towards all types of clients, especially frazzled felines. Cat-friendly rooms feature streamlined exams and Feliway diffusers, which release a soothing, synthetic version of the feline facial pheromone.

At Wilmington Animal Healthcare, patients receive preventative care, wellness exams, tests and vaccinations, dental care, radiology and ultrasounds, cancer care, senior care, and hospice and euthanasia. Daycare and boarding services are also available. wilmingtonanimalhealthcare.com, 910-791-7101.


Wellspring Holistic Veterinary Care

At Wellspring Holistic Veterinary Care in midtown Wilmington, Dr. Brad Kerr provides go-to veterinary services like wellness exams and microchipping as well as Traditional Chinese Veterinary Medicine (TCVM). "I like to do what's called integrated medicine," Dr. Kerr says. "We use acupuncture and Chinese herbal medicine, but we also do laboratory testing and vaccinations." Dr. Kerr has been practicing veterinary medicine since 1987 and added TCVM to his repertoire in 2001, after training at the Chi Institute of Chinese Medicine in Reddick, Florida.

"Our main goal is to do no harm," Dr. Kerr says. "We minimize the use of drugs and use natural therapies and dietary changes to help animals get better when they have chronic illnesses." Additional services at Wellspring include cold laser therapy, ultrasound, and a unique combination of western and eastern medications and therapies catered to the individual pet. wellspringholisticveterinarycare.com, 910-231-9089.


Porters Neck Veterinary Hospital

Family owned since 1999, the Porters Neck Veterinary Hospital aims to make its clients and patients feel like family, too. With an ongoing list of rebates and offers as well as a family album full of happy clients on their website, it's no wonder Porters Neck was voted Wilmington's Best Veterinarians by several local media publications. Former owners Drs. Ron and Sharon Harris work side by side with Drs. Matthew and Rebecca Simmons-Resnick, who purchased the practice in 2014. Together, they practice "medicine, not business," with an emphasis on compassion and respect for the pet and quality education for the parent.

If you've got a busy week but still need to squeeze in an appointment, you can pop in Porters Neck during their Saturday walk-in hours, 8 am to noon. Porters Neck also provides bathing services, medical sedation-assisted grooming, and boarding for dogs and cats. portersneckvets.com, 910-686-6299.


LaCroix Veterinary Hospital

At LaCroix Veterinary Hospital, patients are welcomed into a "smaller, more personal practice" by light blue walls and a quaint reception area. Inside, the staff regularly updates their chalkboard with friendly messages and helpful tips for pet care. LaCroix is led by Dr. Amy Halvorson, who has been working in veterinary medicine since high school and graduated from NC State Veterinary School in 2003. Though small, LaCroix offers dogs and cats a wide range of services including wellness exams, microchipping, vaccinations, nutritional counseling, bathing, dental care, surgery, and even emergency and critical care. With Petly, LaCroix's online patient portal, clients can easily keep track of their pets' health records, appointment reminders, and notes from the vet. lacroixpetcare.com, 910-799-3100.


No Place Like Home Mobile Pet Vet

If going to the vet means scratch marks all over your arms and a terrified feline threatening to break open their carrier, No Place Like Home Mobile Vet offers a solution. With her house call mobile veterinary practice, Dr. Julie Fairbank travels anywhere within New Hanover, Brunswick, and Pender Counties to make sure dogs and cats receive proper care where they're most at ease.

After working in traditional practices for over a decade, Dr. Fairbanks decided to go mobile in 2015. "I saw how stressed so many pets were at the vet, and it was almost impossible to do good care for them, especially cats," she says. House calls allow for more time with clients and patients and, most importantly, reduce animal stress.

Dr. Fairbanks carries a select inventory of common pet medications and provides additional medication via her online pharmacy. Clients can set appointments for annual wellness exams, tests, vaccinations, and end-of-life care, including at-home euthanasia. noplacelikehomemobilepetvet.weebly.com, 910-302-6462.


Highsmith Animal Hospital

Highsmith Animal Hospital has provided full-service veterinary care in and around Wilmington since 1974. North Carolina native Dr. David W. Highsmith has led the practice since 1987 and has over 27 years of experience in veterinary medicine.

Highsmith Animal Hospital is easy to access with an online store, pet portal, and appointment request system. With four veterinarians on staff, Highsmith offers outpatient care and treatment as well as many in-hospital procedures including radiology, laser surgery, dentistry, orthopedics, and hospitalization for illness in an intensive care unit.

If you're short on time but know your pet needs care ASAP, Highsmith has you covered - you can drop off your pet for vet visits. Beyond veterinary care, Highsmith also provides professional grooming, bathing, and boarding. highsmithanimalhospital.com, 910-799-5587.


Paws & Claws Animal Hospital

If your bearded dragon needs a checkup or an osprey has injured its wing in your backyard, Paws & Claws Animal Hospital can help. Paws & Claws is a full-service veterinary hospital for cats, dogs, and all kinds of exotic animals and local wildlife run by four veterinarians with a combined four decades of experience. Paws & Claws provides clients with internal, preventative, and geriatric medicine, surgical services, radiology, and oncology. Special offerings include tightrope surgery, soft tissue and orthopedic surgery, and referral services for advanced dentistry.

Next door at The Diggs, a daycare center, spa, and hotel, pets receive boarding and bathing services like nail trims and anal sac expression. "Digs" are complete with beds bathed in natural light, fear-free music, and play yards with pools to cool off and quiet time spaces. Luxury suites even include a TV! pawsclawsah.com, 910-399-3768.


Port City Animal Hospital

At Port City Animal Hospital, state-of-the-art veterinary medicine meets old-fashioned southern hospitality. Dr. Chris Coble, the father of two children, two dogs, and three cats, became the owner of the practice in 2008 after graduating from NCSU School of Veterinary Medicine and garnering experience at a number of veterinary hospitals across North Carolina. PCAH provides dogs, cats, and "pocket pets" with medical, surgical, dental, grooming, and nutritional services as well as emergency and urgent care 5 ½ days a week. In-house digital x-ray machines and blood analysis technology as well as a complete pharmacy make PCAH a "one-stop shop" for quick diagnosis and treatment. With VetSource, a new online program, clients can also ship monthly pet meds directly to their door. portcityanimalhospital.com, 910-452-4093.


---
Doggie Daycare

Magnolia's Bed and Biscuit provides doggie daycare as well as professional grooming and boarding for dogs and cats. Magnolia's offers all-inclusive care with daily progress reports, raised beds, large family suites, and even Saturday night movies. Daycare includes indoor and outdoor play with lots of socialization. Got separation anxiety? Don't worry - "bone booth" calls and live webcams keep you in the loop 24/7. magnoliasbedandbiscuit.com, 910-399-3213.

Pet Bazaar isn't your typical play-all-day doggie daycare spot. Instead, Pet Bazaar aims to be home away from home for dogs with a relaxed, homey environment ideal for show dogs, elderly dogs, or special needs pups. Outside areas are great for a game of fetch or water play, while indoor areas provide relaxing music and movies for cool down time. petbazaarnc.com, 910-707-1005.

Pet Paradise is designed with dogs in mind - just take a look at the bone-shaped pool, extras like doggie ice cream, and the Furever Connected+ package for daily communication with pup parents! Spacious suites and villas come with webcams and TVs, and public webcams are always running in play areas so you can watch your pooch play. petparadiseresort.com, 910-392-0588.