Staying Upbeat
29 Dec 2018
The importance of maintaining your heart's rhythm
By EMILY GORMAN FANCY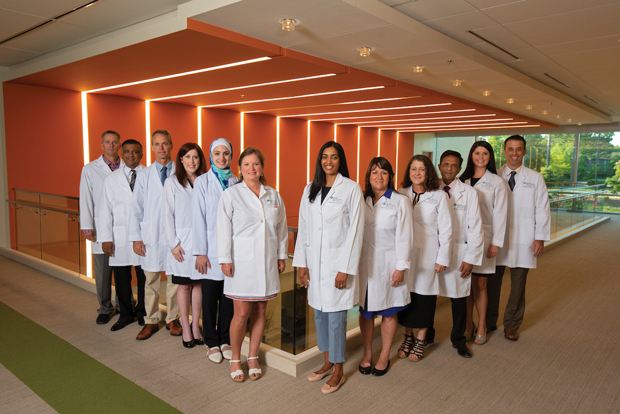 Daphne Driskill says the first symptom she experienced was the feeling that her heart occasionally "skipped a beat". While this was a disconcerting, the feeling eventually went away, and she chalked it up to stress. The symptom came and went for at least six months until around one day in September 2018, when her difficulty breathing led her to seek further testing, and an EKG revealed she had a condition called atrial fibrillation.
Atrial fibrillation or "AFib" is a very common condition characterized by an irregular, often very rapid heartbeat, according to Dr. Meena Rao, a cardiologist and electrophysiologist with Cape Fear Heart Associates. "As the population ages," Dr. Rao says, "experts predict that the number of AFib patients will increase tremendously." According to the Alliance of Aging Research, by 2050, the number of Americans with AFib could exceed 12 million.
As a unique illness, AFib affects each person differently. "Some people feel miserable as soon as they develop it, while others rarely have symptoms," Dr. Rao says. For all AFib patients, regardless of severity of their symptoms, an important aspect of AFib is that it puts patients at a higher risk of stroke. However, a range of effective treatments can mitigate this risk. "We work closely with patients to determine the best treatment plan," Dr. Rao emphasizes.
Cape Fear Heart Associates' Atrial Fibrillation Clinic, which opened in 2018, provides a multidisciplinary approach to patient education and access to available treatments. A nurse coordinator, pharmacist, physician's assistant, and nurse practitioner form the front line of the clinic, interacting closely with patients to provide specialized care plans like Driskill's.
When Driskill was hospitalized after the initial discovery of her condition, Dr. Rao explained the intricacies of AFib and answered her questions. "I liked her bedside manner," Driskill says. "She was caring and knowledgeable, both in her initial contact and the way she directed my care."
Driskill says she appreciates the opportunity to receive care through the centralized resource of the clinic, where she can be treated by clinicians who are familiar with her history.
Upon her initial diagnosis, Driskill's doctor explained that her heart was not pumping as it should and that it was out of rhythm, she says. She underwent a cardioversion, which helped temporarily but did not alleviate her symptoms long-term. Dr. Rao describes a cardioversion as one of the most common treatments to help manage AFib. The procedure sends electric shocks to the heart to put it back into the proper rhythm. While patients might be put off by the idea of their heart being "shocked," Dr. Rao affirms they strive to make the procedure comfortable.
In early October, Driskill was hospitalized for three days while her care team regulated a new medication cocktail to stabilize her heart rhythm while also treating her blood pressure. Driskill describes her medication plan as a "miracle," saying she is impressed with how well controlled her atrial fibrillation is. "All doctors and hospital personnel were adamant about finding the right thing to help me," she says.
The Atrial Fibrillation Clinic's patient education classes aim to educate patients and their families on a variety of topics related to the illness. "Classes cover subjects such as risk factor modifications, medication management, and treatment options," says Dr. Rao. These classes offer an opportunity for patients to meet and interact with each other while also gaining thorough information from the clinic's front-line staff.
"The education sessions create a community among people who are facing similar problems," Dr. Rao explains. Driskill took the stress management class, where she learned different ways to manage and reduce stress, including exercise, meditation, and visualization techniques.
As part of Cape Fear Heart Associates' team of electrophysiologists, Dr. Mao treats heart failure patients and AFib patients, among other cardiovascular issues. "I enjoy learning about and utilizing new technology that improves the safety and effectiveness of procedures," she explains. She also appreciates the opportunity to make individual decisions for each patient.
"It's a rapidly evolving field," Dr. Rao says. "AFib can be debilitating, and it's nice to be able to help people."
Many AFib medications can be costly as there is not currently a generic option. However, the clinic's pharmacist strives to help with patient medication costs as much as possible while also safely minimizing the risks of medication interactions.
As with many health conditions, getting diagnosed and treated early is advantageous to managing the condition and preventing further risk factors. Some of the risk factors making people more susceptible to AFib include genetics, high blood pressure, obesity, diabetes, cardiovascular disease, sleep apnea, and heart failure. Additionally, lifestyle factors such as heavy alcohol usage and smoking can also put one at a greater risk.
Driskill moved to Wilmington in 2012 to work as a lecturer in the Watson College of Education at UNCW. Previously, she was a public school teacher, having taught all levels from elementary to college over her 40-year career.
Driskill advises others to be proactive about addressing any symptoms that may be concerning. "Don't put it off," she says. "Maybe it's nothing, but maybe it's something you can control or you can change your lifestyle to improve some aspects of the situation."
Driskill currently leads an active lifestyle, including regular walks and bike rides. "I have more energy and stamina than I did when this was developing," she said.