Port Land Grille
13 Mar 2016
Port Land Grille
1908 Eastwood Rd., Wilmington
910-256-6056
portlandgrille.com
By BRIDGET CALLAHAN » Photos by JENNIFER SIMPSON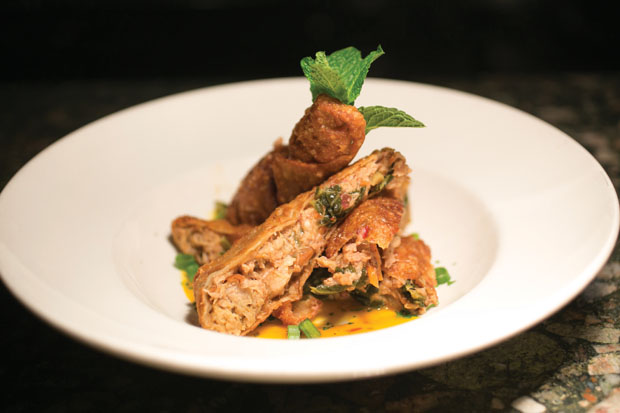 They almost moved to Oregon. In the spring of 2000, Anne Sketekee and her husband, chef Shawn Wellersdick, found themselves at a crossroads. Wellersdick was ready to move on from his first Wilmington venture, the legendary Under Currant, and the couple were intrigued by the idea of relocating to Portland and starting anew there. They even went out to the West Coast for reconnaissance, looking for the perfect spot to start a new restaurant.
"We loved it, though [Portlanders] totally lie about how gloomy the weather is – I think to keep interlopers out. But in our research we found that it really was going to be expensive and prohibitive to start over at the level we wanted to be," Anne said. So the couple came back to Wilmington, but they took notes. When Port Land Grille opened that following Fall, it was designed to bring some of the West Coast's burgeoning farm-to-table food scene to the North Carolina Coast ― wood-fired grill included. "We liked that at that time the area was not saturated with fine dining restaurants and hoped to create a niche here."
Sixteen years later, they've created far more than just a niche. Times have changed, and the food scene in Wilmington has grown over the last decade. Many chefs around here will talk about farm-to-table, and local, sustainable ingredient sourcing. But Wellersdick remains one of the original pioneers in bringing New American Progressive cuisine to town, and one of the most respected. There are very few chefs in town who have not worked with him at some point, and the restaurant itself has garnered so many awards regionally and nationally, we'd need another page to list them all. His commitment to making heart-warming dishes remains his true love though.
"Growing up, he was exposed to the neighborhood Italian delis and pizza joints of New England and enjoyed his Italian German heritage," Anne explains. "He's always leaned towards comfort food, from our seasonal mac 'n' cheese albeit with lobster and pancetta to our classic jumbo crab cake over southern style lima beans, but with a twist. He's never been interested in the newest fad (no foams please!) in cooking, and while his cooking style at home may have changed towards the lean and mean diet a runner requires (he's always training for the next marathon), you will always find "comfort foods" such as duck confits, shepherds pie, cassoulets along with hearty steaks, on our menu." She's quick to point out that most dishes can be customized (within reason) for those looking for something a bit healthier than Pound Cake Style Potatoes.
Sketekee and Wellersdick met in Greensboro, NC. He was the new executive chef at Lo Spiedo di Noble. Sketekee had been the general manager and wine buyer for Southern Lights Bistro and Bar for 13 years. "The restaurant community is tight knit, so when a new hot chef comes to town everybody takes notice. Several of my besties, all restaurant folk, went to Lo Spiedo di Noble, to check it out. I saw Shawn running the line, liked what I saw and the rest is history. Plus his food was amazing," she added. One marriage and a child later, Sketekee soon joined Lo Spiedo herself as a pastry chef, beginning an epic professional partnership in addition to their romantic one. The occasional lucky guest can still sometimes find her special bread pudding on the Port Land Grille dessert menu.
And what does a blend of Wilmington and Portland, Oregon look like? "We wanted a 1940's supper club vibe. The shopping center was modeled after the Lumina Hotel on Wrightsville Beach, and we went with that era too as far as décor. We wanted old school, but unstuffy service – down to the white table cloths and crisp, white jacketed waiters. We also wanted the same smell that you get when you walk into most Portland, Oregon places – wood smoke. I don't think we were trying to visually represent Portland but we wanted to incorporate the concepts we saw while out there. Lots of family owned mom 'n' pop places – great wine lists, great food cooked on a wood fire grill." "Ok," Sketekee admits, " that may have been one of the building challenges we faced – we had to get very creative in putting in not one, but two hoods and fans because of the wood fired grille."
The creativity was worth it, and Port Land Grille is now a special occasion staple in town, with parties and wedding proposals being a normal occurrence. But it's worth a Tuesday night visit for the discerning eater too."A menu can read well but the proof is on the plate. It has to have flavor and Shawn has never been timid with that," Sketekee says. The extensive menu features a generous selection of daily catch and other favorites, from yellowfin tuna to Scottish salmon, and all the wild caught North Carolina grouper and Alaskan halibut in between. There's also a wide variety of several handsome cuts of meat for that grille, including bone-in angus filets, Berkshire chops, and an incredible antelope tenderloin served with roasted hazelnuts and a honeyed three-mustard glaze. There's a big selection of small plates too, for the undecided grazer - anything from oysters to pimento cheese, and something they call a "Redneck Eggroll" filled with housemade pulled pork and collard greens, and served with a mango-mint dipping sauce. So good luck saving room for dessert, but if you do, there's a piece of "Not Your Ordinary Coconut Cake" waiting for you.
The couple has no plans to move anytime soon, especially now that the food scene has taken off. "There's a lot of young and exciting talent moving up the ranks and there's more and more accessibility to amazing ingredients," Sketekee says. "We all just need to focus on being a sustainable community and building our economy so we have customers to enjoy our hard work."