Pouring for Purpose
03 Mar 2021
Pouring for Purpose

Vigilant Hope's The Roastery, is a craft coffee café with a mission

By TERESA McLAMB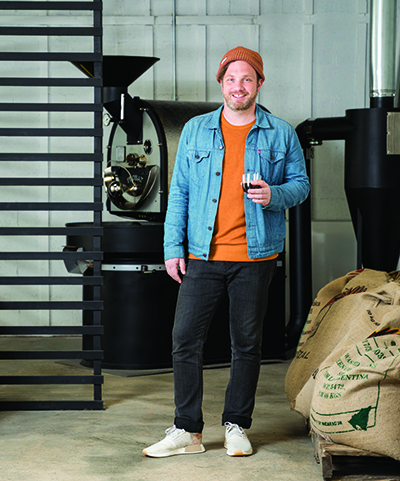 While the pandemic has seen the closure of dozens of Wilmington area restaurants, it has been the catalyst for the creation of a new café. Coffee roaster and distributor Vigilant Hope, Inc. has opened a coffee café. The Roastery, at 24 South 16th Street at Castle Street, is a shift in their business model designed to make up for the loss of wholesale accounts. "We started roasting coffee two years ago, online and wholesale," said Jeremy Hardy, executive director of the nonprofit which focuses on homelessness and eliminating its causes. "The majority of wholesale orders went to churches. We immediately had 100 to 200 pounds per week being sold to churches," said Hardy. They were able to hire a full-time employee and were growing steadily when COVID hit. "All the wholesale accounts dropped. Churches shut down. Restaurants shut down. Then, for some crazy reason, we thought we'd be brave enough to do the café," he said. Open since January 5, he's very encouraged. "It's been incredible to see the community come out and support us," Hardy said. The Roastery is open Tuesdays through Saturdays from 6:30am to 2pm.

The road to the café is long and winding.

Hardy spent his early years in Asheville, learning music, riding his bike, playing in garage bands and at church, before his dad's job took the family to Virginia Beach where he attended high school.

Hardy and his brother attended Bluefield College, which he described as being small enough to give him the personal attention he needed. While studying music, he discovered graphic design. "I graduated in 2008. About that time it became quite a new, cool thing. I was very intrigued by it. I love art; but honestly I'm not the greatest at drawing, but pretty good at pulling different pieces of art together at a computer to make a cool finished product," said Hardy. He noted that all the software he used in college is already obsolete in this fast-moving field.

One of Hardy's first jobs was doing graphic design for Westminster Presbyterian Church in Bluefield. After a year, he took a job as student activities director at the college. "That was really fun. I can't believe I left that job!"
Hardy reminisced.

It was during this time that he met the founders of Vigilant Hope. Wilmington residents Daniel and Hannah Walters formed the nonprofit in 2006. They started after-school programs, teen outreach, volunteer training seminars and other efforts, including partnering with youth groups to help families in need of
home repair.

On a Vigilant Hope-sponsored youth trip to the coast, the Hardys fell in love with the town. "The third year, we felt a huge sense that we needed to move to Wilmington. We wanted to be a part of what Vigilant Hope was doing," said Hardy.

Before the Hardys could ask about openings, the Walters asked them to join. "That was evidence that we were supposed to come to Wilmington," Hardy explained.

They began the process of raising money so they could work as missionaries. "April of that year, eight years ago, we got to Wilmington, and I'll never forget it. It was snowing in Bluefield, and in Wilmington, it was 70 degrees and sunny," Hardy said.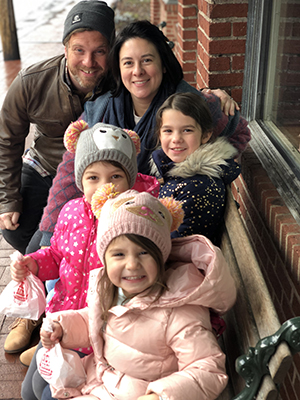 From the beginning, the Hardys worked to build the nonprofit's outreach and summer mission program. It has grown to such a level that groups come from across the country. They've even had a group from China. Their outreach includes three-day a week breakfasts for homeless individuals and others who feel the need to attend. "It's real relational. We encourage folks to sit down at a table and be a part of the meal. We don't want a cold separation of volunteers and people coming to get food," Hardy said. They've also acquired a shower trailer. "We found an urgent need for hygiene amongst our homeless," said Hardy. Before COVID, they moved it around town. For now,
it's stationary.

Hardy described Vigilant Hope as working with all ends of poverty – homelessness, folks living in Section 8 housing, tough neighborhoods. "We're in the midst of an incredible season. We've started a construction business to employ homeless people," Hardy said. The remodeling of a coworking space on Castle Street currently employs two homeless people. The nonprofit will manage it for the investor and funds will be used for more jobs.

Likewise, funds from the coffee café will go back into their mission. He's hoping to attract individuals who have made the rise out of poverty who can be a helper and role model for others.

"We don't want to be just that coffee company that provides jobs. We want to provide really good craft coffee," Hardy said.

They import beans from Brazil, Columbia, Indonesia, Nicaragua and Guatemala; all through Anthem Imports. "They have a great relationship with all their farmers. They're fair trade," said Hardy.

Coffee and merchandise such as T-shirts and hats can be purchased at their online shop at goodcoffeegoodpurpose.com and at the café.

Bottom line, Hardy says he's promoting good coffee for a good purpose. "We believe no one is intended to live on the streets of Wilmington. We need to help people reach purpose and peace. Every time someone purchases a coffee, they're helping provide jobs here in Wilmington. Our whole thing is it's not just a transaction, it's changing someone's life. You're actively ending poverty."