Rekindled Passion
09 Jun 2013
Local artist Shayne Greco hit the mark with his ceramic sculptures that offer functional beauty with a side of octopus
By JAMIE WALKER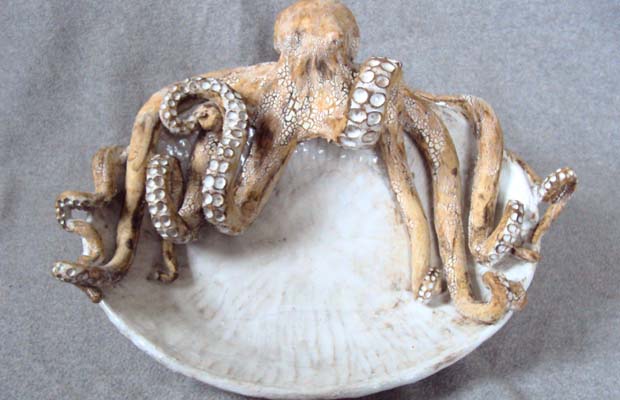 Wilmington NC ceramics artist, Shayne Greco, finds his inspiration in the marine beauty that keeps all Cape Fear residents close to the shore. Through his work, sea creatures and riparian shore life emerge from chunks of white clay creating a feeling of authentic connection through sleek, winding tentacles of octopuses, newborn sea turtles balancing steps away from left-behind cracked eggs, and slender, life-like amphibians that don the rims of bowls and serving dishes. Greco's creatures, even the octopuses with their sprawling, flexuous tentacles, that curve and spiral at the base of candelabras and around the edges of platters, leave room for the function that their beauty supplements.
"I love combining functionality with sculpture," Greco said. "I wanted to create art people can use."
And in less than a year and a half, hundreds of people are doing just that with pieces designed and made by Greco in kitchens and homes along the coastal southeast. His ceramic pieces have become coveted items and are available in eclectic shops from Wilmington NC to south Florida.
Trained as a painter at Savannah College of Art and Design (SCAD) in the late 90s, Greco had given up on making a living with his art when he moved to Wilmington NC. He continued to paint out of a love for the creative process, but didn't rediscover ceramic sculpture until a few years after he moved to Wilmington. He rekindled his high school love of ceramics out of necessity.
"I just needed a serving platter," he said, with an unassuming grin.
Like any true artist, Greco's taste was of the highest quality. "I couldn't afford the Vietri platter that I coveted. So I said, 'I'll just make one.'"
And the result was beyond even his own expectations. He took the one-dimensional, Italian hand-painted Vietri platter of his dreams to new heights. The octopuses painted on ceramic dinnerware he'd once seen came to life in a three-dimensional form all its own.
"Composition was a big challenge for me with painting," Greco said. "With ceramics, it just sort of all came together,"
Greco's first piece turned out so well that he thought he'd see what the locals thought. It was on display at the Thrill of the Hunt, his mother's furniture consignment shop, for less than a month before it was snatched up by an elated customer. And Greco's hands have been deep in clay ever since.
It was his mother, Greco says, who encouraged his creative process. At the early age of 5, his mom began carting him to and from art classes each Saturday. "If there was an art class I wanted to try, she'd drop everything to make it happen."
Greco said that if genetics has anything to do with creativity, that it comes from his mother.
"If I got it anywhere, it's from her. My mom totally has it in her," he said. "She's quite the designer." Linda Greco refurbishes much of the furniture she collects and dabbles in interior design. Her shop is packed with hand-painted furniture and home/office decor restored or renewed by either her or Shayne.
Greco's ceramic pieces are on display on tables and in nooks throughout the shop. His paintings hang on walls among hundreds of others. It's Greco's artistic and physical presence in the shop, said his mother in a 2010 Star News article, that helped to save it from collapse in 2007.
"Shayne is really the taskmaster around here," she said. That and his artistic flare, she said, worked wonders. "His painting did so much for us," she added.
Greco came to Wilmington to return the favor to his mother who, in 2006, began to fear the Thrill would soon be gone. He dropped everything and brought himself to Wilmington.
Greco helped to re-design the layout of the shop, and worked to market their wares to residents and area designers with more specificity. Local designer, Hooper Patterson, with Birds of a Feather Design, recently blogged about Greco's ceramics on display at Thrill of the Hunt. She cited Thrill as one of her favorite local consignment shops and credits both Shayne and Linda with providing unique, quality pieces that she loves to incorporate in her design work.
A favorite of Patterson's was a piece that Greco and his mother co-created ― a lamp wrapped in the tentacles of an octopus complete with a burlap shade made by Linda.
"Shayne Greco has painted some cool pieces for me, but I had no idea he was the man behind these amazing works of art," wrote Patterson.
In contrast to Greco's vibrant paintings hanging throughout the shop, his creatures are brushed only occasionally with watered-down gritty red clay, creating a vivid contrast to the shiny, sealed white clay finish that dominates most of his ceramic sculpture. The dynamic, he says, helps bring the pieces to life.
"It's a really nice effect," he said.
Greco has had some success, he says, selling paintings and hand-painted furniture to local residents and designers, but ceramic sales have increased steadily since the sale of his first piece. So steadily that he had to hire help.
"I have pieces in 15 shops along the east coast and they seem to be moving pretty fast. I can barely keep up with the demand," he said.
Greco says that while he loves making them, he also loves using them.
"They're so fun to serve with!" He said. ■
Where to Find
Greco's work can be found in Wilmington NC at Thrill of the Hunt, The Fisherman's Wife, Dragonflies, and Nelson Fine Art Gallery. For more information visit shaynegreco.com.