5564 Carolina Beach Road, 910-452-1212. ruckerjohns.com
By BRIDGET CALLAHAN Photos by JAMES STEFIUK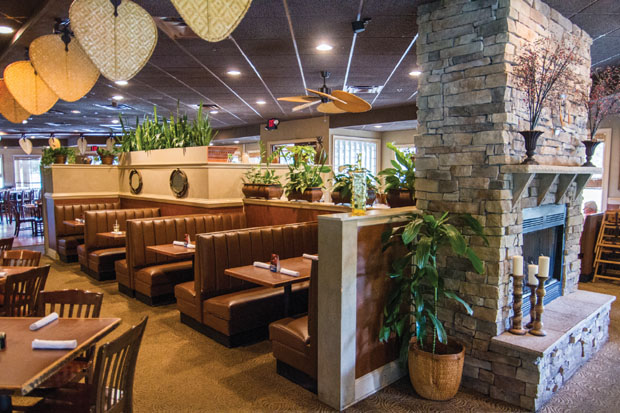 Driving through Monkey Junction today looks far different than it did 20 years ago.
"That over there used to be the Walmart. It used to be so much smaller - there was a Subway, and a Walmart, it was just a way smaller place. And then over there across the street was the strip mall that the old RuckerJohns was in, before they built the new one. It used to be really country around here." Faith Warner, a Wilmington native, grew up in Monkey Junction, and is quick to jump into the role of history/tour guide. The area has boomed in the last few decades, as more businesses came in to capitalize off the traffic from Carolina Beach, and developers have thrown up more housing to keep up with the influx of Northerners and retirees who move here. But there are still some of the old traditions around, and RuckerJohns restaurant is one of them.
"I love this place," Faith exclaims, with the look of a kid talking about her mom's apple pie. "We came here for everything in middle school, birthdays, graduations, after church on Sundays. I just brought my boyfriend here for the first time a few weeks ago. He couldn't stop raving about the chicken fingers."
The first RuckerJohns was opened by Chris Johns over 20 years ago, in Emerald Isle. Named simply after his wife's maiden name and his own, Johns wanted a place that was going to be quality food in a family atmosphere, simple and uncomplicated. The Wilmington location opened up in 1993, and then moved to it's new location in 2008.
The new building sits nestled in the surrounding hustle and bustle of Carolina Beach Road like a calm oasis. There are several areas of open and airy patio seating. When you walk inside, the atmosphere is intimate and cozy. The mark of a beach town is all over, from the bright turquoise polos of the friendly servers, to the bamboo fans that dance on the ceiling above the busy dining room.
The menu is extensive, but not intimidating.
"When we created the menu, we wanted to have something diverse enough that four people who wanted to go to four different places for dinner could all find something they wanted," Johns says. Most of the menu is also housemade, and they try to source as much as they can from local farmers, producers, and fishermen.
But as far as what I'm ordering, Faith is insistent.
"Since it's your first time here, you have to have the croissants. And the chicken fingers," she says. Middle school memories, indeed, even though she opts for the much more adult house salad. But when in Rome, order what the Romans tell you to.
And it's not a disappointment. "The Croissants" refers to an appetizer that is simply a basket of hot, fresh, flaky croissants coated in Pennsylvania Dutch honey butter. It's an odd item to see on a dinner menu, but Johns was looking for something more unique than the regular coastal standard of hushpuppies. You may think that you can exercise some self-control, but between the two of us, the croissants are gone in under ten minutes. It's the best version of a bread basket I've encountered lately.
The chicken fingers are no slouches either. I've ordered the appetizer size, with housemade fries, and it's still a huge plate. The chicken is wet battered and fried, giving it a crispy golden sheen, and the meat itself is impossibly juicy. The fries are round and thick sliced, with plenty of heft to stand up to the array of sauces.
"I don't know how they do it," Faith says, as she grabs one of my chicken fingers to dip in her ranch sauce. "They just do fried things really well."
It's notable that many of the menu items have been on there since the beginning. Their popular chicken salad hasn't budged since the original 1993 menu. The crab dip appetizer might spur a revolt if they ever removed it. This is the kind of place where if something is working, why change it?
Thomas Woodman, the general manager of the Wilmington location, has been with RuckerJohns since before the move.
"It's a really strong family business, and I think that's why I've been here so long. In the restaurant business, you don't usually stay someplace for 14 years." His favorite menu item is the Blackjack Special, the house-cut rib-eye flavored with sour mash whiskey and spices. He points out that all their beef is CAB certified. It's apparent talking to both Woodman and Johns that where their food comes from is a constant, evolving conversation. When I ask him if the continuing development of Monkey Junction, and the influx of national chain restaurants, has affected this hometown favorite, Woodman is positive.
"In the restaurant business, you want competition, you want other restaurants to move. That development is good for us. We've had a continually steady increase in business."
One of their most popular nights is Tuesday, when there's live music on the patio, and bottles of wine are half-priced. There's also live music on Thursdays, which could be a lovely stop either before or after a trip to see the fireworks on Carolina Beach.
As Faith and I are finishing up dinner, the entire wait staff comes out to sing happy birthday to a party at the table next to us. The birthday gentleman in question, and the smiling family he's surrounded by, all look like they're having a grand old time, and their happiness spreads to the rest of the patrons in the room. That's a special feeling to be able to convey, and one that RuckerJohns has obviously worked hard to create, with great success.