Savor Every Word
05 Sep 2022
These books by NC authors are simply splendid

By Lewis Bowling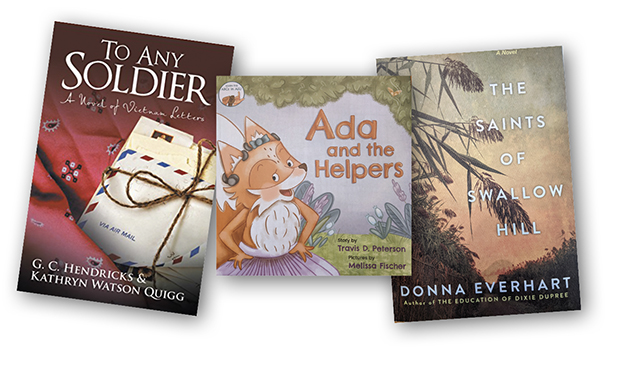 To Any Soldier: A Novel of Vietnam Letters by G.C. Hendricks and Kathryn Watson Quigg

The main character Ashley is from a small North Carolina town in To Any Soldier: A Novel of Vietnam Letters, written by G.C. Hendricks and Kathryn Watson Quigg. Ashley as a freshman at a university in North Carolina in the late 1960s, is told that Vietnam soldiers need and want letters from folks back in the U.S., so, in January 1968, Ashley writes her first letter, and because she doesn't have a specific person to correspond with, addresses it to "Any Soldier."

Jay Fox sees Ashley's letter on a bulletin board in Vietnam. Ashley's letter is full of the excitement a young woman feels in her freshman year of college. Jay is a marine fighter pilot from North Carolina running nightly bombing missions. With the tension and stress of his job, Jay would come back to his base after his bombing missions and try to relax by watching movies and drinking whiskey.

The letters begin to flow back and forth between Ashley and Jay. They are quite a contrast, with Ashley's full of excitement for the future, and Jay's more life-and-death serious. A fondness develops between the sort of naïve college girl and the hard-core Marine. The descriptions of Jay's nightly bombing flights are fascinating in their details and chilling to read, insights from author G.C. Hendricks, a decorated pilot who flew more than 200 missions in Vietnam. Co-author Quigg is a former member and chair of the Wake County Board of Education.

To Any Soldier: A Novel of Vietnam Letters is a page turner, and its ending just might surprise you.


Ada and the Helpers, Story by Travis D. Peterson, Illustrated by Melissa Fischer

A children's book by Travis D. Peterson and richly illustrated by Melissa Fischer, Ada is a fox who does not hear well but wears "helpers" bought by her parents. Peterson was born and raised in Wilmington, so he now joins the growing list of good authors from our literary state. Ada enters a dance contest, and on her way to the contest, meets a mole who can't see well, a bird who stutters, and a snake who doesn't know how to climb a tree to reach the tasty apples. Ada helps them all find a way to use what skills they have to reach their goals. They all follow Ada to the dance contest as her new friends, and encourage Ada, who is very nervous.

Two vital lessons of this book are that everyone has something they do well, and we should celebrate the goodness of others. Ada and the Helpers is beautifully written in rhyme while the illustrations make the pages come alive. A bonus is that Ada and her family use American Sign Language to communicate, and each page features a key word with the sign for each letter. An extra bonus is the book jacket opens into a poster with the sign for all the letters of the alphabet. And the signs are in many skin tones. Absolutely a wonderful addition!

Ada and the Helpers is one of my favorite children's books I have ever read, and it is now on my great nieces' and nephews' Christmas list.


The Saints of Swallow Hill by Donna Everhart

Bestselling author Donna Everhart, born and raised in Raleigh and still living in North Carolina, has done it again. In The Saints of Swallow Hill Everhart has written a story laced with southern authenticity.

I remember my father using turpentine for seemingly everything as a boy, and I confess I didn't fully understand the disastrous effects of turpentine farms that proliferated in long leaf pine tree forests. Everhart takes the reader back to the 1930s, when men, mostly black, toiled from sunup to sundown making cuts in the pine trees to drain the gum for turpentine production. Later the trees would be cut down, this practice nearly obliterating the longleaf pine forests of the south.

The saga of Rae Lynn and Del and a host of supporting characters in The Saints of Swallow Hill make the book unforgettable. Rae Lynn and Del end up working in an aptly named Georgia turpentine farm called Swallow Hill. The difficulty of sustaining life during the Great Depression is vividly described, and the plot has more twists than a labyrinth line for attractions at Disney World. This book is a must read.