September-October Event Calendar
08 Sep 2015
Looking to fill your social calendar? We've got the rundown on what to do this fall season.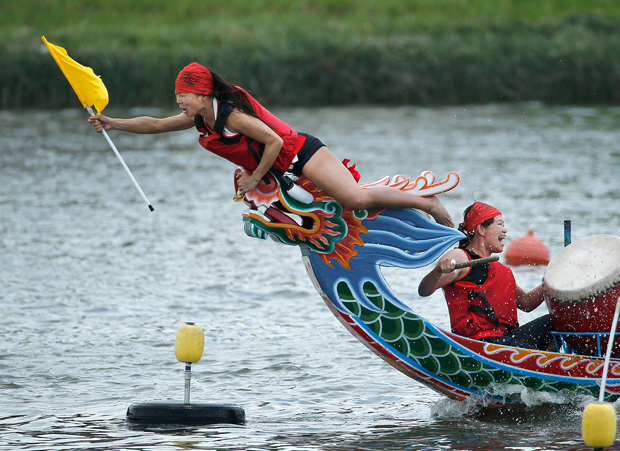 Black River Nature Cruises
Sept 2, 16, 30 & Oct 7, 21
Enjoy a 4-hour relaxing getaway on Wilmington's original Black River Nature Cruise. Just minutes after leaving the dock, guests will experience a river that appears almost as it did to the early explorers. Narrated by Coastal Ecologist and author Andy Woods. Miles of scenic wilderness is a photographers' and bird watchers' paradise. Refreshments provided. Purchase tickets in advance. 9:30am-2pm. Boarding at the USS NC Battleship Memorial. 910-343-1611. cfrboats.com
Walking Tour of Historic Wilmington
Sept 5 - Nov 14
Every Saturday the Lower Cape Fear Historical Society conducts a leisurely 1 1/2 hour walking tour of Historic Downtown Wilmington that leaves from the front porch of the Latimer House. Covering a radius of 12 blocks this tour notes many homes, churches, and other structures of historical and archaeological significance. Associated tales and stories covering their rich history add interest along the way. 10am. 910-762-0492. historicwilmington.org
Riverfront Farmers' Market
Sept 5 - Nov 21
A weekly market held on Saturdays along the riverfront in the historic downtown river district. Market features local farmers, producers, artists and crafters. Products include fresh fruits, vegetables, plants, flowers, cheeses, meats, seafood, baked goods, jams and jellies, wine, art, crafts and more. 8am-1pm. 910-538-6223. facebook.com/riverfrontfarmersmarket
Historic Downtown Wilmington Marketplace
Sept 6 - Oct 25
Spend your Sundays strolling through the Historic Downtown Marketplace and enjoying the breeze from the Cape Fear River as the Riverfront Park vendors lend character to the downtown experience. This weekly Artisan Marketplace boasts music, original art, and more so don't miss out. Riverfront Park, 10am-4pm. 910-254-0907.
2nd Annual She Rocks Fundraiser Luncheon
Sept 17
She Rocks was formed to raise funds for ovarian cancer research, and to provide local support to those affected by all cancers. Keynote speakers are Dr. Vickie Bay-Jump, UNC Lineberger Cancer Center, and Kristen Dalton Wolfe, Miss USA 2009. Wilmington Convention Center, 11am-1pm. 910-620-3953, she-rocks.org
ACS Fall Home Show
Sept 18 - 20
Event designed for homeowners in all stages of remodeling, landscaping and decorating their homes. Includes hundreds of home improvement and landscaping exhibits with product demonstrations and sample interior and exterior vignettes. A combination of new products and expert advice from the pros. Wilmington Convention Center, Fri 11am-8pm, Sat 10am-8pm, Sun 10am-6pm. Free. 855-523-5310. acshomeshow.com
The Legends Tennis Tournament
Sept 18 - 19
The Country Club of Landfall is once again excited to host the Landfall Legends of Tennis. Come out for a fun weekend of tennis with some of the greatest players of our time, including: James Blake, Jimmy Arias, Bobby Reynolds, and Renae Stubbs. The tournament benefits The Miracle League of Wilmington, the Make-A-Wish foundation, and the UNCW Tennis Program. 910-256-7625. landfalllegends.com
NC Shell Show
Sept 19 - 20
Experience the largest gathering of shell collections in N.C. Displays include some of the world's most beautiful, unusual and rare shells, as well as exhibits of crafts using shells. This judged competition is held in a wide range of categories with special groups for novices and juniors. The public is invited to vote for their favorite display and shop for beautiful shells from on-site vendors too. Sat 9am-5pm, Sun 1-5pm. Cape Fear Museum of History & Science, 910-798-4367. ncshellclub.com
2nd Annual NC Rice Festival
Sept 19 - 20
Come and help us celebrate our rice growing history. The festival will be held at The Brunswick Riverwalk, 580 River Road, Belville, NC. There will be a Rice Cooking Contest, Arts and Crafts, Commercial Vendors, Children's Entertainment Zone, Youth Art Contest, Live Entertainment and an Adult Beverage Tent. There is something for everyone to enjoy. This is a family fun event. This year we have added a North Carolina Rice Festival Pageant. There are five age divisions for the contestants to be judged. Sat 9am-6pm, Sun 9am-5pm. 910-795-0292, ncricefestival.com
YMCA Triathlon
Sept 19
Join in the biggest race in the Inside-Out Sports North Carolina Triathlon Series and the largest single distance one day event from northern Virginia to Florida with over 1,000 participants. This race is a highly anticipated USA Triathlon sanctioned event and consists of a 1500m swim, a 12 mile bike and a 5k run in Wrightsville Beach to test your abilities. This race makes great use of Wrightsville Beach's terrain for local and visiting competitors. Please see website for entry fees and more detailed race information. 7am. 910-251-9622. setupevents.com
Slide Fest
Sept 20
Get ready for the slide of your life with this special event coming to downtown Wilmington! Slide Fest will set up their impressive 900 foot long water slide right in the middle of Redcross Street alongside street vendors for a day of fun and music. This is perfect for a day out with family or friends and will help bring the summer season to an exciting end. Slide through the historic streets of downtown Wilmington for a day of unique entertainment and laughs. 12-5:30pm. slidethecity.com
Fourth Friday Gallery Walk
Sept 25 & Oct 23
Fourth Friday Gallery Nights are a free monthly event where downtown galleries and studios open their doors to the public in an after-hours celebration of art and culture. Taking place from 6-9 pm on the fourth Friday of each month, the art walk is a self-guided tour featuring exhibitions of various artistic genres including oils, acrylics, watercolors, pastels, metals, ceramics, mixed media and more. Maps are available at all participating locations. 910-343-8997. Artscouncilofwilmington.org
18th Annual Pink Ribbon
Oct 1
Luncheon features an exclusive purse auction with author Patti Callahan Henry, New York Times bestselling author. Fabulous food stations, live entertainment and spectacular auction and spirits wall at the Celebration Cocktail Party. Proceeds provide funding for local women without health insurance to receive mammography screenings. 11am-1pm for Luncheon at Wilmington Convention Center, 7-10pm for Cocktail Party at Hilton Riverside. 910-815-5042. nhrmcfoundation.org
Riverfest
Oct 2 - 4
Wilmington's Riverfest has about 200 craft and food vendors plus fireworks, entertainment on two stages, the Great Waiters Wine Race, Run the River 8K Race, various exhibits and a children's area. Additional Riverfest activities include a Stand Up Paddleboard Competition and the Invasion of Pirates. Times vary. 910-452-6862. wilmingtonriverfest.com
Opening Night Gala with Liza Minnelli and the North Carolina Symphony
Oct 3
Opening Night Gala at the Cape Fear Community College's new Humanities & Fine Arts Center. Cocktail reception with heavy hors d'oeuvres at 6:30pm; Liza Minnelli at 8pm; After party desserts and dancing at 9:30pm. Attire is black tie. 910-362-7999, capefearstage.com
Art in the Arboretum
Oct 3 - 4
Premier fall art show will have a wealth of art, music and activities to explore and enjoy. Join this two day celebration of art and music with nature at the Arboretum. Art in the Arboretum showcases handcrafted jewelry, glass, textiles, metal work, stone, wood, painting and photography set among seven acres of gorgeous coastal gardens. Besides the exhibits, visitors can enjoy live music, artist demonstrations, children's art activities and a special art show sponsored by the Ability Garden. Don't miss out on this truly unique event. Sat 10-4pm, Sun 12-4pm. 6206 Oleander Drive, 910-798-7670, gardeningnhc.org
Bark in the Park
Oct 3
Mighty mutts and playful purebreds will leap to the sky to catch flying discs at the 22nd Annual Bark in the Park Skyhoundz Hyperflite Canine Disc Championships. Everyone is welcome to enjoy this free, unique event and applaud the talented canine athletes. Event begins at 11am. Wrightsville Beach Park, 910-256-7925. towb.org
Roast & Toast On The Coast
Oct 9 -11
Join Bald Head Island for a Southern Living Inspired Event Weekend celebrating
the grand opening of the Southern Living Inspired Home at Cape Fear Station. Ribbon cutting, oyster roast, spirits tasting, dinner, live music and of course a grand tour of the home. Times vary. roasttoastcoast.com
Canines for Service Amazing Race
Oct 10
An exciting new event where teams will race from a starting point to locate 10 mystery destinations throughout New Hanover County, complete "challenges" at each, and then be the first to the finish line. Clues will be provided the day of the event and prizes awarded for the first to finish in each category. Registration includes a clue card for each team, event shirt with successful completion and a meal at the finish line. 910-362-8181, caninesforservice.org
Pleasure Island Seafood, Blues & Jazz Festival
Oct 10 - 11
There is no better way to welcome the fall season at the coast than to attend the 22nd Annual Blues & Jazz Festival. This year's magnificent line-up will feature Grammy-Award winning Dr. John and the Nite Trippers with their unique blend on New Orleans R&B and classic funk. Opening for Dr. John is Australian songstress and slide guitarist Kara Grainger who has toured with previous Seafood Festival performer Buddy Guy. Closing out the festival will be "Queen of the blues" and two-time Grammy nominee, Shemekia Copeland who has shared the stage with the Rolling Stones, Buddy Guy, B.B. King and Eric Clapton. There will be many other blues and jazz groups on two stages over the two-day festival. Fort Fisher Military Recreation Area, 11am. 910-458-8434, pleasureislandnc.org
Taste of Wrightsville Beach
Oct 10
Come enjoy the tasting of Wrightsville Beach restaurants! The Taste of Wrightsville Beach festival celebrates the island's diverse and delicious fare on and around the beach with over 30 food, wine and beer tasting booths. (See website for a full list of vendors). Celebrity judges will rate the dishes with a "Best in Show" while the public will select the "People's Choice" award. This is an evening not to miss and only 500 tickets will be sold so book your tickets today. 5-8pm, Waterfront at MarineMax. 910-262-5998, wrightsvillebeachfoundation.org
Pleasure Island Surf Fishing Challenge
Oct 16 - 18
Carolina Beach, Kure Beach, and Fort Fisher provides a great island for surf fishing, and it's the perfect venue for hosting this area's premier land-based fishing tournament. Family-fun, well-organized fishing event that gives anglers a chance at winning great prizes. Headquarters is Town of Carolina Beach public parking lot, 224 Canal Drive. 910-452-6378. fishermanspost.com
7th Annual Salty Paws Festival
Oct 17
Bring your pets, bring your children. Pet contests, pet adoptions, $30 microchipping. Music, food, raffles, and vendors galore. All proceeds benefit animal welfare. Carolina Beach Lake Park, 11am-4:30pm. 910-458-7233. pleasureislandnc.org
Heart Walk
Oct 17
The Heart Walk is the American Heart Association's largest single fundraising event across the nation and is a non-competitive, 5K walk with teams from local companies, community groups, and friends and family members of all ages. Walk begins at the Mayaire Town Center. Free. 910-538-9270. capefearncheartwalk.org
Downtown Wilmington ArtWalk
Oct 17
This year's Downtown Wilmington ArtWalk takes place during ARTblast on Saturday from 10am until 5pm. The ArtWalk features local and regional artists who display their treasures along six blocks of Front Street. Here you'll find one-of-a-kind paintings, photographs, handmade jewelry, and sculptures. This event draws over 15,000 people. 910-431-3428, coolwilmington.com
Voracious Rare Beer Festival
Oct 23
This event is designed for the true beer aficionado. If you're constantly searching for the latest and greatest beer, this event was made for you! Take advantage of the opportunity to try over 50 unique beers you've never had and some you've never heard of aboard the deck of the historic Battleship NORTH CAROLINA, complete with light appetizers, live music and brewers on hand to answer all of your questions. Space is limited. 6-9pm. 910-256-8622.
Lighthouse Beer & Wine Festival
Oct 24
Explore the world of hops, grapes and grain. Festival features over 100 craft breweries and wineries. Admission includes entrance to the Festival grounds and a glass to sample with. Don't miss this fun-filled festival of beverages, live music, food vendors, and more. VIP 12pm, general 1-5pm. 910-256-8622. lighthousebeerandwine.com
Cape Fear Fair and Expo
Oct 30 - Nov 8
Since 1964 this county fair has been bringing friends and family together to celebrate the start of a new season. Enjoy the celebration in Wilmington with food, animal exhibits and competitions, horticultural contests, amusement rides, children's activities, family fun and live entertainment. Wilmington International Airport, Mon-Thur 5-11pm, Fri 5pm-12am, Sat noon-12am, Sun 1-11pm. 910-313-1234, capefearfair.com