Cape Fear Stage
08 Sep 2015
The new Humanities & Fine Arts Center at Cape Fear Community College comes alive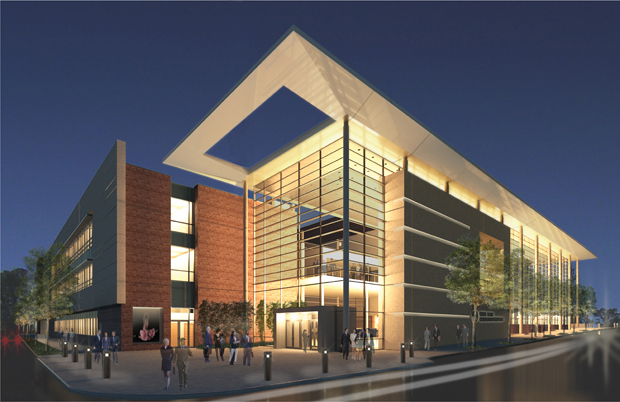 By TERESA A. MCLAMB
The steel frame of Cape Fear Community College's arts venue at 701 N. Third Street was rising into the air when Shane Fernando was hired in 2014 to manage the facility. As it opens, he may be breathing a sigh of relief that his work has resulted in rave reviews, overwhelming community support and a gala celebration featuring the incomparable Liza Minelli and North Carolina's stellar symphony orchestra.
The center was made possible by a $41,000,000 bond. Stage technology cost another million which was raised by the CFCC Foundation, Fernando said. "There are still naming opportunities," he reminded. Some donors are giving a combined gift for equipment and student scholarships. The students are a critical component of the building, he said. Yes, there is a beautiful sound stage in the 160,000sf building and a performance hall that seats almost 1,600, but the building is also a classroom.
"First and foremost, this building is a laboratory for student learning. The performance hall gets a lot of attention. That's the very exciting thing the spotlight is on, but I think the most important part of this building is the learning that will happen." Humanities and fine arts department classes will be held in the building for 5,000 students each week, a number he says will quickly grow because there are now dedicated classrooms, studios and faculty offices for those departments. "From day one, the students and faculty will be walking in, and they will have ownership of the space. Our students will be able to get the theoretical training in the classroom and then walk down the hall and put it into practice." Students will have the opportunity to work with performers and professional crews as well as in the center's marketing office. An agreement with UNCW allows their students to intern at the center, he said. There were eight signed up before the center opened.
As for the performance center, Fernando has worked hard to pull together the calendar for the coming year, beginning with the black-tie gala featuring Liza Minelli and North Carolina Symphony Orchestra. Tickets are on sale for $225.
After months of planning, hiring, procuring and organizing, the first season is set and Fernando is working on 2016 and beyond. "These programs get booked years in advance." His programmatic theme includes Broadway and star series and comedy headliners. "I have a true affinity for contemporary dance, and have been working to building that in our region, and want to continue it here." Those performances will be on the studio stage which seats 100. "It focuses on the world's newest work and up and coming choreographers. When you go to New York and LA you usually see it in a studio or basement, and I wanted to replicate that experience in Wilmington."
Almost as important as the performance is the customer's experience at the performance, so early in the process, Fernando coaxed Dreams founder Tracy Wilkes out of retirement to establish a volunteer recruitment and training program. Sixty to seventy volunteers are needed for each event. Their vision is to have Disney quality customer service, and Wilkes has taken it to another level. Working with the managers of Thalian Hall and Kenan Auditorium, they've formed a corps of volunteers who can work interchangeably at each venue. Using the same sign-up system, they have agreed to recognize and reward volunteers for work at all three sites. They're also communicating and meshing their scheduling so that performances do not conflict from one venue to another.
"I think collaboration of the three venues makes an important statement," Fernando said.
---
Shane Fernando grew up in the local theater community. "After school, I would come downtown and do my homework in the lobby of Thalian Hall or the Community Arts Center, and then go to rehearsals that night. It was a home away from home. This is a community I'm very proud of. So many of our community leaders in the theater have been incredible mentors to me. Tony Rivenbark and Doug Swink. Anne Brennan. Rhonda Bellamy. I truly had and still do have wonderful people to turn to and to get advice from. I've been blessed to grow up in this region with such a vibrant arts community."
---
2015-2016 Season at Cape Fear Stage
Liza Minelli and the North Carolina Symphony – Oct. 3
North Carolina Symphony – Oct. 4
Boz Scaggs – Oct. 28
Jackson Browne (solo acoustic show) – Jan. 9, 2016
Lily Tomlin – Feb. 4, 2016
Gaspard and Dancers (critically acclaimed N.C. dance company)– Feb. 16, 2016
Broadway production of "Joseph and the Amazing Technicolor Dreamcoat"– Feb. 25, 2016
SEOP Dance Company (South Korean dance company) – March 9, 2016
Contra-Tiempo–(urban Latin dance company based in Los Angeles) – April 13, 2016
Broadway production of "Mama Mia"– May 3 & 4, 2016
Tickets for Cape Fear Stage productions are on sale at capefearstage.com. Tickets may also be purchased at the temporary box office located at CFCC's storefront, 254 N. Front St.