Siena Trattoria and Pizzeria
09 Nov 2016
3315 Masonboro Loop Road, Wilmington
910-794-3002
sienawilmington.com
By BRIDGET CALLAHAN » Photos by JENNIFER SIMPSON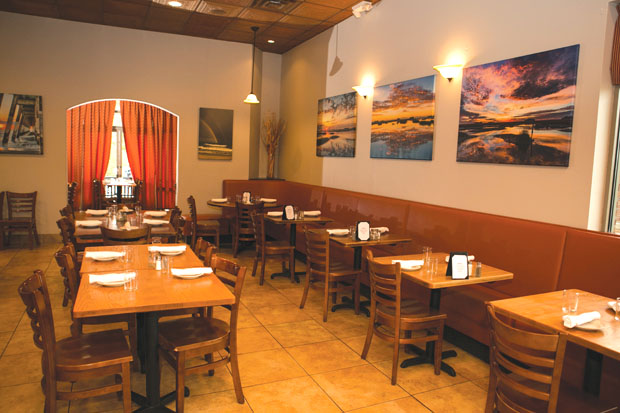 You would never expect to find Siena Trattoria and Pizzeria where it is. Driving down Masonboro Loop Road through the lush, mature yards and golf courses of Pine Grove, you'll start to think maybe you typed the wrong address into the GPS. But right at the point where you think you need to turn around, there it is, sitting in the corner of a shopping plaza, waiting for you.
Anthony and Monica Weiss are the husband and wife team behind this cozy Italian restaurant, and it's easy to see that the warmth behind Siena's atmosphere and menu comes from the chemistry between them. The couple met at the Broadmoor Hotel resort in Colorado Springs, both fresh from culinary school and doing their externships. A working relationship turned romantic, and when Anthony left the Broadmoor to work in a Wyoming steakhouse, Monica followed to be his pastry chef. The previous chef at Siena was also an old Broadmoor friend, and he offered the couple a chance to try their hand at beach living. When he stepped down a few years ago, the Weiss's took over Siena, and have been in charge of the kitchen for the last two years, Anthony as head chef, and Monica as pastry and sous chef.
"We liked what Wilmington had to offer," Monica says. "It's not too big and it's not too small. It's the perfect mix in between, and it suits us pretty well."
Siena Trattoria recently changed ownership, and was bought a few months ago by local businessman and neighbor BT Corrigan. But no huge changes are planned for this favorite local spot, except some additions to keep up with the times.
"We've worked with him on the menu. We want to keep it friendly, welcoming to families, and casual, but still have some great food," Anthony says.
"We've added a couple more pasta options" Monica adds, "and a few more pizza options. We altered the way some of our dishes are created, to try and hit all of our clientele's needs. We can make a lot of dishes gluten free, and things like that."
"But the core menu that people are used to is still here," Anthony is quick to reassure. "We're always working to improve it, to get a better product, but some recipes are cemented in stone because they're delicious how they are."
Both of them believe that the key is making everything from scratch. When you order the lasagna for instance, a favorite on the menu, everything from the bechamel to the fennel sausage to the bread that came out while you were waiting has been made in the kitchen.
"It's a lot of planning. You have to look a couple of days in advance. If you're prepping everything for the day of, you're behind," Anthony says.
There are specials offered every week, but several of the past specials are so often requested, they have to keep the ingredients in stock. For instance, the grilled salmon with a balsamic reduction over parmesan-herbed risotto with roasted brussels sprouts and pancetta now has a permanent place on the specials menu.
"Even when we take it off, people ask for it," Monica says.
Other favorites they'd never dare to remove include the chicken scarpariella, a bone-in half chicken in a rich, lemony white wine sauce, served with hearty sausage, mushrooms, and cherry peppers. And the humbly named "seafood pasta" which includes shrimp, clams, mussels, and salmon all swimming together in spaghetti with artichokes, carmelized onions, spinach, feta, and grape tomatoes.
Pizza is a serious endeavor here as well. Siena offers nine crispy specialty pies from its brick ovens, as well as build-your-own options and gluten free crusts. While opinions about the perfect pizza differ wildly, Anthony believes his pie is among the best.
"It covers a little bit of the sweetness, it covers the herb and tomato, it's a good vessel to carry the rest of it. We make our own mushrooms, carmelize the onions, roast our own garlic. We just feel it's well-rounded," he says.
The space at Siena is sunny, open, and infused with a golden glow. There's an open front room designed for large groups, but still very much part of the dining room. In warm weather, patrons can enjoy their pasta and wine on the patio. Reservations are recommended, especially on the traditionally busy nights of Thursday, Friday, and Saturday.
Regular neighborhood customers are the core of Siena's business, and word-of-mouth is key. Regulars come back not only because they know other patrons, but because they get to know the staff as friends as well. And feedback is taken seriously by the kitchen, right down to what kind of dessert they might offer that weekend.
"I've heard feedback from customers like "Hey, I saw some great strawberries at the store the other day" and so I'll go get some strawberries," Monica says. "Just a couple weeks ago I tested out a recipe for a banana fosters cheesecake, and that sold out in two days, so I'm going to have to bring that back because I've already had people requesting it." The standard desserts on the menu, Monica's airy, rich tiramisu, and her Crepe Siena with Nutella ice cream, never change, but depending on her mood, the chef's selection might be creme brulee or peach buckle.
It might be a little off the beaten path of downtown or Mayfaire, but that's part of what makes a place like Siena Trattoria special, and why so many people who come here love to whisper "Hey, I know this great little place for Italian…"