Some Enchanted Evening
09 Nov 2014
Featuring more than 22,000 strands of lights and half a million bulbs strung on two miles of twine, the time-honored tradition of Enchanted Airlie is an electrifying holiday event.

By JAMIE PENN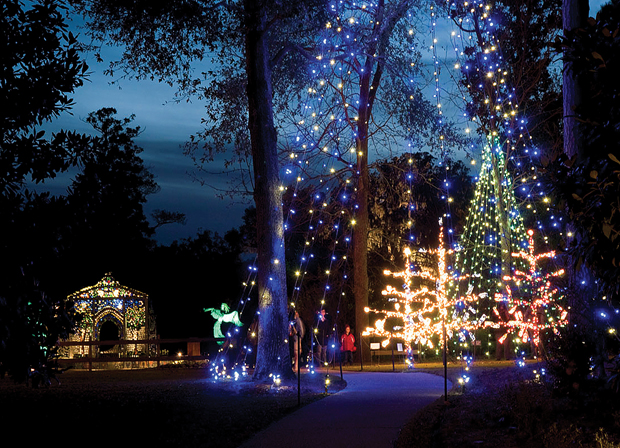 Black, star-speckled nights that generally bring heavy eyelids and a restful ease are all astir during the holiday season. The once 12 (and now closer to 25) nights of Christmas are fraught with anticipation and a sense of the unexpected. They're full of that same joyful, borderline-ecstatic energy that consumes most children and many adults in the days between Thanksgiving and Christmas. 'Tis the season here in Wilmington to translate that vibrant, nocturnal energy into colors that flash and dance like sugarplums in our heads. Going on its tenth year, Enchanted Airlie will return, lighting up the night across ten acres of gardens with every color of the rainbow in all of the traditional ways we love with a few added twists.
Strands of the Past Light the Present
Airlie Gardens itself has a pretty lengthy history. The famous Airlie Oak, now the centerpiece of Airlie Gardens, existed centuries before electric strands of lights or the manicured gardens and meandering rows of azaleas were ever envisioned. In fact, the Airlie Oak was just a seedling 469 years ago. Airlie Gardens came along a few hundred years later in 1886, making 2014 it's 128th year. While Enchanted Airlie is a distant third on that timeline, it's an event considered second-to-none by locals.
"It's something we just don't miss," Wilmington resident Michelle Crittendon said. She and her husband Sam have taken their family to Enchanted Airlie since the tradition began in 2005, with their first son, Parker, just a few months old, in tow.
Now two children and nine years later, Crittendon says the holiday season just wouldn't be the same without it. "Every year there are more and more people, but they always make it work. It always feels fresh. There's something new and cool every year."
Crittendon and the annual head count of her entourage alone could get a little dizzying at a typical holiday function, often with 25 or more children and adults from a total of four families including aunts, uncles, and cousins. But, it's that family togetherness and the location that she loves most.
"It's about being outside with family in a magical place. Everything else during the holidays is so commercial. Walking through those gorgeous gardens under all the lights at night with family is what I really love."
With over half a million cold white, hot white, and seven other colors of bulbs donning trees, azaleas, cone and rebar "trees" that take five robust men to move from a trailer to the lawn, Enchanted Airlie has set serious roots as a Wilmington tradition for families like the Crittendons.
Aside from dazzling lights draped on all of Airlie's natural and artistic wonders, a lot of work, careful planning, and a significant amount of volunteer effort goes into to setting up mini-events and displays within the event. Janine Powell, Director of Donor Relations Parks & Gardens for New Hanover County, and the entire Airlie staff are responsible for making Enchanted Airlie the holiday hot spot that it is year after year. From sponsors, ticketing, and parking, to light design, Santa, hot chocolate, and train displays, the entire team works their magic to help put Enchanted Airlie on the seasonal map. Powell says that while the lights speak for themselves, there have been a few nuances over the years that have become part of the enchanting tradition.
"For the first six to seven years, we did trains through a local train club. We transitioned to Lego trains a few years ago to keep it fresh, but kept with the popular train theme. We have had a wonderful experience with the NC Lego User Group in Raleigh. They would come down every weekend to answer questions, run the trains, and to assemble the entire Lego display." The Airlie Gardens staff decided to change things up this year, transitioning from trains to frosty fables. This year the education room at the Airlie Gardens office will host winter princesses Elsa and Anna under the guise of a frosty winter wonderland.
Although Enchanted Airlie is now a pretty well-oiled machine, there's quite a bit of elbow grease and problem solving in the background that keeps it that way.
In its first year, as with most big annual events, Enchanted Airlie had its share of excitement (or lack thereof) in 2005, when an Enchanted Airlie pre-party for event sponsors turned suddenly lackluster and dim. Sponsors like Duke Power looked on while the dark night grew a touch grim when the circuits broke and all was instantly neither calm nor bright. But, as Scott Childs, Airlie's Grounds Supervisor for the past four years, said, Duke Energy Progress doesn't waste any time. By opening night just 24 hours later, no one was disappointed. Enchanted Airlie was the magical wonderland that it would continue to be for the next nine years.
Two years ago planners had a similar scare the day of the event when the transformer blew, but guests were none the wiser, as they were greeted by the magic of the season transformed into color. "Duke Power responds pretty quickly," Childs said. "We were up and running in a couple of hours." Just like magic.
Powering Up
Creating magic, however, is not as easy as it appears.
Powell said that preparing for Enchanted Airlie is literally a 363 days-a-year process, excluding Christmas and New Years Day.
"I think it's a common misconception that we hire designers to do all of this," Powell says. "The truth is that this is 100 percent staff-driven." She does concede to contracting out a couple of "very small pieces, like coordinating the sound and light show, because that requires special equipment."
The event's first planning meeting is early January, complete with five grounds staff and seven administrative and marketing members of the Airlie team. The next five months are filled with brainstorming, designing, planning, building sponsor relationships, and technical preparations. And, by May, the first strand is strung.
Volunteer work crews come in to brighten the five-man grounds crew's day, helping lace the 14 bottle trees and stuffing each of the bottles with colorful lights. Boom lifts raise staff members to dizzying heights to light up more than 52 live trees.
Although Powell is largely responsible for marketing management and donor relations, she oversees preparations and is not afraid to get her hands in the twine. She's been known to spend a full day or two stringing lights as needed.
More than 22,000 strands and several months later, the sparkling light ingredient to the Enchanted Airlie Magic is complete. The only place small sparkling lights won't be seen is on the Great Spirit of Airlie, The Airlie Oak. "We never string strands on that tree," said Powell. "We are very protective of her, so she is up-lit."
In the Spotlight
Enchanted Airlie has a few special nuances this year that stand to dazzle viewers even more than in years past.
"On the oak lawn, we're doing a light to music display," Childs said. "And we're doing something different this year over in our Bradley Creek area. We'll have a fish pond with characters lit up around it. It's a totally new concept. We've hired Mark Williams, a local contractor, to help us with that."
Centennial Plaza has been covered in grape lights for the past four years and Powell says no one ever gets sick of those. "It's a comment I hear most often," Powell said. "They say, 'You're bringing the grape lights back, aren't you?'" And, yes, she says, visitors can count on them again this year.
The latest in mesmerizing design this year is the Enchanted Forest. "The pre-lit trees are absolutely beautiful," Powell said. "It's a little transporting. Visitors will be able to walk through them at their leisure."
And last, but certainly not least, in the spotlight is the jolly old man himself. Santa, who has attended since the beginning, is a big part of what visitors keep coming back, says Powell.
"We literally have people bringing in their teenagers and 20-year-olds to see Santa, simply because that's 'their' Santa," Powell said.
Crittendon seconds that. "This is the Santa that my boys want to come back to every year. They even love the wait, no matter how long the line is. They get to munch on cookies, drink hot chocolate," she said. "It's the anticipation. They really love it."
So, whether it's the carolers in the butterfly house, the Christmas music that surrounds you wherever you walk, the candy-covered bottle house, or the star lights hanging in the Bradley Creek lawn that you love, dare to be even more enchanted again this year at Enchanted Airlie.
One change that everyone's sure to love is that Enchanted Airlie is adding some Sundays to the schedule. Visit airliegardens.org for the complete schedule and ticket information. Tickets must be purchased in advance.
Walking through the holiday wonderland, many of us can't help but think in numbers. How much of everything does it take to produce what seems like endless twinkling per second? How many eyes do they twinkle in? Here, we let you in on a little of the math behind the magic.
Attendees each year: 30,000
Possible number of twinkling eyes (not counting babies, sleeping or otherwise): 60,000
Length of twine used to attach lights: 20 miles
Bulbs: 500,000 (now 100% LED)
Light strands: 22,000
Staff: 12-13
Bottle trees: 14
Decorated trees: 42
Wrapped palm trees: 10
Days to prepare: 363
Colors used: 10
Gallons of hot chocolate: 130
Cups of hot chocolate sold: 2,080
And last but not least, what about that Christmas music magic that seems to pour out of the trees, serenading visitors at every turn? Just in case the half a million lights and Santa's jolly old soul weren't enough, Sunny 104.5 has sprinkled a little holiday fairy dust throughout the garden over the last few years to help lead visitors down the path of holiday spirit. They provide all speakers, sound equipment and technical support to make this added ambience possible.