Spring Getaways
13 Mar 2017
Our picks for some well needed R&R will bring you bliss, whether your idea of indulgence is digging your toes in the sand or sitting on a porch in the mountains
By KATIE MCELVEEN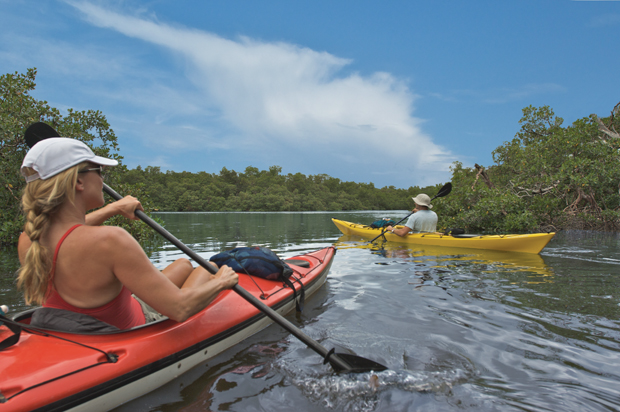 Cumberland Island, Georgia
Why Go Now
History and nature come together in a lot of beautiful places, but few have the understated glamour (think Carnegies and Kennedys) and sense of mystery that gives Cumberland Island its timeless appeal. Although the island has been inhabited for centuries, much of it—including miles of windswept beaches, pristine marshes and lush maritime forest—remains completely unmarred by civilization. This is one place you'll want to bring your camera: dolphins like to play tag with the ferry as it makes its way from St. Mary's to the island, trees are crowned by barely-there halos of green, abstract driftwood decorates the shoreline and wild horses roam freely with their gangly foals.
Cool Spring Activity
Even DIY explorers should consider taking one of the history tours offered through the National Park Service. The one-hour Footsteps tour tells the history of the 29 ruined structures (including an 18th-century manse) that comprise the Dungeness Historic District. The full-day Lands and Legacies tour rambles through the entire island and includes historic cemeteries, the 22,000 square-foot Plum Orchard Mansion (which was built for the Carnegies) and First African Baptist Church, where Carolyn Bessette married John F. Kennedy, Jr. in 1996.
Where to Stay
Gracious and welcoming, Greyfield Inn was built in 1900 as a gift from Thomas and Lucy Carnegie to their daughter Margaret. Today, the 16-room inn is owned and operated by Mitty Ferguson, a Carnegie descendent, and his wife Mary. Meals are included and lovely: breakfast on the porch, lunch in a picnic basket to take on explorations, a formal three-course dinner in a fireplace-warmed dining room. Spring Saturdays include an oyster roast with local oysters and a presentation by a naturalist about the island's unique ecosystem. Days at the Inn are spent enjoying the porches, taking tours with staff naturalists and historians, fishing, kayaking, cycling or strolling the beach. Everything except alcohol is included. greyfieldinn.com
Vancouver, BC
Why Go Now
Sleek but rustic, bustling but relaxed, Vancouver is a study in contrasts that will please city slickers and nature-lovers alike. It's also a bargain for Americans, with the US dollar worth about $1.25 in Canadian dollars. Filled with museums, fabulous shopping districts (particularly the hip Kitsilano neighborhood) and dozens of public artworks, Vancouver is also a city of parks. Perhaps the best-known, Stanley Park, a more than 1,000-acre urban oasis almost entirely encircled by water. Biking along the 6-mile-long seawall that rims the park is a Vancouver tradition and offers views of the mountains and the sea, but be sure to explore the interior, where you'll find everything from an aquarium to ancient totem poles and more than 4,500 azaleas and rhododendrons, which are in full bloom during the spring. Don't miss an afternoon on Granville Island, a former industrial site that's now home to a huge public market, a thriving arts district, shops, galleries and performance spaces.
Cool Spring Activity
Whale lovers take note: beginning each spring and continuing through the summer, majestic grey and humpback whales join Vancouver's resident orcas as they pass through Vancouver on their way to the Arctic feeding grounds. Known for their acrobatic leaps and huge tail slaps, humpbacks are also some of the most verbal whales in the water, singing songs so loudly that whale watchers can often hear the melodies as they rise from the deep. Where humpbacks are the gymnasts of the deep, gray whales, who are also known for breaching and jumping, are the inquisitive souls of the whale world. Don't be surprised if a gentle gray, and perhaps her calf, decides to park herself next to your boat, where she'll hang around as long as someone is willing to scratch her.
Where to Stay
Surrounded by the trendy shops, galleries and coffeehouses of Yaletown, the OPUS Hotel is a hip and friendly boutique hotel that provides thoughtful extras, like free car service around town, personalized activity recommendations from a team of lifestyle concierges and complimentary bikes. And just to be sure that your room suits your style, most of the nine room types come in several decors and layouts. There's also a 24-hour fitness center, a cool bar and a beverage butler, who will bring the bar to you. vancouver.opushotel.com
Aiken, SC
Why Go Now
Like a number of southern locales, Aiken was a popular 19th-century winter getaway for wealthy northerners, who came to hunt, ride horses and enjoy the mild climate. But unlike many of those retreats, Aiken has maintained what made it special in the first place. Thanks to a thriving arts community, craft breweries, restaurants and shops, the compact downtown still bustles with bright energy, and many of the city's historic estates and their gardens are well maintained and open to the public. Aiken's equestrian community also remains active, particularly during the spring, when hunts, races and shows are in full force. Two notable events are the polo matches that are played on Whitney Field most weekends through June, as they have been since 1882; and Stable View Farms' jumper and dressage shows, which are held the first and second Wednesdays of the month, respectively. Then there's Hitchcock Woods, a 2,100-acre public woodland that's open to runners, walkers and equestrians—but not cyclists. Feel free to bring your own horse, or call Rebel Ranch, which offers guided tours on horseback.
Cool Spring Activity
With its reflecting pools, ponds, shady strolling paths and centuries-old live oak alley, 14-acre Hopelands Gardens is one of the prettiest public spaces in Aiken. In April, when the azaleas are blooming and the air is scented with wisteria, the Hopelands Summer Concert Series adds music to the mix each Monday night. Concerts are free and picnics are welcome; don't forget to bring a blanket and a chair.
Where to Stay
Built as a family home in 1872 and transformed into an inn in 1999, the Carriage House Inn emerged a year ago from a two-year renovation that expanded rooms and suites and added porches, pretty courtyards and a rooftop veranda. Rooms are bright, airy and artistically furnished with funky headboards—pony, distressed wood—linen dust ruffles and modern bathrooms. aikencarriagehouse.com
Marco Island, Florida


Why Go Now
Marco Island is part of what's often referred to as Florida's Paradise Coast and it's easy to see why: situated along the state's southwestern coast, Marco Island's climate is just about perfect during the spring, when temperatures are warm enough for the beach, but cool enough to be comfortable. And what beaches they are, dreamy, sun-drenched and lapped by the calm waters of the Gulf of Mexico. Just north of Marco Island lies the Ten Thousand Islands National Wildlife Preserve, a massive mosaic of mangrove swamps, uninhabited cays, tidal marshes and estuaries alive with manatees, dolphin, sea turtles and other stars of nature. The two habitats come together at Tigertail Beach Park, where you can lounge in the sand, explore the marshes aboard rented kayaks and watch giant ospreys catch fish for their young. There's also Audubon's Corkscrew Swamp Sanctuary, located just outside Naples, where rangers lead tours on a 2.25-mile boardwalk that weaves through an ancient bald cypress forest and other habitats including pond cypress, wet prairie, and marsh. Expect to see alligators, raccoons, owls, thousands of rare birds and, if you arrive soon after the Sanctuary's 7am opening, a chance to see some of the wild Florida panthers that stalk the park.
Cool Spring Activity
Catch a ride aboard the Dolphin Explorer and you'll join a marine biologist-led team that observes and records the activities, distribution, movement and association patterns of the local dolphin population. Each dolphin is identified by his or her dorsal fin, which is as unique as a fingerprint; be the first to spot a newborn and you get naming rights! dolphin-study.com
Where to Stay
A recent $320 million renovation transformed the Marco Island Marriott into the serene Marco Island JW Marriott Marco Island Beach Resort. In addition to upgrading all 716 guest rooms with Balinese-inspired carved wood accents, spa showers and plantation shutters, the spa now offers privacy-enhancing "pods" in the lounge where you can choose your own music, order snacks or plug into wi-fi before and after treatments. An Express Spa in the lobby offers pay-by-the-minute scalp, neck, shoulder and hand massages on a walk-up basis. Beginning in the fall, the resort will transform one of its two towers into an adults-only property. jwmarco.com
Turks & Caicos
Why Go Now
If your idea of Caribbean perfection means days drowsing on a sunny beach and nights pampered in sumptuous luxury, Turks and Caicos will seem like a gift from King Neptune himself. Visitors tend to fly into hook-shaped Providenciales, or Provo, and, if you're a beach lover, there's no reason to leave. That's because, as beaches go, 12-mile-long Grace Bay Beach is a nearly perfect strand, offering sleepy beach bars, pampering resorts and long stretches of nothing but sand and water. It's also been designated as a quiet zone, meaning that there aren't any speedboats whizzing by (those heading close to shore must do so slowly and as noiselessly as possible), loud music or vendors hawking tchotchkes. Instead, all you'll hear is the gentle burble of the waves as they whisper across the sand, retreat, and do it again.
Cool Spring Activity
Hop aboard one of Island Vibes' speedboats (they'll pick you up directly from the beach) and within fifteen minutes you can be face-to-face with the colorful parrotfish, massive grouper and other residents of a huge reef system (the third largest in the world) that happens to lie just north of Provo. Once everyone has had their fill, the crew will pull anchor and head for Little Water Cay, an uninhabited spit of sand known for its huge population of iguanas and a glorious beach that glows with stark white sand and neon-blue water that is somehow even brighter than Grace Bay Beach. Keep your eyes peeled for rays and turtles as you pass through mangrove flats along the way, and have your camera ready to snap shots of crew members as they dive for conch and lobsters.
Where to Stay
When it opened in 1993, Grace Bay Club was the island's original entry into the upscale resort market. Nearly 25 years later, the resort is still at the top of its game, providing an experience as refined as it is relaxed, with elegant open-air dining, top-notch service (all guests are assigned a personal concierge) and a dramatic oceanfront infinity bar that seems to disappear into the sea. Breakfast on the shaded terrace is complimentary, but you'd never know it: servers take orders for made-to-order omelettes and other specialties, the pastries are homemade and the juices freshly squeezed. Consider booking a condo in the 22-room Estate, which have full open kitchens and a private pool, beach bar and welcome lounge. gracebayresorts.com/gracebayclub