The Natural Choice
13 Mar 2017
The decision to build a custom home was the right choice for this retiring couple
By CHRISTINE HENNESSEY » Photos by G. FRANK HART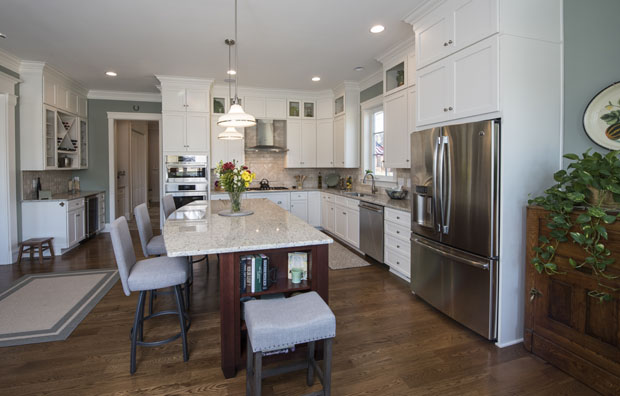 Sharon Hamelin didn't really want to build a house. It seemed like a lot of trouble, especially when there were so many houses already on the market. Her husband Gregg, on the other hand, loved the idea of designing something just for them. And so they struck a deal—they'd buy a plot of land in the Landfall neighborhood before they planned to retire, then spend a few years looking for a home. If they found something they both liked, they'd buy it and sell the land. If they didn't, they'd build.
While the decision to build or buy was a bit more contentious, choosing a city for their retirement was easy. They both wanted to leave Philadelphia, where they'd spent the last twenty years, and move down to Wilmington. Sharon, a special education teacher and stay-at-home mother, was born in the Port City, but grew up in Raleigh. Her parents had a house in Kure Beach for years, and the couple had spent a lot of time vacationing in the area. They also knew the snowbird lifestyle—a winter home down south and a summer home up north—wasn't for them. "We wanted to have one home," Sharon says. Wilmington, with it's coastal location, great colleges, vibrant culture, and familiar streets, was a natural choice.
They spent the next few years scouring real estate listings, but to no avail. "At the end of the day we never found one we were ready to commit to," Gregg says—possibly because he was still drawn to the idea of building. A retired Navy pilot, his inner engineer was itching to take on the project and Sharon finally gave in. "I was more interested in the moving process," Sharon says, laughing. "So by default I got dragged into it."
Taking the First Step
Once the Hamelins decided to build, they had to find someone who could turn their long list of requirements into reality. Gregg headed to his college's alumni website and asked everyone who lived near Wilmington for recommendations. RMB Building & Design was on nearly every list he got back, which seemed promising. Another good sign? The years they spent house hunting helped the Hamelins figure out what styles and layouts they preferred, and the one they liked best happened to be an RMB home. "Between them being one of the key builders on my list and really liking their homes, we decided to start with them," Gregg says. "It just worked right from the start."
Mack Braxton founded RMB Building & Design in 2003. A boutique builder, they're as focused on building relationships as they are on building custom homes in neighborhoods such as Landfall, Porters Neck, and Wrightsville Beach. Part of this is because they do everything from design to construction completely in-house. "I work intimately with the clients to find out all their wants and desires, then design a home accordingly," Braxton says. Some people approach RMB with ready-to-go plans, while others come with ideas. No matter where they're starting, Braxton's team can give them what they ultimately want—a beautiful home.
Braxton acknowledges that building a home is a process, one that many clients find stressful and, at times, overwhelming. That's why he's committed to making the process as pleasant as the final product. He prides his team on its ability to listen to their clients' dreams, as well as their concerns, guiding them so they feel comfortable every step of the way. The Hamelins were no different.
The Devil is in the Details
The Hamelin's number one goal was to design and build a comfortable, casual, and well-built home. They also wanted to take advantage of Wilmington's mild winters, especially after freezing for so many years in the northeast. "We took outdoor living into consideration," Sharon says. "We talked about what that would look like, how it would be different from what we were used to. It's just the two of us now, so we also talked about where we spend most our time and how the home would reflect that."
"The other piece was that our lot was big enough for a pool, and that was something we decided we really wanted," Gregg adds.
This was all communicated to the builder, who took copious notes and started drafting their dream. "They knew they wanted a lowcountry shingled style home, which is one of my favorite builds," Braxton says.
Because their goals were so clear, the Hamelins found the design process interesting and fun. "Mack is one of the easiest guys you could work with," Gregg says. "Whenever we thought about doing something different, he was always really attentive. It was fascinating to see it come together on paper."
One of their big changes to the design happened while the home was being framed. "When you look at a design on paper, you think you understand it," Gregg says. "When you walk through a house that's just been framed, you see things differently." One thing they noticed was that the bedroom felt too small. They decided to nix one of their three closets, which helped open up the room. "Mack was able to make the change because of where we were in the process," Gregg says. "If there were already windows and drywall, it would have been much harder to do."
Another thing that surprised the Hamelins was the sheer amount of choices they had to make throughout the process, and how organized Braxton was in presenting those choices to them. "Mack has this process where he lays out the decisions you have to make, and when they need to be made by," Gregg says. "It was really helpful because every week we'd get that list, and we'd head on over to the lighting store or the tile place."
While tile and lighting are more obvious decisions, the Hamelins also got involved in seemingly smaller choices, too. When they knew the electrician would be working on the home, they dropped by to offer their input. "We spent two hours with him deciding where to put all the light switches," Gregg says, "and it's the only house I've ever been in where every switch makes sense." While this might seem overwhelming, Sharon makes sure to add that weighing in on these kinds of decisions was their preference. "If you want to get involved on that level, you can. If you don't, you can trust Mack's people to make good choices for you."
The Results
The Hamelins have been in their home for just about a year now, and it's everything they imagined and more. One of the biggest surprises about the process was how quickly RMB was able to build the house, once the design was set in stone. "Mack said it would take fifteen months for the build," Gregg says, "But they finished it in eight. It was almost like watching a ballet, the way he scheduled sub-contractors and queued things up. It was a spectacular process to watch."
Even more spectacular is the home itself. Their original goals—comfortable, casual, and well-built—were achieved in myriad ways. The master bathroom has a large walk-in shower with no door. There's a big island in the kitchen for entertaining. Cozy nooks abound in places like the bedroom and kitchen, and there's a balcony that offers a great view of the pool and the pond. "We have a big back porch that opens to the pool," Gregg says. "During the warm months we're in the pool every day, and during the winter we're always in the hot tub."
One of the things the Hamelins insisted on during the design phase was extra room in the kitchen, between and around the island. When Braxton questioned this, Sharon held her ground and Gregg backed her up. It was the right choice. "Whenever people come over, everyone always ends up in the kitchen. In our old house, that worked until it got too crowded. Here, we never have to worry about that. We have plenty of room."
Another thing the couple enjoys is the attention to craftsmanship that Braxton clearly makes a priority. "One of the things that we liked about Mack was his love of woodwork," Sharon says. "He does beautiful woodworking touches throughout the house and I didn't appreciate it at the time." As she settled into the home, these beautiful details continued to surprise and delight her.
Now that the Hamelins have gone through the home building process, they're much more aware of what works and what doesn't. Gregg has plenty of advice for others who are thinking of going down this road, but his biggest lessons were learned at the very beginning. "Spend a lot of time upfront on the design. We went back and forth on the plans as they were evolving, and we modified them a fair amount."
In the end, the argument whether the Hamelins should buy or build didn't really matter. Thanks to their new home, they both feel like winners.
Resources
RMB Building & Design, 910-256-6326, rmbbuildinganddesign.com