Starry, Starry Nights in the Kitchen
05 Jan 2022
Recipes and Photos by Kimberly Byer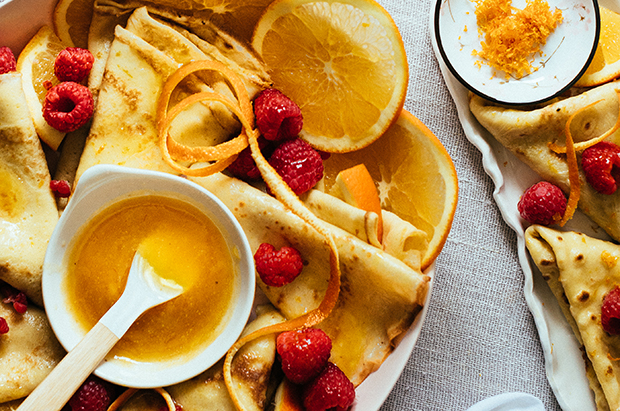 It all started while on an eighth-grade French Club field trip to Le Petit Chateau, a storied French restaurant in Columbia, SC, in the late 1970s. Six elegant small courses were presented across the starry, starry night, from garlicky escargot and frogs' legs to tiny triangles of smelly cheese— most of which made my classmates giggle and some even gag. For me, the exotic tastes and smells awakened my tastebuds, and I secretly swore my allegiance as a French-blue, through-and-through, Francophile forever.

Fast forward through years of Julia Child reruns, Cordon Bleu classes, and Parisian menu-du-jour meals, I am still smitten with French cuisine.

At home, our favorite go-to dinner is "French Night"— a simple board of store-bought cheeses, toasted baguette, and le saucisson served with Dijon mustard and preserves. When friends join, we play Edith Piaf and serve apéritifs like a Lillet Rosé Tonic, or, for the adventurous, a licorice-scented Pastis.

It's in this café spirit, speaking in our finest French accents, that we're rolling out the rouge carpet with our suggestions for your own "French Night" In the Kitchen, including a charcuterie board for the ages, a state-side version of steak frites with filets covered in a velvety herb sauce, and a classic crème brûlée. À votre santé!
Apéritifs x Trois
Le Grand Leo

1 ½ ounces Cognac
¾ ounce Byrrh
¼ ounce dry Curaçao (orange liqueur, recommend Pierre Ferrand)
¼ ounce fresh lemon juice
1 dash bitters (optional, recommend Peychaud's Aromatic Cocktail Bitters)
Garnish: thick slice of lemon peel
Shake all ingredients together with ice and strain into a rocks glass. Express lemon peel before using as a garnish.

Lillet Rosé Tonic

1 ½ ounces Lillet Rosé
3 ounces tonic water
Ice of choice
Garnish: grapefruit slice + a sprig of thyme
Pour ingredients directly into glass with ice or shake with ice and strain into a coupe or small wine glass. Garnish with grapefruit and thyme.

Pastis

1 ounce Ricard
4 ounces ice-cold water
Pour Ricard into a small glass, then add cold water. Pastis will turn milky and pale yellow.
The Ultimate French-Night Charcuterie
A build-your-own board of French cheese, prosciutto, pâté and more

Charcuterie

1 hard cheese (e.g., Comté or aged cheddar)
1 soft cheese (e.g., Camembert, goat or triple creme)
1 blue (Roquefort or Saint Agur) or flavored cheese
Pâté (e.g., Mousse Truffée or Pâté Campagne)
Dry Italian sausage and/or prosciutto or
Spanish serrano or ibérico
Seasonal fresh fruit and/or dried fruit
Radishes with coarse salt and European butter
Jam, preserves, chutney and/or honey
Dijon mustard (e.g., Maille or Edmond Fallot)
Cornichons and olives
Nuts (e.g., Spanish marcona almonds, hazelnuts, chestnuts, walnuts, etc.)
Belgium chocolate
Serve with warm bakery baguette(s), sliced or torn (recommend Costco brand which freezes nicely)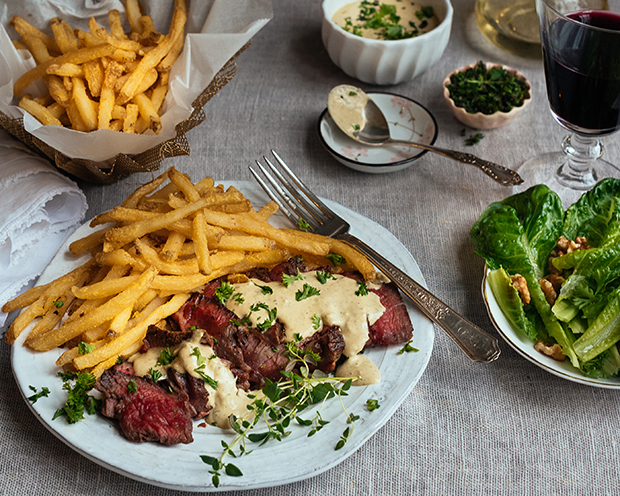 Filet Frites  with a velvety herbed cream sauce and shoestring French fries
Herbed Cream Sauce 

2 tablespoons (high fat) unsalted butter, divided use 
2 small shallots (about 2 tablespoons), minced
2 large chicken livers, membranes removed, finely chopped  
Several sprigs each fresh thyme, tarragon, and parsley, leaves removed and finely minced  
1 cup heavy cream 
2 tablespoons Dijon mustard
¼ teaspoon kosher salt (or more to taste) and several grinds of dried peppercorns
A few teaspoons of water 
1/2 teaspoon Brandy (optional)
2 six-to-eight-ounce center-cut filet mignons
Frozen bag of shoestring French fries  

1. To make Herbed Cream Sauce, sauté shallots in a tablespoon of butter in a medium skillet over low heat until soft and golden, being careful not to let them brown. 
2. Add chicken livers and thyme and cook until browned. Remove from heat. 
3. In a saucepan, reduce the cream and Dijon over medium heat. Stir until thickened and add remaining tablespoon of butter. Remove from heat.
4. Add tarragon and parsley to shallot and liver mixture. Add salt and pepper to taste. Using a wooden spoon, press the liver mixture into a paste in the pan. Then, stir a few teaspoons of the cream sauce into the liver mixture. Next, using the same wooden spoon, press the mixture through a sieve or mesh colander over a bowl. The goal is to remove the remaining liver pieces and lumps and create a smooth, velvety sauce.
5. Incorporate the cream into the bowl and mix. Add a few teaspoons of water for desired consistency. Add Brandy and adjust seasoning, if needed. Keep warm.
6. Dry filets with a paper towel, then season with coarse salt and a generous amount of freshly ground pepper. Grill on high for two minutes each side or cook as desired until rare or medium-rare in the center. Slice filets on the diagonal into thin strips. 
7. Bake French fries according to package directions. 
8. To serve, ladle a generous amount of Herbed Butter Sauce over filet and as a bath beneath hot French fries. 
Crêpes Suzette with Grand Marnier sauce and orange marmalade
Crêpe Batter

4 eggs
1 cup flour
1 large, juicy orange, zest removed and juice squeezed (divided use)
1/2 cup whole milk
1/2 cup water
1/2 teaspoon kosher salt
2 tablespoons salted butter, melted + extra butter for cooking (approximately ½ teaspoon per crêpe)

Grand Marnier Sauce

6 tablespoons salted butter
¼ cup sugar
Remaining orange juice and remaining half of the orange zest (from crêpe batter)
¼ cup Grand Marnier or Dry Curacao (orange liqueur)
Splash of Cognac or Brandy (optional)

For serving

1 teaspoon of orange marmalade or jam per crêpe
Orange zest or peel, and raspberries

1. In a medium-sized bowl, whisk eggs until combined. Slowly add flour and whisk again until flour is incorporated. Continue whisking in half of the orange's zest and 2 tablespoons of the orange juice, milk, water, salt, and butter. Cover and refrigerate for 30 minutes to 1 hour.
2. Depending upon the size of your crêpe pan or flat-bottomed, non-stick pan, you'll want enough batter to smoothly cover the bottom — typically 1/4 cup + 1-2 tablespoons.
3. Over medium-high heat, melt ½ teaspoon of butter in the pan and ladle in crêpe batter. Roll the pan until the batter covers the entire bottom. Cook for approximately 1 minute, then gently turn the crêpe over using your fingers or a flat spatula. Cook the other side until the batter turns golden and lightly browned (again, approximately 1 minute).
4. Set aside on a plate and repeat process until all of the batter is used. Note: Parchment paper layered between crêpes will make separating easier.
5. To make the sauce, melt butter and sugar in the crêpe pan over medium heat. Add remaining zest and juice and liqueurs carefully (liqueur is flammable).
6. Using two hands, dip both sides of a crêpe into the sauce. Place on a plate and place a teaspoon of orange marmalade in the center. Fold the crêpe in half and in half again, forming a triangle. Repeat with remaining crêpes. Serve warm with remaining sauce.
Vanilla Bean Crème Brûlée
Enough for 8 ramekins

5 eggs
1/2 cup granulated sugar (raw or white, plus extra for the brûlée)
3 cups heavy cream
¼ teaspoon kosher salt
1 teaspoon pure vanilla extract
1 vanilla bean
Special equipment: kitchen blow torch

1. Separate egg yolks from egg whites. Reserve egg whites, if desired.
2. In a medium-sized bowl, whisk egg yolks and sugar together. Set aside.
3. Over medium heat in a small saucepan, bring heavy cream and salt to a rolling simmer. Immediately remove from heat and add vanilla extract.
4. With a sharp knife, split vanilla bean lengthwise and scrape vanilla paste from the interior. Add to hot cream.
5. Slowly drizzle hot cream mixture into the egg yolks while constantly stirring by hand. Caution: Incorporating hot cream too fast will cause eggs to curdle and cook.
6. Custard mixture may be refrigerated at this stage for up to 24 hours. Before using, remove foam and/or firm skim layer from the top of the mixture, then pour through a sieve to remove any solids. Whisk again to distribute vanilla bean flecks.
7. When ready to bake: Pre-heat oven to 325°F. Pour custard into ramekins (almost to the top).
8. Place ramekins into a large baking or casserole dish. If using shallow ramekins, use two casserole dishes. Carefully fill dish with very hot water until it reaches 2/3 of the ramekin's height. Bake for 30 minutes.
9. Test custard for doneness by taking a pair of tongs and shaking a ramekin. If there's a slight jiggle in the center of the custard, it's cooked. If there's a wavy motion, bake for 5 more minutes. The custard should not brown or rise. Depending on your oven's heat distribution, this can take up to 15 more minutes of cooking time. Larger individual shallow ramekins take less cooking time than traditional round ramekins. Do not overcook.
10. When done, refrigerate ramekins for a minimum of 4 hours. Custard will firm as it chills.
11. When ready to serve: Remove chilled ramekins. Sprinkle a light layer of sugar (about 1 teaspoon) evenly around edges and into the centers until each custard is covered. Using a kitchen blow torch, heat sugar from a height of 2-3 inches until it melts. Repeat with a second layer of sugar and heat until sugar bubbles and turns golden brown. The sugar will harden as it cools over the next few minutes. Serve warm.

Tip: Keep an extra can of fuel on hand in case your kitchen blow torch runs low on butane.