Summer Camp Guide
13 Mar 2016
Ah, camp. What a wonderful way to meet new friends, learn (or perfect) a new skill such as kayaking, swimming, or horseback riding, and simply get away from it all. Lucky for us, there are lots of opportunities that will offer your children all kinds of ways to have fun during the Carolina summer.
We've compiled a list of local camps and a few that are a short drive to help you find the perfect camp for your child. These camps offer everything from outdoor activities to computer science skills to arts and crafts. But remember to register early, as space is limited.
By CAROLINE GOBBLE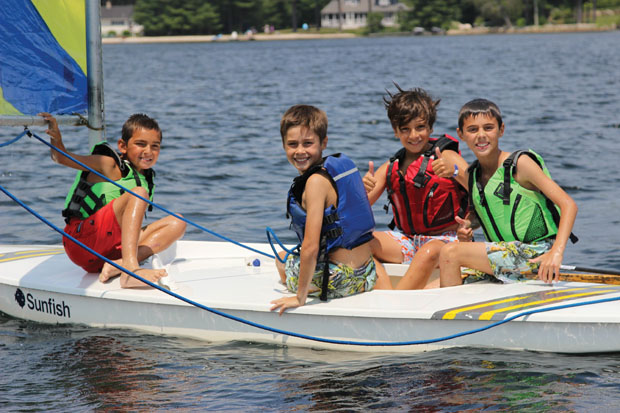 Camp Halo
Wilmington's Impact Church will host Camp Halo. Each day campers choose their own adventure—either a Fun Track or a Sports Track. Activities include basketball, baseball, football, soccer, dodge ball, kickball, ultimate Frisbee, magic, science, art, drama, and Legos. Each day, campers will experience team competitions and an assembly time where they will learn about God's Word. 910-202-4595, impactwilmington.org/camphalo.aspx
Camp Seagull and Sea Farer
Ahoy! Camp Sea Gull for boys & Camp Seafarer for girls are some of Wilmington's favorite overnight camps, providing campers with character education and an opportunity to learn how to sail and navigate North Carolina's coast. Seamanship is the main focus of the camps; though land activities such as archery, golf, climbing, horseback riding, and crafts are also available. Camp Sea Gull for boys 252-249-1111, Camp Seafarer for girls 252-249-1212, seagull-seafarer.org
Cape Fear Academy Summer Programs
CFA programs are open to the public for children 3-12 years old and offer Academic, Enrichment, Sports and STEM programs. The camps are half-day camps in time blocks from 9-12 or 1-4. 910-791-0287, capefearacademy.org
Cape Fear Community College
CFCC offers a variety of summer camps for elementary, middle, and high school students. Camp topics include, but are not limited to, Spanish immersion, creative writing, visual and performing arts, sports, career explorations, and other subjects that will teach young people how to be the best at being themselves. 910-362-7254, cfcc.edu/ce
Cape Fear Isshin-Ryu Karate Summer Camp Program
Hone in on karate skills each day, while also participating in active play such as dodge ball, Nerf games, Frisbee tag, obstacle courses, team building exercises, and sword fighting. Camp includes field trips such as the movies, sword fighting at the park, swimming, and more! 910-392-3703, capefearisshinryu.com/summer-camp
Carolina Gymnastics Academy Summer Camps
Carolina Gymnastics Academy has a lot more to offer than tumbling. Their summer camps feature adventure, sports, gymnastics, free play, inflatables, and arts and crafts. Half-day camp is for children ages 3-10 years old and full day camp is offered to children 5-10 years old. 910-796-1896, carolinagymnasticsacademy.com
Children's Museum Summer Camps
Does your child dream of being a superhero, a Jedi knight, or even a famous artist? If so, then the Children's Museum of Wilmington is the place for them. The museum offers five week-long camps over the course of the summer: Superhero Camp, Galaxy Academy, Girls in Science, Kids in the Kitchen, or Mini Masterpieces. 910-254-3534 ext. 102, playwilmington.org
City of Wilmington Summer Camps
From nature to sports, the City of Wilmington has an array of summer options. Some of their signature camps include Basketball Camp, Adventure Camp, Skate Camp, Nature Camps, and Tennis Camps. They also offer a Day Camp at MLK Community Center and Maides Park, as well as Camp Shriver for Special Olympics. 910-341-7855, wilmingtonrecreation.com
DREAMS Center for Arts Education Summer Camps
DREAMS of Wilmington, Inc. focuses on educating young people in the literary, visual, multimedia and performing arts. In June, camps will offer classes in visual arts, dance, music and performing arts. In July, campers can become travel experts by attending Mexico Camp or Italy Camp, during which they will participate in art activities focused on the culture of either country. 910-772-1501, dreamswilmington.org
Engineering and Robotics
Calling all blockheads, future engineers, and designers… UNCW's Engineering and Robotics camps offer hands-on learning and experiments ranging from exploring alternative energy sources to investigating how birds have inspired engineers to using literacy connections to create designs. 910-962-2640, uncw.edu/youth/programs/summerengineering.html
Greenlands Children's Farm Summer Day Camp
Greenlands Farm is a homestead farm in Bolivia, NC. Here, campers learn about sustainability, permaculture, organic farming, composting, and animal care. They will get to help milk goats and make soap using the milk collected. Other activities include canning and baking; organic farming, vegetable picking, and meal prep; arts and crafts; and farm games, pony rides, and llama cart rides. 910-253-7934, greenlandsfarmstore.info
Indo Jax® Surf School
A family owned-surf school, Indo Jax® provides group and private surf and kite board lessons. They offer summer camps at Wrightsville Beach, Topsail Island, and Oak Island. The half-day or morning camps feature highly trained instructors, low surfer to instructor ratios, and safe equipment. 910-274-3565, indojaxsurfschool.com
Kids Art Buzz Summer Camps
It's time to get those paintbrushes and creative juices flowing. Wine and Design of Wilmington will offer summer camps where children will get hands-on experience in mixed media 3-D projects, clay sculpturing, kinesthetic learning and more! This summer's camp themes are Under the Sea, Around the World, and Famous Artists. 910-313-2600, wineanddesignus.com
Marine Quest
UNCW Marine Quest, in conjunction with the Center for Marine Science and the Watson School of Education, offers a variety of camps throughout the summer to enrich and educate students about the field of marine biology. From explorations of marine technology and coastal environmental engineering to hands-on field studies of "ickyology" (or invertebrate zoology), Marine Quest camps span a plethora of topics and age ranges. 910-962-2640, uncw.edu/marinequest/summercamps.html
Myrtle Grove Presbyterian Power Summer Camp
Power Camp is an epic day camp is for 1st through 8th graders and offers more than 35 activities from surfing, skateboarding, soccer, cheerleading and dance, air-soft, Lego animation, art, musical theater and overnight mountain excursions. With an emphasis on God's Word and raising awareness for those less fortunate, campers will learn about character education amidst their many activities. 910-791-6179, myrtlegrove.org
North Carolina Aquarium at Fort Fisher
Aquarium summer camps provide fun and safe learning opportunities with knowledgeable and competent leadership. Younger campers become immersed in weekly topics through animal interaction, play, storytelling, crafts, and hands on outdoor activities. Older campers use the five senses and investigative skills to explore the outdoors, venture to various coastal environments, and learn about animals and animal care. 910-458-8257, reservations.ncaquariums.com/fortfisher
No Sleeves Magic Camp
Abracadabra! No Sleeves Magic Camp has been voted number one camp for 8 years in a row! Running from 9 a.m. to 3 p.m., Monday through Friday, camp days are full of magic tricks, magic performances, games, prizes, magic shows, magicians, illusions, secrets revealed, field trips, pizza, water fights and much more! 910-200-5300, nosleevesmagic.com.
Oasis Summer Camp
OASIS NC is committed to providing support and services to individuals with autism spectrum disorders. They offer two summer options for children, a 10-week Summer Learning program created to help children with autism maintain academic and social skills over summer vacation. Oasis also offers four weeks of Summer Camp. Each week will have a different theme and offer activities such as drama, recreation, arts and crafts, science and music. Each Friday, kids will visit a community attraction related to the theme of the week. 910-202-2080, oasisnc.org
Sea Turtle Camp
Founded with the intent to provide teenagers with a hands-on education of marine biology, Sea Turtle Camp has a wide range of camp options. According to the Sea Turtle Camp website, "Whether it's volunteering in the Karen Beasley Sea Turtle Hospital, scuba diving over North Carolina's reefs, patrolling Caribbean beaches in search of nesting leatherback and green sea turtles, or participating in ongoing Hawaiian sea turtle research, each adventure will inspire you." 910-686-4611, seaturtlecamp.com
Sola School of Learning Arts Summer Camps
Boost your child's creativity and imagination this summer at SOLA, where kids play and learn with art, crafts, music, science, nature, theatre, English, Spanish, sign language, mathematics and social skills. From gardening to pottery to cooking, kids will be engaged in a TV-free and video game-free zone. 910-798-1700, solaschools.com
The Little Gym of Wilmington
Camps at The Little Gym come in all shapes and sizes, combining fun physical activity, games, and arts & crafts. Super Kids' Quest camps your child will spend three adventure-filled hours a day on a unique, exciting quest with their friends. Each week revolves around an interactive learning theme with different, creative lesson plans that will keep your child engaged. Grade School Skill thrill camps give your adventurer something unique! Your child will take their gymnastics skills to the next level through a special three-hour program, focusing on specific beginner, intermediate or advanced moves. By the end of the summer they'll stick the landing when they handspring back to school. 910-799-3771, thelittlegym.com/wilmingtonnc
UNCW Sports Camps
For all athletes, UNCW will offer camps in the following sports: Boy's and Girl's Soccer, Baseball, Softball, Tennis, Volleyball, Boy's and Girl's Basketball, and Swimming. Camps range from day camps to residential camps. To learn more and find contact information for each camp, visit uncwsports.com
UNCW's Young Writer Workshop (YWW)
UNCW's YWW is ideal for aspiring writers. For five days (June 23-27), a small group of high school students will study the craft of writing with both published and working writers. UNCW's Department of Creative Writing implements this unique opportunity to delve into the world of writing. uncw.edu/writers/youngwriters.html
Wilmington Christian Academy Summer Camp
A ministry of Grace Baptist Church, WCA provides a Summer Enrichment Camp, Summer Day Camp, and Sports Camp. Summer Day Camp a recreational day camp filled with enjoyable activities and local field trips including bowling, aerobic exercises, water activities, indoor/outdoor games, library time, sports skills, skating, and visits to the water park. Enrichment Camp offers classes on various subject areas such as art, computers, science, drama, music, engineering, cooking. Athletes can improve their skills in basketball, golf, soccer, tennis, volleyball and more. 910-791-4248, wilmingtonchristian.com
Wilmington Community Arts Center Summer Camps
Calling all theater and visual art lovers… it's time to take the stage! Offering seven different weeks with unique themes, campers can experience everything from creating edible art to producing music videos. Each Friday there will be a showcase for parents, friends and family to attend including music numbers, dance routines, rehearsed skits/scenes, art exhibit and more. 910-341-7860, wilmingtoncommunityarts.org
Wilmington Family YMCA Camps
Camps at the YMCA, whether overnight, day, or sports-themed, all have one thing in common: "they're about discovery. Kids have the opportunity to explore nature, find new talents, try new activities, gain independence, and make lasting friendships and memories." Sports camps focus on basketball and soccer skills. Day camps expose campers to activities ranging from crafts to archery, including field trips. Camp Kirkwood is a beautiful, rustic location with activities such as canoeing, archery, and zip-lining. 910-251-9622, wilmingtonfamilyymca.org
Winter Park Presbyterian Preschool Summer Camps
WPPP will offer five weeks of camp for children ages 2-6 years old. The half-day camps will last from 9 a.m. until 12 p.m. and will be full of games, music, story time, arts and crafts, outdoor activities, and Friday water days. Each week will have a session of Stretch-n-Grow and Kindermusik. Some of the camp themes include Ahoy Mateys, Howdy Partners, Beach Fun, Let's Go Camping, and Come Join the Circus. 910-791-5893, wppc-preschool.org
Wrightsville Beach Parks & Recreation Summer Camps
Wrightsville Beach Parks & Recreation Department is offering a slew of camps for both kids and adults. Mind your manners fun with Cape Fear Cotillion Manners Camp, or learn about nutrition and healthy eating habits at Kids' Cooking Summer Camp. There are a variety of sports and arts camps, tapping into all kinds of interests and talents. 910-256-7925, townofwrightsvillebeach.com
Wrightsville Beach Surf Camps
Catch a wave with Wrightsville Beach Surf Camps, which offer camps for kids, teens, and adults. Campers gain a basic understanding of ocean dynamics, water safety, sun protection, and basic first aid skills while also boogie boarding and surfing. Half day, travel, and overnight camps are among a few of the many options offered. 910-256-7873, wbsurfcamp.com