Breaking Rocks
13 Mar 2016
Fire Department Chief Cecil Martinette has positioned the Wilmington department as one of the top in the nation
By TERESA A. MCLAMB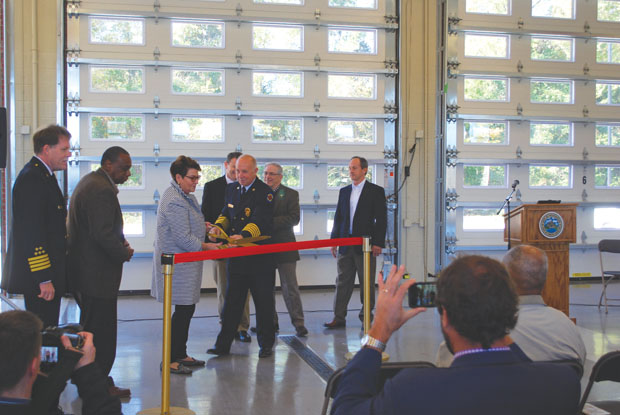 When he retired at age fifty from his Hanover County, Virginia position, fire fighter and county administrator Cecil "Buddy" Martinette, Jr. thought he'd have plenty of household chores and community activities to occupy his mind.
That lasted two weeks.
Then he saw the Wilmington Fire Department chief job advertised.
Martinette traded in his lawnmower for the WFD position. "My wife said I was cutting the grass with a pair of scissors. You can only wax the lawn mower so many times."
"He works. He comes home. He works. He goes to bed. He works," said Sarah Martinette, Buddy's wife of 36 years. They met in high school and married three years later. They have a son, a daughter and three grandchildren.
"He has a dedication to the job to make sure he does the best job he can do. He calls it 'breaking rocks. Give me the next rock so I can break it,'" she said.
Since taking the helm of WFD in 2008, Martinette has overseen several changes in the department.
Accreditation
Accreditation of fire departments has become available in the past ten to fifteen years, Martinette said. WFD completed the arduous process in 2014. Through the Center for Public Safety Excellence, candidates are measured by more than 250 criteria. Only 150 departments in the nation have earned accreditation, he said. "We worked really hard to do that. We did our business plan and looked at the kinds of criteria that we weren't accomplishing and put those into our business plan, so there was an easy transition. Then it was a matter of documenting and producing." The documents are presented for peer review, then assessors visit the department to validate that they are actually accomplishing what they're claiming. Next step is a presentation by the peer assessor to a judging panel.
"Our personnel ask what the benefit is to us. The benefit to the citizens is that we have benchmarked ourselves against the most professional departments in the country. We are providing a level of service that has been documented and proven. It's not one thing; its many hundreds of things that cause you to change practices and procedures which make you safer, more professional, more cost effective."
New Facilities
One cost efficiency and fire safety move that's recently occurred is redesign of fire coverage in some sections of the city. Of the eleven city stations, five needed to be replaced, Martinette said. Since that funding wasn't in the budget, he challenged the staff to find a solution. Computer modeling on incidents and response time was incorporated. The resulting plan was to rebuild the Empie Park station and replace four old stations with two new ones. The net effect, Martinette said, is a savings of $7 million in capital cost and $200,000 a year in operating cost long term. "We're really proud of that. We've managed to save taxpayers money and provide the same level of service, and get new facilities for the fire fighters." The stations are manned 24-7, 365 days a year.
A Culture of Change
He says the biggest change during his tenure has been a change in culture. "We've started on a ten-year journey to change the culture of how we lead and manage each other. That's what I'm most proud of. We run a value-based organization. We have minimized the rules and regulations that don't have anything to do with safety issues." He says the expectation is that people who are treated as adults will respond with adult behavior.
The culture change has benefited from Martinette's depth of knowledge that has allowed him to write several books, and has made him popular on the speaking and teaching circuit for fire and rescue as well as leadership development. Among the topics is how to run an innovative, efficient fire department. That goal in Wilmington has resulted in "turning the department on its head" so the department – which has 221 employees and a $14,600,000 annual budget – runs analytically as opposed to intuitively, he said.
His philosophy is to "create accountability and responsibility" through role clarification and by assigning people to work where they are most effective. Managing people to best utilize their talents is key. "If you hire people with good values, these people will represent you according to those values. Tell them the expectation, and they will meet it." While he is ultimately responsible for everything that happens at WFD, he acknowledges he has the least control. "What I decided a long time ago is leveraging the fact that I have great people and they know the job, and they will do a great job for me. That's how I can sleep at night."
Fire Academy
Another source of pride is implementation of a citizens' fire academy. Despite those who said no one would be interested in the program, it is a very popular activity, Martinette said.
"It allows citizens to be exposed to all the elements of our fire fighting operation." For eight weeks, citizens meet one night a week to get a taste of the fire fighters' world. They use extrication tools to cut open cars, rappel from buildings, ride the fire truck, learn about emergency communications, CPR, hazardous materials handling and more. "They watch black water dives; we take them out on the fire boat," Martinette said.
Thus far, more than 140 people have completed the academy. "When we proposed doing this everyone thought it was nuts. Our goal was 200 people; they thought we'd never get that many." The academy is run twice each year and has a waiting list. Information is available on the city's website or by calling the WFD.
Challenges
WFD has several challenges ahead. One is the changing environment brought on by changes to building codes, which have reduced the number of fires.
"It's a paradox when it appears you are asking for additional resources when the risk is less," Martinette said.
"We're redesigning ourselves so we're still capable of providing our core service but still being efficient at responding to increased emergency medical calls."
The relationship to EMS and to the county fire department is critical.
"Fire stations are geographically situated. Most of the time a fire asset is going to be closer to an emergency than an EMS asset. It's primarily a time and distance equation. Over the years we've developed an interlaced partnership with other public safety organizations. For instance, if you have chest pains, you call dispatch, you'll get a fire station then a medic unit. In a cardiac arrest event we will have 10 to 13 people working that event. It's very manpower intensive."
"Not one day goes by that one of my firemen doesn't save somebody in this community. They are a huge and integral part of the EMS service and delivery system. The EMS system that we have is hospital based, and it is one of the best in the world. It's phenomenal. We're lucky we get to operate in a system like that."
Looking forward, Martinette sees much to do, and a great place in which to accomplish it.
"When I moved here, I don't think I had any idea that I would stay. I still get job offers from bigger departments, and better paying departments, but I really love it here. I love the people in this community. I like the eclectic nature of it, the youngness the college brings, the urban environment of downtown, the beach communities. It's a wonderful place to live, and it's been an honor to work here."