The magical reality of Shakespeare's fantasy play comes to life in The Tempest
By KIM HENRY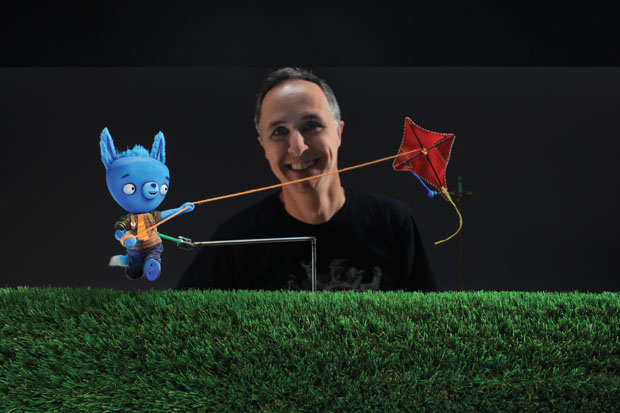 Wilmington is in for a theatrical extravaganza this Spring, as the pioneering Dram Tree Shakespeare company and award winning director Michael Granberry collaborate to bring The Tempest, one of Shakespeare's most fantastical plays, to life. The recently established Dram Tree Shakespeare company invited the dynamic actor/director/animator Granberry to return to his theatrical roots here in Wilmington and direct this iconic tale of mythical figures, fantasy and freedom. To be staged in the upcycled McEachern's warehouse mid-April, this production promises to provide a whole lot more than old men in tights; including giant puppets and shadow play.
Granberry fell in love with the power of puppetry and animation as a young child. "When you see a puppet on stage, you just never know what it is capable of doing and that's a part of the magic," explains Granberry. Born in Tennessee, Granberry attended middle school just outside of New Orleans where he recalls seeing 'The Art of The Muppets' - an exhibit showcasing an assortment of Jim Henson's original muppets. "I just fell in love," Granberry laughs, "I went home and instantly cut up all my socks....I suddenly had lots of puppets and cold feet!"
Graduating from Gainesville State College, Granberry then based himself in Florida as an actor, director and designer, until he relocated to Wilmington in 1995 where he became the Artistic Director of the Shakespeare Festival. He was responsible for the 1920s-inspired production of 'Julius Caesar' and the other-worldly puppetry for 'A Midsummer Night's Dream,' both of which were staged at Greenfield Lake Amphitheater back in the day.
Granberry eventually left the Wilmington theatre scene and headed out to L.A. in 2003 to explore his growing interest in the more permanent nature of film. And successfully explore it he did, becoming well known for the short film 'From Beyond', the highly acclaimed animation 'Anomalisa,' and most recently winning an Emmy for his animation on Amazon's 'Tumble Leaf.'
"We are thrilled to have Michael back in town," exclaims Dram Tree board member and local actor Tamara Mercer, green eyes sparkling with genuine excitement, "his vision is huge - this production is going to take you to the stars and back." With a degree in Theatre Arts that enabled her to study under the Royal Shakespeare Company in Stratford Upon Avon in the UK, Mercer is also passionate about one of history's most famous writers. "Shakespeare is the source for all our stories. As an actor he is your life blood. We may never be as good as the text but we aspire to be," she says, emphasizing how important it is to not dumb the text down for modern day audiences. "We may not understand every word but the rhythm speaks for itself, we feel the poetry and we get it. And this production is just electric."
As a founding member of Dram Tree, Mercer was inspired to provide Wilmington audiences with high quality Shakespeare productions, a vision Dram Tree is successfully fulfilling. Their first major production, Macbeth, recently won Best Play at the 2015 Wilmington Theatre Awards, as well as Best in Sound and Set Design. This premiere production burst out of the confines of the proscenium arch, and was set in-the-round, in what was an un-used warehouse on Front Street, and The Tempest also uses this atmospheric venue.
"I'm excited about the space," says Granberry, who flew in to Wilmington especially to work on this project in late February. "Theatre in-the-round really embraces the audience, it removes the separation. Shakespeare created something that was not earth bound when he wrote The Tempest, so we wanted to push the fantasy aspect and enter a world we haven't seen before. When we are all involved in that magical reality, we get to take a little piece of it out of the theatre and into the world."
Working closely with local Artist Gina Gambony to make the puppets, and a vast collection of Wilmington's most talented theatre folk to stage this production, Granberry couldn't be more complimentary about the caliber of artists in town. "From the back stage crew to the performers themselves, The Tempest is a testament to the fact that Wilmington is still firmly up there as one of the most prolific theatre scenes in NC. It was an honor to come back and tap into such a creative vein," says Granberry with obvious sincerity, "if you want to be transported to one of Shakespeare's many worlds - you really must see this show."