Event Calendar March-April 2016
13 Mar 2016
Looking to fill your social calendar? We've got the rundown on what to do this spring season.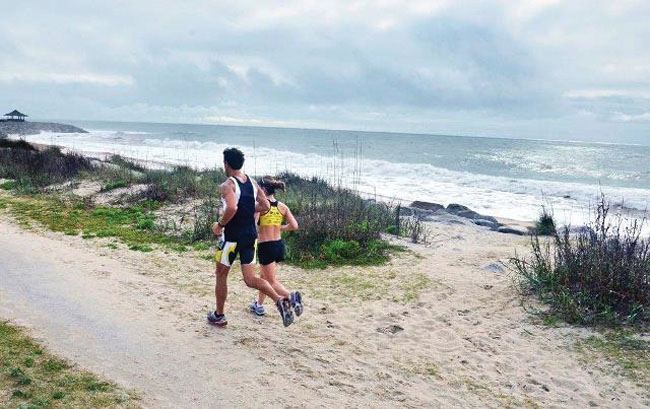 5K Race for the Planet
Apr 17
Celebrate earth by participating in our 5K Race for the Planet. Fort Fisher will be your route as this race starts and ends at the Aquarium. This flat, mostly asphalt course is scenic with views of the ocean, maritime forest, and historic Fort Fisher Civil War site. Runners and walkers will receive organic t-shirts (guaranteed for the first 300), reusable shopping bags, and free admission to the aquarium that day. Overall and age group winners receive eco-friendly medals too! 8am. NC Aquarium at Fort Fisher, 910-772-0500. ncaquariums.com
Art & Antiques Show + Sale
Mar 4 - 6
Get your next unique piece of art and decor at the Cameron Arts Museum Art & Antique Show + Sale. Featuring vendors from seven different states offering a wide variety of American and European art, furniture and decorative items from the mid-19th to mid-20th centuries, this show is sure to please any antique enthusiast. Browse through estate jewelry, silver, paintings, antique clocks, music boxes, rugs, period furniture, lighting fixtures, porcelain, vintage linens, textiles, maps and more. 910-395-5999, cameronartmuseum.org
Cape Fear Beer Fest
Mar 5
Unlimited tasting of top quality beers made by the world's most enthusiastic and enterprising brew masters. Responsible and educated consumption and admiration for the art of brewing is what the Cape Fear Beer Festival is all about, so come sip and enjoy this unique craft beer experience! VIP: $50, General Advanced: $40, General Day-of: $50. Attendees must be over 21 and have valid photo ID. 1-5pm. Wilmington Convention Center, 910-251-5101. capefearbeerfest.com
Step Up For Soldiers Annual Backyard BBQ Cook-Off
Mar 5
Fire up your grill, grab your apron, and get ready to BBQ! About thirty teams will take to their grills, forks in hand, secret recipes folded and stashed in pockets, all for the glory of the title and the satisfaction of knowing they've helped to raise a significant amount of money for Step Up For Soldiers. Held at the Lake in Carolina Beach at the junction of Lake Park Blvd. and Atlanta Ave. Admission is free. Tickets can be purchased to sample the BBQs after the double-blind judging is completed. Gates open at 10am and prizes will be awarded at 5pm. 910-232-5554, stepupforsoldiers.org/bbq
12th Annual Steve Haydu St. Patrick's Lo-Tide Run
Mar 12
This flat PR course with USTAF Certification is in its 12th year and is a tribute to two truly amazing men whose paths crossed in the one and only Carolina Beach. In honor of those men, the proceeds from the event will be given to one or more cancer patients and their family. Participants can choose from the 10k run or the 5k run/walk followed by an award ceremony and after party at The Lazy Pirate at 11am. Registration 7am; races start at 8 & 8:30am. Registration fees vary. Carolina Beach Boardwalk Gazebo, 910-368-9523. lotiderun.org
St. Patrick's Day Parade & Festival
Mar 12
Come join the music, dance and fun with Wilmington Police Pipes & Drums, The Blarney Broughs, The Molly Malones, The Walsh Kelley School of Irish Dance, Slainte UNCW Irish Dance Club and more. The parade will begin at 11am at Red Cross and N. Front Street. The St. Patrick's Day Festival will be held at Riverfront Park at noon. This is a rain or shine event. Free. 910-686-5498. wilmingtonstpatricksdayfestival.com
US Open Fat Bike Beach Championship
Mar 12
Get ready for the 2nd annual fat tire bike race on Wrightsville Beach. The US Open Fat Bike Beach Championships will consist of a large oval or kidney-shaped lap, which will take racers from the thick sand to the hard-packed sand along the water's edge. Riders have the choice of three levels of competition; beginner, sport or expert. While all bikes are allowed to race, bikes that are over 4" are recommended. Blockade Runner Beach Resort. 910-256-2251, fatcross.com
Jewel: Picking up the Pieces Tour
Mar 18
Grammy-nominated songwriter and New York Times' bestselling author and poet Jewel returns to the road this spring for an intimate tour, performing hits spanning her 12-studio albums including 2015's Picking Up the Pieces and sharing stories from her memoir Never Broken - Songs Are Only Half the Story. Jewel has sold over 27 million albums to date and earned praise from fellow songwriters including Loretta Lynn and Neil Young. A cornerstone of the current American and folk movements, the singer will also perform fan favorites from her record Who Will Save Your Soul, which sold 12 million copies. 7:30pm. CFCC Humanities & Fine Arts Center, 910-362-7999. cfcc.edu
Cape Fear Wildlife Expo
Mar 18 - 20
Outdoor enthusiasts will get the chance to enjoy three days of hunting and fishing exhibitors, wildlife art displays, decoys, boats and accessories, truck and ATV displays, Hunter Safety Certification Class, fly fishing demos, and fun for the entire family. Kids can participate in interactive activities such as Sensory Safari, Mobile Aquarium, Mallard Madness Laser Shoot and the Archery Range while all attendees will be able to witness raptors in flight, and meet extraordinary animals like snakes, rescued wolves and a bobcat. Have fun with the whole family while learning about our native wildlife, resources and conservation. Fri & Sat: 9am-7pm, Sun: 10am-5pm. Prices vary. Wilmington Convention Center, 910-795-0292. capefearwildlifeexpo.com
Quintiles Wrightsville Beach Marathon
Mar 18 - 20
Experience marathon madness with the 7th Annual Quintiles Wrightsville Beach Marathon. This exciting event draws competitors from all over the country and "Runner's World" ranked this competition as one of the top 10 races that qualified runners for the Boston Marathon. The race is run on a street course overlooking the Atlantic Intracoastal Waterway in Wrightsville Beach. Free to watch; registration fees vary. 910-297-4973. wrightsvillebeachmarathon.com
Houston Ballet II
Mar 22
Come out for a night of elegance and grace as the Houston Ballet's second company of classically trained emerging ballet artists take the stage. They will be performing fresh choreography in a wide array of dance works. UNCW Kenan Auditorium, 910-962-3500. uncw.edu
Fourth Friday Gallery Walk
Mar 25 and Apr 22
Fourth Friday Gallery Nights are a free monthly event where downtown galleries and studios open their doors to the public in an after-hours celebration of art and culture. Taking place from 6-9 pm on the fourth Friday of each month, the art walk is a self-guided tour featuring exhibitions of various artistic genres including oils, acrylics, watercolors, pastels, metals, ceramics, mixed media and more. Maps are available at all participating locations. 6-9pm. Various locations, 910-343-8997. artscouncilofwilmington.org
Spring Restaurant Week
Mar 30 - Apr 6
Restaurant Week gives local food aficionados and visitors an opportunity to enjoy prix fixe breakfasts, lunches and/or dinners, as well as desserts, at participating eateries throughout Wilmington. It is a great benefit for both diners and the restaurant community, giving the local economy a boost and foodies a chance to experience what our culinary scene offers. This culinary celebration features more than 30 restaurants throughout Wilmington. Various locations, 910-791-0688 x 1004.
The Mystery of Women's History
Mar 31
In honor of Women's History Month, take an intimate historical and artifactual tour with Museum Historian Jan Davidson and Museum Curator Barbara Rowe as they showcase the often ignored role of women in the Lower Cape Fear region throughout history. Enjoy inspirational stories of women's contributions to our rich history and culture as well as special group access to rarely-seen objects of the museum's collection. Cape Fear Museum of History & Science, 910-798-4362. capefearmuseum.com
Night Tour at the Burgwin-Wright House
Apr 1
Take a step back in time and experience a life without electricity and modern conveniences. This special tour will be guided by candlelight with costumed interpreters as they reveal the rituals and superstitions of years past. Don't miss out on this exclusive historic tour offered for one night only at the beautifully historic Burgwin-Wright House! 8pm. 910-762-0570, burgwinwrighthouse.com
Coastal Living Show
Apr 2 - 3
Everything you could want or need for great Coastal Living is at this show. Features over 100 vendors selling their wares and demonstrating the latest trends in everything from physical fitness to scents. Search for gifts, products and services for the home, garden, or office—perfect for seaside living. 10am-5pm. Cape Fear C.C. Schwartz Center, 910-251-5031. wilmingtonwomansclub.com
Poplar Grove Herb & Garden Fair
Apr 2 - 3
Enjoy the area's largest and longest running garden event. The Herb and Garden Fair offers everything you need to start having fun in your garden, from locally grown plants and shrubs to lawn furniture, herbal products, yard art, butterfly houses and one-of-a-kind garden whimsies that'll make you smile. Fun, educational classes and an early morning bird hike are offered. Don't forget to seek advice from our Master Gardeners here to answer any of your questions. Food and beverages will be available for purchase so come hungry and join us as we kick-off a beautiful spring season! Sat 9-4pm, Sun 10-4pm. Poplar Grove Plantation, 910-686-9518. poplargrove.org/festivals/herb-garden-fair
13th Annual Golf Tournament and Games Day to Benefit Good Shepherd Center
Apr 4
Enjoy golf, games and more for a worthy cause at the Country Club of Landfall's Nicklaus Course. The registration fee is $200 per player or $800 for a team of four, and includes golf, cart, practice range, gift bag, and dinner. Registration begins at 11:30 am; play starts at 1pm. Games Day begins with an optional lunch at 11:30am, and play begins at 12:30pm. Duplicate Bridge, Party Bridge, Mahjongg and Mexican Train will be offered, and other games are welcomed. Prize giveaways and a silent auction will also be held. All proceeds from Golf and Games Day will benefit Good Shepherd Center, the largest provider of services for the homeless and hungry. Country Club of Landfall. 910-763-4424, goodshepherdwilmington.org/news-events
NC Azalea Festival
Apr 6 - 10
The North Carolina Azalea Festival is proud to have been selected as a Top 20 Event in the Southeast for April from 2013 - 2016 by the Southeast Tourism Society and it continues to marvel the public every year. The Festival is a celebration of Wilmington's exceptional artwork, gardens, rich history and culture during its five days of entertainment that includes a parade, a 5k/10k fun walk, street fair, circus, concerts, pageantry and all that is Southern. Make sure to check out The NC Azalea Festival user-friendly apps to find event information on the go with your mobile device. 910-794-4650. ncazaleafestival.org
NC Azalea Festival Cole Brothers Big Circus
Apr 7 - 10
Covering more than an acre of ground in beautiful Wilmington, the Cole Brothers Big Top Circus is a favorite event of the festival. Its combination of costumed characters, acrobatics, clowns, and more draws packed crowds each year. This year's performance features a trio of talented elephants, fearless flyers, camels, clowns, motorcycle maniacs in the Globe of Death, clever canines, teeterboard acrobats, trapeze, aerial gymnasts, the White Tiger Act, a fast-paced dog act, a high wire troupe, and of course, The Human Cannonball! With an international cast of Circus Stars and a tent-full of educated, exotic animals, Cole Bros. Circus guarantees that families will enjoy chills, thrills, and laughter when they visit The World's Largest Circus under the Big Top! ILM Airport, 910-794-4650. ncazaleafestival.org/events/circus
Green Day's American Idiot
Apr 7 - 17
The two-time TONY Award-winning hit musical American Idiot, based on Green Day's GRAMMY Award-winning multi-platinum album, boldly takes the American musical to a new level. Johnny, Tunny and Will struggle to find meaning in a post 9/11 world. When the three disgruntled men flee the constraints of their hometown for the thrills of city life, their paths are quickly estranged when Tunny enters the armed forces, Michael is called back home to attend familial responsibilities, and Johnny's attention becomes divided by a love interest and a hazardous new friendship. Thurs-Sat 7:30pm, Sun 3pm. Thalian Hall Center for Performing Arts, 910-632-2285. thalianhall.org
Cape Fear Garden Club's Azalea Garden Tour
Apr 8 - 9
An official event of the North Carolina Azalea Festival, the tour has been featured in Southern Living and is one of the longest-running and most popular garden tours in the south. The 2015 tour features 13 gardens (11 private gardens and two public gardens). Enjoy a variety of styles from classic to modern and formal to whimsical, including a published horticulturist's delight as well as a trio of petite gardens. Cape Fear Garden Club Azalea Belles will welcome visitors to each garden throughout the three-day tour. Tickets: $25 (good for all three days). All days 10-6pm. Various locations. 910-620-6958, ncazaleafestival.org
NC Azalea Festival Concert with Chase Rice
Apr 9
Every year the North Carolina Azalea Festival showcases national headliner concerts. This year enjoy Chase Rice as he takes to the stage in full force. This singer/songwriter saw his 2013 Ready Set Roll EP top the iTunes Country charts and when his titular single hit the radio waves, fans watched it climb up the Billboard charts and hit Gold before it even entered the Top 20, ultimately peaking in the Top 5 and scoring Platinum sales. For Rice it's all about hitting the stage and delivering the best show possible for his countless fans. Gates open 5pm, show starts 7pm. The Belk Main Stage at Cape Fear Community College, 910-794-4650. ncazaleafestival.org
Pleasure Island Chowder Cook-Off
Apr 9
Chowder, live music, games for the kids and much more! Each year chefs from restaurants of Pleasure Island, Monkey Junction and Wilmington gather on Pleasure Island for their famous Chowder Cook-Off. In addition to serving up the area's best chowder, this day-long event includes live music and the Kidz Zone which will have face painting and a 3 in 1 inflatable house. There will also be hotdogs, funnel cakes, soft drinks and beer and wine for sale. Carolina Beach Lake Park, 910-458-8434. pleasureislandnc.org
NC Azalea Festival Parade
Apr 9
The NC Azalea Festival Parade is an annual event that is viewed by more than 100,000 people. Join us for this year's parade and enjoy the floats, marching units and bands, clowns and horses, all highlighted by visiting celebrities, the Azalea Queen and her court, and the Azalea Princess. 9:30 -11:30am. Free. Downtown Wilmington, 910-794-4650. ncazaleafestival.org/events/parade
North Carolina Azalea Festival Historic Home Tour
Apr 9 - 10
Historic Wilmington Foundation presents a tour of Wilmington's most beautiful historic homes. Visit mansions, bungalows, contemporary styles and much more for an eclectic and fascinating view of life across the city. Location: Various homes around town, 910-794-4650. ncazaleafestival.org/events/historic-home-tour
75th Anniversary of the Battleship's Commissioning
Apr 9
See the famed Battleship NORTH CAROLINA as it comes to life with active duty sailors and marines from the 2nd Tank Battalion, 2nd Marine Division, Camp LeJeune, Jacksonville, NC in honor of the Battleship's 75th Anniversary. Working with the US Marine Corps Historical Company and the Battleship's Living History Crew, these men and women will be interpreting the ship to visitors. Join the fun and express your gratitude to these fine service personnel. 9am-4pm. 910-251-5797, battleshipnc.com
Wrightsville Beach SUP Surfing Pro-Am
Apr 14 - 17
Kicking off this year's Waterman Ocean Festival will be the Wrightsville Beach SUP Surfing Pro-Am, a four-day stand-up paddle boarding event drawing some of the best professional stand-up surfers to beautiful Wrightsville Beach! Held at the Oceanic Pier Beach Access 37, the competition will be a spectator-friendly, world-class event featuring a Guide to the History of Surfing for Young People, a SUP and longboard clinic for children as well as a Wounded Warrior Project event where wounded service members and their families can experience SUP Surfing on specialized boards with instructors. wbsupsurfproam.com
WBLA Longboard Pro-Am
Apr 16
Get ready to watch one of the most exciting surfing competitions at the 13th Annual WBLA Longboard Pro-Am. Contestants will compete in the Longboard Classic Pro-Am heats, semi-finals and finals with a pro purse prize of $2,000! 8am. Wrightsville Beach-North End, wblasurf.org
2016 Carolina Cup
Apr 19 - 24
Enjoy three days of SUP expos as well as two days of some of the best competitions to watch and take part in. The 2016 Carolina Cup kicks off the race season with four courses in beautiful Wrightsville Beach. This competition will be complete with a kid's race, the Harbor Island Recreational "fun" race, a Money Island open race and the dreaded Graveyard Elite Race. This competition is in its sixth year and in its inaugural year in 2012, the Carolina Cup was the largest race on the East Coast with over 400 paddlers competing in the first day of competitions and in 2014 over 700. The competition is planned with a number of fun activities that will make this a true stand-up paddle destination event. Expect clinics by the top paddle instructors and certifiers in the world. It'll be one that you can plan a 5-day weekend and bring the whole family. Races start at 9am; see website for full schedule of events. Blockade Runner Resort, 910-616-9675. wrightsvillebeachpaddleclub.com
Coastal Carolina Trainfest
Apr 23 - 24
Six Model Railroad Organizations from across eastern Carolina join forces to spread the joy of model railroading right here in Wilmington. This show will include examples of model railroading from all six of the participating clubs and will bring together more than fifteen operating layouts, expert clinics and how-to demonstrations, and numerous model train vendors. The show will be held in the Coastline Conference Center, a former Atlantic Coast Line freight depot with a rich railroading history. All are welcome and tickets, good for both days, is $10.00. Children 16 or younger are free. As an added bonus your ticket will give you free entry to the Wilmington Railroad Museum on this Saturday and Sunday. 910-763-2634, coastalcarolinatrainfest.org
Brits at the Beach Car Show
Apr 23
Enjoy all the "Brits at the Beach" with this truly unique annual car show! The British Motor Club covers all of coastal/southeastern North Carolina and parts of South Carolina. Members are coming to Wrightsville Beach Park to show off their most prized possessions! All marques, makes and years of cars are welcome to join in on the fun, but the emphasis of the show will be on the preservation of classic British sports cars. Don't miss out on your chance to see these wonderful classic foreign cars right on the island. 10am-4pm. 910-523-5624, bmccf.org
Wilmington Jewish Film Festival
May 1 - 11
Come and kick-off Wilmington's Third Annual Jewish Film Festival! Enjoy provocative, compelling, heart-warming films for eight days by some of the most influential Jewish filmmakers of our time. Join us for 8 outstanding films at Thalian Hall Main Stage. wilmingtonjff.org