Tavern on 17th
05 Nov 2020
With a revamped menu full of elevated pub food, this neighborhood restaurant and bar has a little something for everyone

By BRIDGET CALLAHAN » Photos by G. FRANK HART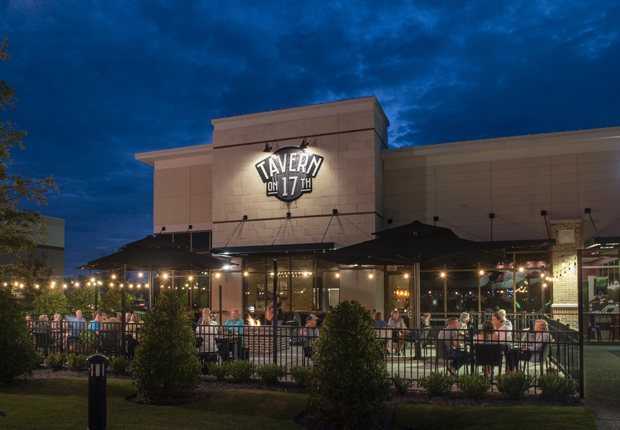 1611 Dusty Miller Ln. #305
Wilmington, NC 28412
910-765-1157
tavernon17.com
facebook.com/TavernOn17th


Tavern on 17th was one of the first restaurants open at The Pointe at Barclay in 2017, a dining and entertainment complex anchored by the Pointe 14 movie theater. For several years, they were the perfect place to stop in for a pre or post-screening drink. A quintessential first date meeting spot for dinner and movie.

Of course, the movie theater has been sitting dark and vacant for 9 months now. That was, at first, a reason to be scared. But, according to owner BT Corrigan, the Tavern has been getting through it one day at a time.

"We've just been very fortunate that our regulars have been coming to the restaurant and supporting us," Corrigan says. We have had a lot of people coming in during work for lunch; and then after work, bringing the office with them for cocktails and dinner."

Corrigan recently brought in Elizabeth Adams as a new General Manager this June. Adams is tasked with the not quite enviable job of creating a welcoming pub bar atmosphere, the friendly, casual neighborhood place that regulars have come to count on, while still adhering to social distancing guidelines.

"We took out some tables so there would be no miscommunication with guests about keeping six feet between people. We offer face masks at the front door, and we have sanitizer everywhere. We have paper menus and the QR codes where you can scan and get the menu online. People have been really kind about the situation. I talk to a lot of my guests, and I'm always respectful, asking people if they mind someone else being sat nearby," Adams says. She's focused a lot of their marketing efforts to the surrounding workplaces, realizing early on that many just didn't know they were open.

"A lot of people are assuming we're closed, because of the movie theater. Because there's no real shopping out here like Mayfair, we don't have other draws like that. And when I got here, I thought, that's the problem," she says.

In addition to weekly drink and food specials, Adams has also brought in live music every Thursday and Saturday on their wide open air patio. Having an outdoor patio these days is a huge blessing for any establishment, and Tavern is lucky to have a great fire pit and outdoor heaters they can bring out when the weather starts to get a little chillier. Without the bustle of the movie theater, it's a great place to enjoy the sunset after a walk in Halyburton Park. On Saturdays, couples come in to enjoy half-priced bottles of wine, listen to some music, and revel in a little public patio normalcy after months of drinking at home on the porch.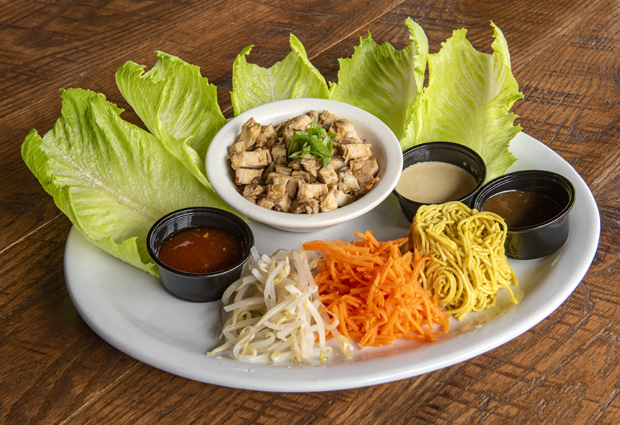 Fewer tables aren't the only changes. Adams brought with her Chef Benjamin Dixon, who has been helping breathe a little new life into the already very solid menu of high-end pub food. Corrigan's famous corned beef is still there, chunked not sliced and melt in your mouth good, especially when piled high on the Reuben. The beer battered Atlantic Cod Fish & Chips and Grandma's Hearty Shepherd Pie aren't going anywhere either. But, they've been joined by new versions of other classics, like the Port City Crab Cakes served with a parmesan herb risotto, and a sweet and savory salmon topped with mango salsa. The aim of Tavern on 17th's menu has always been this kind of elevated pub food. There's something for everyone and room to grow.

"Chef Dixon and I work well together, and our ideas mesh well. We're trying to do newer stuff, but not get away from the old classics. You don't want to forget about the things people love. That was one of the first things I asked the servers here - what are the things people ask for most? So, I went to those dishes and just added a little twist to some of them. I think people want comfort food, they want the dishes they're already used to, especially now," Adams says.

So the Pork Chops are still on the menu, but instead of a demi glace, they now come with a marsala sauce. That's a big hit. The Shrimp and Grits are cheesy, jalapeno-stuffed cakes fried to a crispy, crunchy finish and served with fresh made Carolina shrimp sauce. From short rib stuffed grilled cheese to spicy Thai Chicken Lettuce Wraps with curry noodles and BT's Buffalo Shrimp, it's hard not to find something to love on the revamped menu, which is the point.

"Everything on the menu is my favorite. We try to keep it a well rounded menu so everyone can come, people from the office, kids and grandparents," Corrigan says.

Tavern on 17th opens at 11:30am every day, and recently started bringing Sunday Brunch back. For now, state regulations mean they still have to close at 11pm, but the kitchen stays open till 9pm Sunday through Wednesday, and till 10pm on Thursday, Friday, and Saturday. Every Wednesday is half priced wings and $3.50 on select drafts, and Mondays you can get a $6 burger and fries, along with craft and import specials. Their website is currently getting a new look as well, but you can follow their social media to find out who's playing the patio that weekend.

It hasn't been easy keeping a restaurant in business this year, but for those that have made it this far, the light at the end of the tunnel is starting to shine a little in the distance. Tavern on 17th is reminding its customers that while the movies may still be shut down, they're still a great neighborhood watering hole. And the silver lining, it will be even easier to get parking now.