The Art of the Matter
12 Sep 2014
By KIM HENRY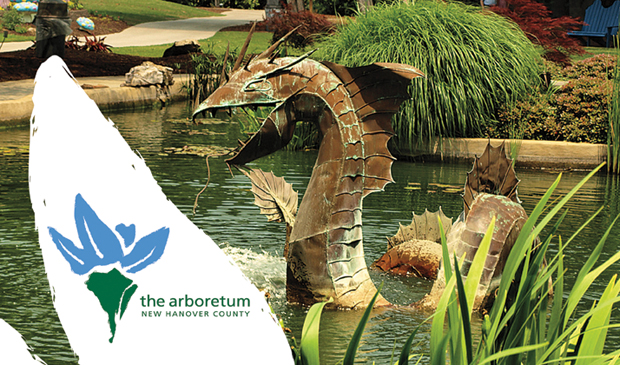 In the heart of Wilmington, amid seven acres of vibrant colors, lotus flowers, magical archways, aromatic herbs and flourishing rose gardens, you'll find the New Hanover County Arboretum. Tucked away behind the Cooperative Extension offices off Oleander Drive, you might not even know it's there. But come October, for a few days, these stunning gardens become a spot for a yearly celebration known as Art In The Arboretum.
Featuring painting and metal smith creations, nature-inspired jewelry, glass, textiles, ceramics and sculpture, wood and photography, the event—co-sponsored by Friends of the Arboretum and the non-profit Wilmington Art Association—is an art-lover's dream. Popular local musicians will enhance the festive atmosphere with continuous performances. In honor of the Arboretum's 25th anniversary, an additional day is being added to the schedule to accommodate more performances, a raffle, a silent auction, and children's activities. Wilmington Art Association will sponsor a series of art demonstrations, including "plein air" artists and a juried art show. The days will be packed with interactive workshops, creative art and live music for everyone to enjoy.
"We're very excited about this year's gathering," says Al Hight, director of the Arboretum. "In addition to extending the festival and decorating the gardens with unique artwork, we are going to bury a time capsule in order to honor the Arboretum's twenty-fifth birthday." A group of children from a local school have the privilege of deciding exactly what the contents of the capsule will be. All children will be able to enjoy activities hosted by the Children's Museum, including nature-themed art activities and an ongoing scavenger hunt throughout the Arboretum grounds.
Elaine Cooper, previous president of the Wilmington Art Association, will be displaying her vibrant and dreamy watercolor and acrylic paintings this year. She will be joined by up to a hundred other artists who collectively cover a deeply diverse range of mediums. Local jeweler Mitzy Jonkheer will have her nature-inspired metal and semi-precious stone creations on offer, and Kevin Duval's 3-D sculptures will decorate this enchanting outdoor space. Duval was last year's winner of the event's People's Choice Award.
This event is the largest outdoor gathering of art and music in the area and the biggest fundraising event of the year for the Arboretum. Every penny of the $5 entry fee goes toward supporting the many valuable programs and services that the Arboretum provides (admission is free for Friends of the Arboretum.) These include Master Gardner classes, a plant clinic, 4-H programming, and the Ability Garden, which has operated on the Arboretum grounds since 2000. Its mission is to provide gardening opportunities and therapeutic horticulture to special needs individuals. With classrooms indoors, outdoors, and in a greenhouse, the gardeners are able to offer programming year-round. For this year's Art in the Arboretum event, the Ability Garden will host an area solely for artists with mixed abilities, as well as a special show and sale. This will be just one of the many highlights of the event, where art stands along side butterfly gardens, and live music serenades the rainbow Koi fish and turtles that live in the pond.
Hight is passionate about the art festival. "The gardens are the perfect setting for so much talent and beauty, and it's great to see so many people come through our gates. That's why we're here, to serve the local community." His staff and a vast crew of volunteers work alongside him to make this event possible each year.
For Art in the Arboretum Chairwoman Sue Watkins, it's clearly a joy to be a part of such a positive event, in spite of the many hours of hard work required. "The gardens look so magical with all the art on display, and I especially enjoy seeing so many children here," she says. "It makes all the preparation work worthwhile!"
The Arboretum serves as the Cooperative Extension's "horticulture laboratory," and boasts a knowledgeable staff and many volunteers, all working to make the gardens beautiful as well as educational. Since opening in 1989, it has proven to be a phenomenal public resource, providing the community with horticulture education, displays of effective landscaping techniques, soil testing, examples of diverse residential gardens, and insightful plant advice. Reaching out to the wider community is an important aspect of the Arboretum's mission, and Art in the Arboretum is a lively, fun outreach effort to support it.
Art in the Arboretum 2014 will be held October 3, 4, and 5 from 10 a.m. to 4 p.m. at the Arboretum, 6206 Oleander Dr. Visit arboretum.nhcgov.com/events/art-in-the-arboretum for more information.