The Breast Cancer Journey
11 Sep 2014
Support makes a huge difference when you're in the fight of your life—It helps to know others have gone before
By LINDA H. LAMB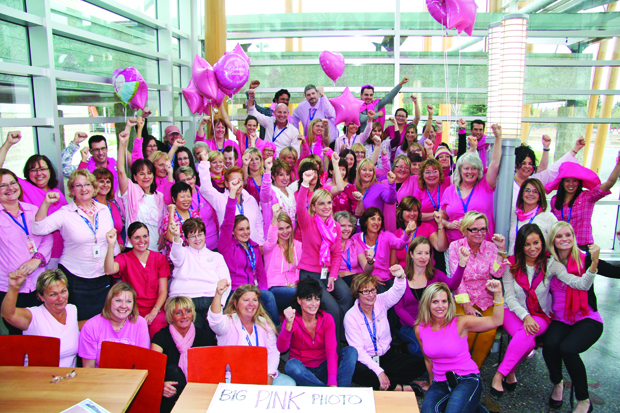 As an elementary school gym teacher, Ann Suttles knows plenty of people – teachers, parents, friends, family members and of course, lots of kids. Yet she often felt like she was facing breast cancer alone.They all meant well, but no one in her circle of friends had faced breast cancer or a mastectomy. And as a single woman, Suttles didn't even have a supportive spouse to turn to.
"It was just me," said Suttles, 49, who lives in Wilmington.
Then a chance encounter with an acquaintance with the Pretty in Pink Foundation not only drew her into a sisterhood of survivors, but landed Suttles in the group's annual fashion show. A few months after her last round of chemo, she stepped out of her shorts and tennis shoes, into a stylish outfit and onto a fashion runway.
"There's nothing fashionable about me. I don't even own a pair of heels," Suttles said with a laugh. But the enthusiastic, encouraging crowd gave her an amazing experience.
"That was the first time I ever felt beautiful," she said. "People cheer and shout – they make you feel good. You feel like you're Miss America."
During Breast Cancer Awareness Month in October, people don special T-shirts, participate in walks and runs, raise money for research and remember loved ones who are gone. It's also a good time to learn about important information and new developments in prevention, diagnosis and treatment. But in essence, these events are about support.
"The clothes are definitely not the focus of the event," said Joy Wade, region program manager for the Pretty in Pink Foundation. "It is just a huge celebration of our beautiful, strong and amazing breast cancer champions."
'It Takes Away Everything'
Fit and active, a former paramedic, Suttles found herself devastated by her two mastectomies and especially
by chemotherapy.
"It breaks you down," she said. "It takes away everything. You lose your confidence. You almost lose yourself."
She was supposed to have six rounds of chemotherapy, but her body could withstand only five. Suttles, who teaches elementary health and physical education, also worried about the effect of her struggles on the children who were observing her week by week. "My kids had to go through it with me," she said.
While her experience as a Pretty in Pink fashion show "model" was encouraging – at a time when her hair had not even grown back in yet – her contact with supportive new friends was even more important.
The Pretty in Pink Foundation was started by a Raleigh breast cancer surgeon. It provides financial help and other resources to help breast cancer patients who are uninsured or underinsured. So not only did the group help Suttles find the empathy she needed, but as she recovered, it also brought her into contact with other women who needed her support.
Recently, for example, she accompanied a breast cancer patient on an excursion that both had once had on their "bucket lists." They went paddleboarding – the day before Suttles' new friend had her surgery.
Advances in Diagnosis and Treatment
According to the American Cancer Society, about one in eight women, or 12 percent, will develop invasive breast cancer at some point in their lives. About 40,000 women will die from the disease in the United States this year.
Maintaining a healthy lifestyle can help reduce the risks, as outlined on breastcancer.org:
• Eat a balanced diet that is low in processed foods and sugar.
• Avoid alcoholic drinks.
• Keep weight at a healthy level.
• Get daily exercise.
• Don't smoke.
Greater awareness, earlier detection and improved treatment have contributed to a decline in breast cancer death rates since 1989, the ACS says, and there now are more than 2.8 million breast cancer survivors in the U.S.
The ACS recommends annual mammograms for most women starting at age 40.
As breast cancer incidence peaks for women in their late 50s and early 60s, this period is critical to successful screening and early detection.
For those concerned about exposure to radiation from the mammogram X-rays, the technology has advanced considerably from methods used in the 1970s. Now the exposure is about what a woman would experience from the atmospheric radiation while taking an airplane trip from New York to Los Angeles. Also, improved technology such as CT tomography has lowered the numbers of anxiety-inducing "false positives."
Another important advancement in treatment is broader availability of improved genetic testing. This helps to identify patients' specific risks for breast cancer so they and their doctors can make the best possible decisions about treatment.
As a health and physical education teacher, Suttles is in a uniquely knowledgeable position to encourage women to exercise.
According to a study published in June by researchers at the University of North Carolina at Chapel Hill, two thirds of those who've been diagnosed with breast cancer get less than the recommended amount of physical activity. That's a concern because physical activity can improve their quality of life and survival rates.
"Strengthening the body is good for a breast cancer patient's emotional health as well," Suttles said.
"You regain confidence," she said. "You also build strength on the inside."
Many Seek Support
There's been a bit of a backlash over the whole pink ribbon approach to positive thinking when it comes to breast cancer. A highly regarded writer even based a book on her annoyance with it (Barbara Ehrenreich, Bright-sided: How the relentless promotion of positive thinking has undermined America).
And yet, this autumn, many of those 2.8 million survivors will take part in the pink ribbon campouts, walks, runs, luncheons, dinners and fashion shows, and will draw strength from one another.
Suttles doesn't know what's in store for her at this year's Pretty in Pink gala, for which a local store, Camille's of Wilmington, furnishes the clothing. But at this point in her life, she has conquered cancer and also high heels, so she's just looking forward to reconnecting with other women who truly understand.
"We have formed a sisterhood," she said. "We know where the other person has been."