Fall Getaways
11 Sep 2014
With normal routines in full force during the Fall, planning a getaway can be a challenge. But with so many good reasons to take a post-summer trip–fabulous weather, fewer crowds, and the giddy delight that you're getting away with something–it's worth finding the time. Need ideas? Read on.
By Katie Mcelveen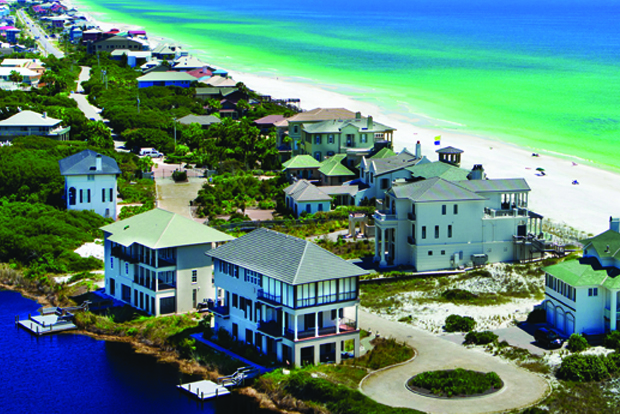 Florida Panhandle
Hugging about 18 miles of the Gulf Coast between Destin and Panama City, Route 30A is a coastal road with a difference: there are no high-rise hotels along this two-lane stretch, which is dotted with idyllic beach towns with names like Seaside and WaterColor. Bikes are the primary means of transport from town to town, unless you count kayaks, which use a network of coastal dune lakes and inlets to get from beach to beach. The beaches—creamy white sand, emerald-green water—are dreamy, especially this time of year, when the crowds thin and the temperature cools.
What to do: Artsy enclaves like Grayton Beach and Old Seagrove are filled with funky galleries; at night live music at Red Bar is a local tradition.
Where to eat: Try Criolla for Creole-inflected dishes served in elegant surroundings; Vue on 30A serves creative continental dishes with gorgeous sunset views.
Where to stay: Perched on a dune overlooking the beach, the chic 60-room WaterColor Inn offers free bikes and kayaks to explore the trails that loop through the region; rooms have private balconies.
For more information: visitsouthwalton.com
Portland, Oregon
Portlandia aside, this riverside city – it's located near the confluence of the Willamette and Columbia rivers – offers a refreshing blend of rugged outdoor fun and sophisticated shopping and dining. Although downtown is packed with activities, including an awe-inspiring Saturday morning farmer's market, riverfront walking path and the Pearl (a warehouse district that's been transformed into a hip shopping and dining destination), you'll want to rent a car to explore the region.
What to do: Spend one day hiking in the misty trails that lace the waterfall-strewn Columbia River Gorge, another visiting the Willamette Valley's wineries. Sokol Blosser offers food pairings with their organic wines; buy a bottle of wine and you can picnic at Penner-Ash, one of the valley's
newest wineries.
Where to eat: Tapas shines at Ataula, a Spanish gastropub; for Italian specialties, particularly pastas, head to Ava Gene's.
Where to stay: Catch views from Mount St. Helens to Mount Hood at the rooftop bar at downtown's Nines Hotel.
For more information: traveloregon.com
Williamsburg, Virginia
Used to be, a day in Colonial Williamsburg was spent watching candle-dipping demonstrations and taking photos of friends in the stocks. And while you can still check out live exhibitions, Colonial Williamsburg is attracting a whole new breed of history lovers with street theater productions, alternative reality games that begin online and finish in town, a music festival and museum programs.
What to do: Within Colonial Williamsburg, special behind-the-scenes tours of Colonial Williamsburg's conservation facilities, equestrian area and gardens are available. Nearby are Yorktown and Jamestown, which you can also explore by kayak, bike or guided boat tour at the Eco-Discovery Park. There's also golf to play at the Robert Trent Jones, Sr.-designed course and culinary classes at Taste Studio.
Where to eat: The food is better than you'd imagine at any one of Williamsburg's historic dining taverns, whichever you choose, order an Old Stitch Brown Ale, which is brewed especially for Colonial Williamsburg.
Where to stay: The Williamsburg Lodge offers a host of amenities including free bike rentals, tennis and golf clinics, preferred spa access and a great location.
For more information: colonialwilliamsburg.com
Kennebunkport, Maine
The weather cools early in Maine, but for visitors on the hunt for lobster, it's the best time to visit – by summer's end, the sweet crustaceans are fat and happy. And Kennebunkport, with its not-quite-so-touristy vibe and George H.W. Bush pedigree, is the place to get it.
What to do: Cram leaf-peeping, a little exercise and lobster eating into one activity: White Barn Inn Chef Jonathan Cartwright's Crustacean Crawl, a 6-mile bike tour that includes sampling lobster at several local haunts. There's also shopping in nearby Kennebunk, the art galleries and shops of Dock Square and, of course, L.L. Bean's headquarters in Freeport, about an hour away.
Where to eat: It may be called the Clam Shack, but this waterfront dive has the best lobster roll in town.
Where to stay: Choose from rooms or cottages at the
elegant – and recently renovated – White Barn Inn (pictured). Thoughtful touches abound – think booklights on your bed at turndown, loaner laptops and free canoes. In the spa, Maine sea salt infuses the Mineral Wrap treatment.
For more information: kennebunkport.org
Woodstock, Vermont
Vermont's got more than fabulous fall color going for it. Established in 1761, Woodstock is a quintessential New England town, complete with a village green, a covered bridge over the rocky Ottauqueechee River and a general store – F.H. Gillingham's – that's been operating since 1886.
What to do: You could burn off an entire day exploring Woodstock's shops, galleries and restaurants. For a bird's eye view of the fiery foliage, climb to the top of Mt. Tom or stroll the trails in the park next to town. For a view without the walking, hop onto Route 4 east to 165-foot-deep Quechee Gorge. You'll be able to see the rushing river far below and the dramatic 1911 bridge from several viewing points.
Where to eat: Glassmaker Simon Pearce's riverfront restaurant sources from Vermont farms and producers.
Where to stay: Twin Farms (pictured), a Relais & Chateaux property, is an intimate, all-inclusive country hideaway set amidst 300 acres of meadows and woodlands in an unspoiled valley 15 minutes north of Woodstock. Rooms are filled with original artwork and each night's dinner is curated from what's in season.
For more information: woodstockvt.com
Jackson County, North Carolina
Mountain purists flock to this pristine slice of forest west of Asheville for its easy access to Great Smoky Mountains National Park and the Nantahala River Gorge. Gear up in mountain villages like laid-back and outdoorsy Bryson City; refuel at Sylva's two microbreweries, Heinzelmannchen and Innovation.
What to do: Perched on the shore of the Nantahala River where it intersects with the Appalachian Trail, Nantahala Outdoor Center is surrounded by 500 acres of forest. Plan to spend the day white water rafting, zipping over the landscape on the four aerial lines, mountain biking on nine miles of private trails or hiking. For a more zen-inducing activity, try stand-up paddleboarding on Lake Fontana.
Where to eat: Bryson City's Cork & Bean serves up a full range of delights, including homemade cinnamon rolls at breakfast, grass-fed burgers and local trout.
Where to stay: Rent a condo at Smoky Mountain Country Club in Whittier, and you'll have access to the resort's pool, tennis and golf courses and fitness center.
For more information: mountainlovers.com
San Jose del Cabo, Mexico
Lovers of blue water can get their fall fix in coastal Mexico, without the fear of hurricanes ruining their plans. San Jose del Cabo has a compact but lively downtown filled with outdoor cafes, galleries and shops.
What to do: The Sea of Cortez is one of the world's best fishing locations; blue and black marlin, sailfish and wahoo are all in season during the fall. Spas abound in the region, one of the most unique is the SOMMA winespa at the Fiesta Americana Hotel, which uses wine as well as local grapes, oils and other botanicals in their treatments. Ask to have yours on the beach at sunset.
Where to eat: Located within an organic farm, Los Tamarindos serves margaritas made from fruit grown on the premises, mesquite-grilled local fish and salads from greens picked that hour on the porch of a hacienda built in 1888. Don't miss the afternoon cooking classes or tiny boutique filled with a selection of handcrafts.
Where to stay: How cool is Hotel El Ganzo? For his August wedding, Maroon Five front man Adam Levine put his wedding party up at the waterfront resort.
For more information: visitloscabos.travel