The Ever-Expanding Hopper Horizon
03 Mar 2022
A prolific artistic landscape fed by an interconnected web of creativity and life experience

By Kim Henry » Photos by Brandon Williams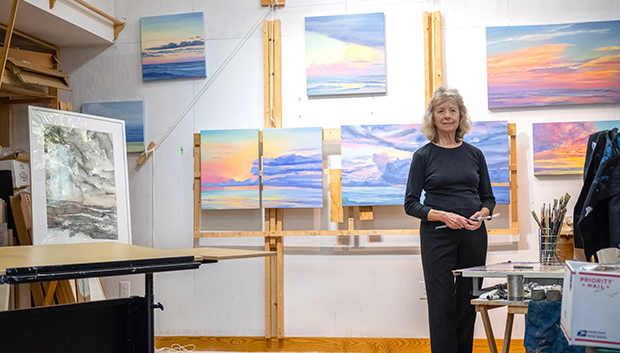 Some artists specialize in a very particular style or genre, but nothing could be further from the truth when it comes to local artist Janette Hopper. The sheer volume of her work is matched only by the diversity of her multi-faceted creations. From nature-based masks to Sumi-inspired ink washes, mythological/comic strip linocut printmaking to mixed media performance art, one can only stand in awe at the enormity of her prolific artistic landscape.

"My mother always said I was making murals before I could even talk," smiles Hopper, surrounded by hundreds of pieces of art in her backyard studio. As a mother of two, world traveler, art professor and a profoundly innovative artist, the vastness of Hopper's life story is hard to pin down. What we do know is that her work has been shown in over 250 exhibits across the world, she's received two prestigious Fulbright scholarships (one from Denmark and one from the US) and has permanent collections in over 40 public museums and colleges worldwide.

Resisting a traditional linear trajectory, Hopper went from serving two years in the Peace Corps in Colombia (where she learned Spanish and gained an invaluable international perspective) to living on a ranch in Idaho, before getting an MFA from the University of Oregon and becoming an art professor. "Something comes out of every single experience I have, and all my channels of creativity feed one another," explains Hopper in reference to her use of broad ranging materials.

How did such an international individual arrive in North Carolina? Well, having lived, traveled, and worked all over Europe and America, Hopper eventually moved here when she became Art Department Chair and art professor at the University of North Carolina at Pembroke for 10 years. Creating international opportunities for her students, and establishing teaching positions for many different art mediums, Hopper finally retired to Wilmington, and is now able to focus on her own art full time.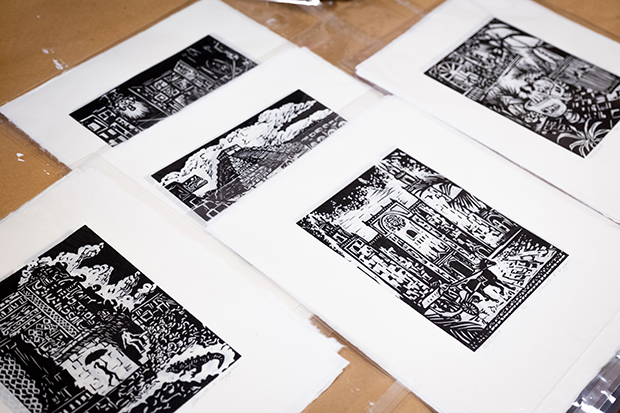 It's hard to know where to begin when reviewing her impressive body of work, as each technique and collection seems to be fed by an interconnected web of creativity and life experience. Finding inspiration in both the beauty of nature as well as social justice issues, Hopper's work can be as peaceful as is it provocative. Stunning large scale oil landscapes stand next to radical screen prints depicting her take on social issues. In her interpretation of the Seven Deadly Sins, we see gluttony portraying images of animal agriculture and the toxic nature of the fast-food culture. Equally powerful in Greed, a man of Wall Street hoards gold coins and is juxtaposed next to the poverty-stricken masses standing in lines.

"We need new leaders and new ways of leading. We need new solutions." Hopper's work reflects her political and spiritual ideology. Her art often aims to "challenge all of us to wrestle with, confront and try to solve difficult problems in our world by raising our consciousness and inspiring change." Back in 2018/19 when Hopper 'didn't like what America was telling the world', she decided to apply for an international residency, feeling compelled to return overseas and share another perspective in person. This led to a residency in northern Spain where she threw herself into an exploration of ink wash, and where she collaborated with another artist to create a piece of performance art calling on humanity to preserve the oceans and wildlife, through projected images, photography, masks and movement.

Hopper's unique collection of nature-based masks is made from pieces of bone, feathers, leaves, rocks, mushrooms and more treasures from the natural world. Having always had a deep admiration for Native American, African and other tribal art, Hopper's mask collection is a testament to the unique beauty of Mother Nature herself. "The masks have no mouth as we must speak for nature. In a time of technology and excessive work hours, I want to highlight all the amazing variety and beauty found in the environment," shares Hopper.

Another one of Hoppers impressive collections, Natural Milieu, filled the Wilma Daniels gallery here in Wilmington with oil paintings, 3D installations and multimedia creations including her own Haiku's. The show focused on 'nature connectedness' and was rooted in her love for the ocean and forests, as well as a desire to inspire us all to be better stewards of the earth. In homage to the sandy shores of Wilmington, where the turtles return to lay their eggs on the dunes, Hopper has used images of turtles in many forms, from linocut prints to images projected over her paintings, offering the perspective turtles have looking up through the ocean water.

Building connections wherever she goes, Hopper relishes collaboration in addition to focusing on her own personal work. Hopper has also been a participant in the No Boundaries International Art Colony on Bald Head Island, and as a dedicated professor, shared her love of art as a powerful means of communication and inspiration with many hundreds of students, artists and teachers from around the world.

Showing no signs of slowing down, Hopper has just sent 15 large scale paintings to New York, and she is refining her current oil on canvases sunrise series and has more performance art films in the works. Adding her endless artistic bounty to the thriving Wilmington arts community, it will be exciting to see what's next on the ever-expanding Hopper horizon.