The Machinist
12 Jul 2014
Shaw Lakey utilizes his prior construction skills to turn hundred year old driftwood into beautiful sculptures
By KIM HENRY Photos by KAREN DU BOIS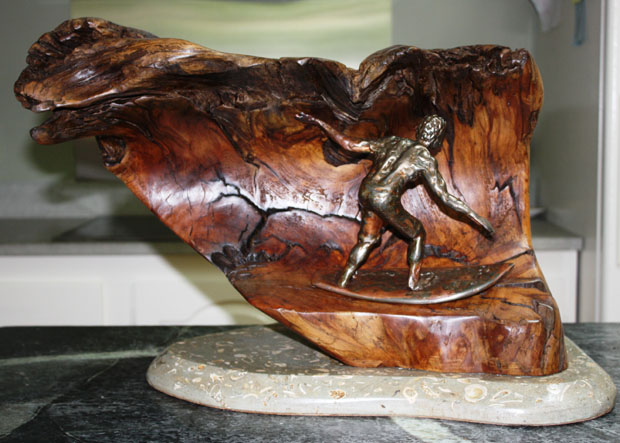 We all know the old cliche, 'every cloud has a silver lining,' but for Wilmington sculptor Shaw Lakey never a truer word was spoken. Having worked in both construction and for a tool and die company for over twenty years, Lakey had a serious accident that proved to be a real life changer - his story is the stuff dreams are made of.
Born in Punta Gorda, Florida and adopted at birth, Lakey showed an aptitude for art from an early age and although his parents weren't artistic in themselves, they were always encouraging and supportive of their son's self-expression. Graduating with a degree in Marine Technology from Cape Fear Community College, Lakey went on to work in construction, machine shops and as a commercial fisherman. He then obtained his Captain's license and spent some time as a Charter Captain. This ocean loving young man met and married Jacqueline Beaty, and the couple settled down to life by the sea on Carolina Beach.
However, the course of destiny took a sharp turn when Lakey had a serious mountain bike accident in 1998 that resulted in neck surgery. Being unable to wield heavy items for a considerable length of time and having to surrender to the enforced downtime, Lakey was compelled to consider a new path. "I was having lunch with Jacqueline one day after the accident and we were talking about what I was going to do now that I couldn't work," reflects Lakey. "We walked past a beautiful piece of drift wood art and she turned to me and said, you could do this."
Having learned how to use a wide range of tools while working in machine shops and already being an experienced captain, Lakey had all the skills he needed to navigate the Cape Fear River and salvage age-old pieces of cedar and cypress driftwood in order to transform them into works of art. And so this is exactly what he did. Twelve years, and around five hundred pieces of sold art work later, Lakey is a full time sculptor of ingenious reclaimed driftwood, bronze and copper creations.
"His first few pieces were pretty ugly," laughs Jacqueline, standing in the couples spacious new home in Wilmington. "I remember thinking, oh maybe this isn't going to work after all!" But Lakey has gradually refined an original technique of welding and braising copper and bronze on to wild and wonderful pieces of driftwood to create anything from a diving mermaid to a medusa head. "We knew my sculptures were improving once some were stolen from being on display at the Deck House on Carolina Beach," smiles Lakey. "One day I just decided it was time. I put a few pieces of my work in my trunk and took them to the Gallery at Racine."
Initially Michael Golonka, owner of the Gallery of Fine Art, said he didn't even have time to look at the artwork, but then he happened to glance over the impressive pieces and the rest, as they say, is history. Lakey has worked exclusively for this gallery from that very day and has been steadily selling a few pieces a week ever since. His work is predominately ocean themed, drawing on his love of diving and extensive boating experience, but he branches out as and when he's inspired to do so. Taking his nineteen foot Carolina Skiff out to search for his organic materials, Lakey regularly drags in thousands of pounds of driftwood, which can be hundreds of years old.
"I'm looking for certain types of wood, certain shapes when I'm out there," Lakey explains. "I normally have something in mind before I haul it in. In the end, I'm just removing wood to reveal the sculpture that's already there." This process begins by chain sawing and grinding the envisioned shape. Then he has to rough sand and finish sand, at which point the metal work begins. This involves drawing, cutting, hammering and braising and then fusing the two materials together to finalize the creation. A piece can take him up to two weeks, depending on the extent of the detail involved.
Lakey accepts private commissions - "as long as I have a certain creative freedom" - and you are guaranteed that no two pieces will ever be the same as each bit of driftwood is unique. He has also been the featured artist for dozens of non-profit fund raising events. "I once made a copper torso from a real cast of a breast cancer patient's torso," Lakey remembers. "It was formed with hundreds of scale like pieces of braised copper and bronze and it raised $4,000 for the charity 'Keep a Breast,' that offers support to women with breast cancer." It is clearly important for this prolific sculptor to give back to the wider community where he can.
Surrounded by a carefully stacked pile of amazing pieces of driftwood, a well organized workshop with all the necessary tools at hand and boats ready to sail in his driveway, Lakey is the perfect example of what happens when you apply your imagination to your skill set and then follow the dream through.