The Power of Words
13 Mar 2017
Sometimes a word is all we need to help spark our inner motivation
By KIM HENRY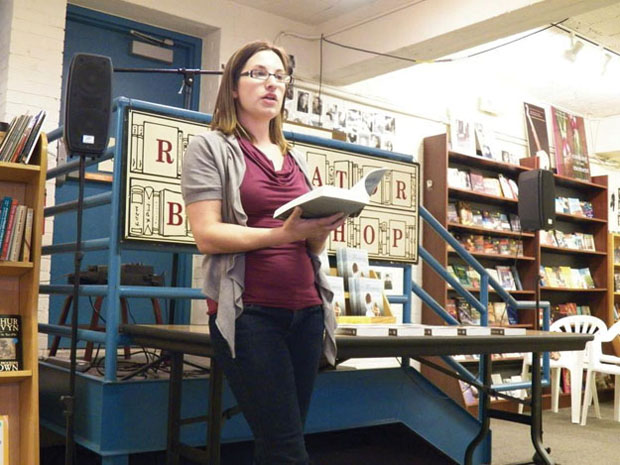 The most insignificant of moments can sometimes be the ones that reshape our lives and irrevocably change the course of our destiny. For Emily Colin, that moment came when she was referred to as just an 'arts administrator' while at work one day. She instinctively knew that this was the moment she had to take a break from facilitating everybody else's creative process, and dive into her own, or it was never going to happen. Giving herself a strict deadline of one year to write her novel or shelve the idea forever, Colin took the leap of faith so many of us may never dare to do.
Born and raised in Brooklyn, Colin was the shy, quirky kid who always had her nose in a book, liked science fiction and played the violin. "I've always loved to read. As a child, words transported me from my normal reality into all kinds of magical and wonderful adventures," remembers Colin with a smile. Having spent eight months in New Zealand on an exchange program and graduating from high school in New York City, Colin was enticed by the promise of sunshine. She headed to Duke University where she majored in Psychology and Literature, with a media studies focus. She only took one creative writing class, and after being consistently ridiculed for admiring the work of Anne Rice, Colin was convinced that she would never be a real fiction writer.
This humiliation at the hands of her professor, coupled with her passionate belief in the power of art to effect positive change, led Colin to dedicate herself to the blending of arts and activism. She's had a prolific career, working with inspiring non-profits, such as the now defunct Coastal Carolina Press and Carolina Women's Partnership. She was hired by the NC Women's Bar Association to conduct historical research on the first 100 female attorneys to practice in North Carolina, and was the co-author of "The Changing Face of Justice: A Look at the First 100 Women Attorneys in North Carolina," which was published in 2004.
"Everybody's got a voice, but not everybody has the opportunity to have that voice heard. I think there's enormous power in feeling that what we have to say matters and by extension, that we matter," explains Colin referring to a project she facilitated with pregnant teenagers in partnership with Planned Parenthood's Adolescent Parenting Program and the New Hanover County Public Library. After conducting writing workshops with the young women, their stories were compiled into a book that was distributed throughout the state. "Even though they'd become mothers at such a young age, they still had incredible aspirations and dreams. This was a wonderful synergy between my love of the written word and empowering young people," says Colin, as she retraces the events that inspired her to do her Masters in Youth Development.
Combining her impressive experience and education, Colin joined DREAMS, an art center for children-in-need here in Wilmington, in 2006 as a consultant and is still involved today. It was at a DREAMS staff meeting when Colin was Associate Director, where a teacher joked that as an arts administrator, she couldn't quite understand the inner workings of an artist. "I hadn't been one of those writers who was like, 'I'll die if I don't write a book'. I thought of it as a selfish wish, indulgent. But that day something clicked and I knew I had to reclaim my own creativity. I remembered how words had saved me as a child, how they had broadened my perspective, and if I could write something that did that for others, well then maybe it wasn't so selfish after all," says Colin with her signature humility.
Needless to say, her self-imposed deadline was successful and after nine months of writing, three months of editing and ten and a half months to find an agent and sell the book, The Memory Thief was published in the summer of 2012 by Ballantine Books. Her second novel, The Dream Keeper's Daughter is due to be released this summer. Both of the stories are firmly rooted in the real world, but have a super natural element to them. Colin is fascinated by the idea of what might happen when extraordinary events play out in ordinary lives. Her books fuse day-to-day existence with the magical realm of the unknown.
One of the main characters in The Memory Thief is a mountain climber, and Colin relishes the fact she was able to experience the inner workings and mind set of such an intrepid adventurer. Especially when in real life, she is so acrophobic that standing on a stepladder gives her anxiety. "Getting to try out other realities is a wonderful aspect of writing. But something else that was so interesting about this book, was realizing that I had written a story about taking a leap of faith, about following your dreams. As a working mother, this is exactly what I had done by finally taking time out to write the book in the first place," says Colin. And so we are reminded once again, of the wise words of George Elliot, "it is never too late to become what you might have been."