The Ultimate Summer Bucket List
03 Jul 2019
Discover the Port City for the first time or fall in love all over again with our guide to the best things to do this summer in Wilmington and surrounding areas

By LAUREN KROUSE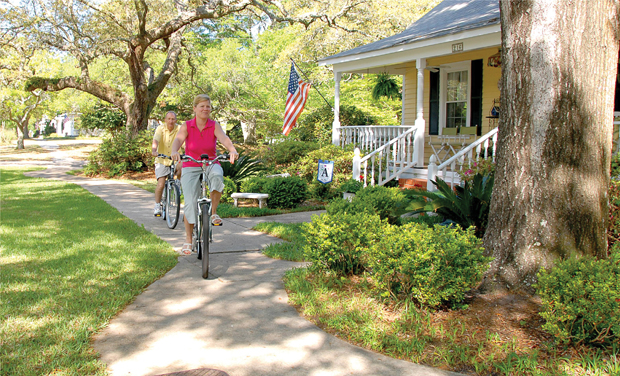 Whether you're a local or you've called Wilmington home for a while now, chances are you've spotted wild Venus flytraps, hopped on a couple of history tours (or overheard them as a passer-by), and sunbathed on your fair share of sandy beaches. You've strolled the award-winning Riverwalk, explored the Azalea-lined historic district, and bar-and restaurant-hopped all over downtown. Now, as the dog days of summer arrive, it may be tempting to stick to the same-old, same-old routine — huddle around the A/C, trudge down familiar city streets, or waste away in bumper-to-bumper traffic outside Wrightsville or Carolina Beach. But this summer, why not commit to rediscovering the Port City instead? Here, we share 16 ways you can fall in love with Wilmington all over again (or for the very first time!) with our ultimate summer bucket list.


Get fancy for a night of jazz at Bellamy Mansion.
Chances are, you know the Bellamy Mansion for its history tours and exclusive events, but this summer, it's opening its spacious lawn to the public for Jazz at the Mansion. Dress up for an evening of big-band music or swoon-worthy tunes. Each concert features a new performer. Show up early to snag a ticket for $10 to $18 (as there are no early ticket sales!). Beer, wine, and snacks will be available for purchase, though you're welcome to bring your own small cooler with food and drinks as well as blankets and chairs. The show will go on rain or shine, with a concert inside the mansion if necessary.

Where: 508 Market St.
When: The second Thursday of every month (July 11, August 8, September 12), 6:30 to 8 pm
More info: bellamymansion.org
Attend a salsa dancing social.
Why spend your evening sitting on a bar stool when you could challenge yourself to do something new and *finally* learn how to salsa? Put on some nice slacks and a button-down or zip up your swingiest dress for a lively salsa dance social hosted by Wilmington Latin Dance. Surprise your long-time lover or ask your summer fling to join you for a free dance lesson followed by hours of movement and mingling (with access to a full bar!). If you find yourself smitten with salsa by the end of the night, you can also sign up for a 4-week course, 2-hour bootcamp, or drop-in classes for salsa all summer long.

Where: King Neptune Restaurant, 11 N. Lumina Avenue in Wrightsville Beach
When: Every other Tuesday from 9:45 pm to 12:45 am (July 9 and 23, August 6 and 20, September 3 and 17).
More info: wilmingtonlatindance.com
Get breakfast and birdwatch on a boat.
For a Sunday brunch like no other in the Port City, head to the Riverwalk and board the first catamaran to serve the historic downtown area, Wilmington Water Tours. Breakfast with the Birds features an hour and a half birding tour led by two experts from the Cape Fear Audubon Society. A continental breakfast will be served, and a full bar will offer up staples like Bloody Marys and mimosas. On the tour, you'll spy up to 25 different species, from hawks and Ospreys perched on ghost trees to barn swallows and Great Blue Herons flying above. While a few pairs of binoculars will be available, you're best off bringing your own pair to make the most out of this trip.

Where: 212 S. Water St.
When: August 4, 10:00 to 11:30am
Tickets: $26 for adults and $13 for children at wilmingtonwatertours.net
Bike the Cross City Trail.
The best way to skip beach traffic? Strap on a helmet and hop on a bike to get your Vitamin D fix, some quality exercise, and lots of Wilmington scenery on the Cross City Trail (CCT). "The beauty of a dedicated multi-use path is that you are not competing with vehicle traffic," says Nick Cannon, Transportation Demand Management Coordinator for the Wilmington Urban Area Metropolitan Planning Organization. Of course, the trail itself can be considered a destination, he adds. The CCT offers 15 miles of off-road meandering through parks, neighborhoods, shopping centers, and other community destinations. You can access the CCT by any of the parks it passes through (McCrary, Empie, Halyburton, or Wade). And, if you're headed for Wrightsville Beach, just park at the intersection of Rogersville and Eastwood Road for a straight shot to the beach down Eastwood, suggests Cannon.


SUP it up under the stars at Wrightsville Beach.
Cross the bridge after sundown for a one-of-a-kind LED-lit night paddle with Wrightsville SUP. Pro stand-up paddle-boarders will guide you through inland waterways for an hour and a half of exploration.

Where: 96 W. Salisbury St.
When: Tuesdays, Thursdays, and Saturdays 8:00 to 9:30pm
Tickets: $65 at wrightsvillesup.com
Learn how to sail.
Sure, you've kayaked, boogie-boarded, and surfed. But sailing? Unless you've been raised on a marina, that requires a bit more planning ahead. This summer, book a sailing trip with Wrightsville Beach Performance Sailing. There, you'll learn how to work the ropes and sails on board a J/80 26' racing sailboat. "Sailing with WPS is an authentic sailing experience where our guests, adults and children, get to experience the joy and thrills of sailing. We regularly take first-time sailors, most on our popular two-hour cruise, which can be hands-on if desired," says Dustin Frye, owner and captain. Departing from Seapath Yacht Club, you'll either set sail on Masonboro Inlet into the ocean or deeper into the Intracoastal Waterway, depending on conditions. The sailboat can fit four adults or five people if you're taking kids along. Make sure to bring sunscreen, sunglasses, and seasick meds (if you're susceptible!) and wear comfy clothes (this includes swimsuits!).

More info: wpsail.com
Booking: Call 910-622-2503 or email dustin@wpsail.com
Explore Masonboro Island.
In the summer, a free spot on the beach can be tough to find, but if you're willing to take a ferry or kayak out to Masonboro Island, you'll find the largest undisturbed barrier island along the southern North Carolina coast. "Masonboro is unique," says Captain Joe of Wrightsville Beach Scenic Tours. "It provides you with the ultimate experience for a true beach day, to see a real barrier island. It's pretty much the best opportunity to escape the everyday and be in a special environment." A dedicated nature reserve, Masonboro is home to Loggerhead and green sea turtle nests as well as a number of waterbirds including American oystercatchers, black swimmers, Wilson's plovers, and least terns. To visit via ferry, contact Captain Joe at 910-200-4002 or joe@wbboattours.com to schedule a ride any time on the hour from 9 am to 4:30 pm, Monday through Saturday. Roundtrip rates begin at $30 per person.
Go stargazing.
There's nothing like a golden-orange sunset along the coast of Carolina Beach, but have you truly gazed into the beautiful stars and galaxies swirling above? Just as the sun is about to set, leave the beach and head for nearby Carolina Beach State Park to learn about the night skies with two hours of stargazing hosted by the Cape Fear Astronomical Society. Telescopes are provided!

Where: Carolina Beach State Park, 1010 State Park Road
When: The first Saturday of every month (July 6, August 3, and September 7) from 7:45 to 9:45 pm
More info: Capefearastro.org
Visit all of the farmers' markets.
Summer in Wilmington means fresh produce and flowers, local arts and crafts, and homemade goods galore. Break out your biggest tote bag and hit up the ATM, then make sure to visit these hotspots in and around Wilmington:

Riverfront Farmers' Market
Where: Dock & Front St., downtown Wilmington
When: Saturdays 8:00 am to 1:00 pm through November 24

Wrightsville Beach Farmers' Market
Where: Wrightsville Beach Municipal Grounds, beside Town Hall, 321 Causeway Drive
When: Mondays 8:00 am to 1:00 pm through September 30

Kure Beach Market
Where: Ocean Front Park, 105 Atlantic Avenue
When: Tuesdays 8:00 am to 1:00 pm through August 27

Poplar Grove Farmers' Market
Where: Poplar Grove Plantation, 10200 U.S. Highway 17 N.
When: Wednesdays 8:00 am to 1:00 pm through September 25

Southport Summer Market
Where: Franklin Square, N. Howe Street
When: Wednesdays 8:00 am to 1:00 pm through August 28


Head to Eagle Island Fruit and Seafood for truly traditional southern staples.
For the classic ol' country store experience, you need not drive far from downtown Wilmington. Just north of the Isabel Holmes Bridge, Eagle Island transports you to "the biggest, little store you ever saw," as one customer puts it, with a fresh seafood market, loads of affordable produce, and aisles filled with jarred goods, from pickles and salsas to jams and jellies. Give yourself plenty of time to peruse the store. While you're there, pick out some penny candy, quench your thirst with Sun Drop out of a glass bottle, try a slice of individually-wrapped cheese from the front counter, and be sure to leave room for some hand-dipped ice cream, too. If you're feeling inspired by the old-time vibe, buy a frozen rabbit and head home for a southern-style stew. These days, Eagle Island might just be the only place in Wilmington you'll find 'em.

Where: 2500 U.S. Highway 42l N.
When: Every day, 7:00 am to 8:00 pm


Attend the North Carolina 4th of July Fest.
What's the Fourth of July without a patriotic parade, fair food, hundreds of arts and crafts booths, and, of course, fireworks? Add to that numerous flag ceremonies, live entertainment, a national art show, classic car show, voter registration drive, used book sale, and pancake breakfast, and you're about as proud to be an American as ever! Patriotism is alive and well in Southport, and these folks know how to celebrate Independence Day in style. Take the Southport-Fort Fisher Ferry (just $7 to load up your car with family and friends) to cross the Cape Fear River into Southport for a weekend full of Fourth of July festivities.

Where: Southport Waterfront, Yacht Basin Dr.
When: June 23 to July 4
More info: nc4thofjuly.com


Become a volunteer.
If you have some free time this summer, there's no better way to reconnect with your community than to volunteer. Of course, volunteer work doesn't just benefit other people — multiple studies show racking up volunteer hours can ward off loneliness and depression, combat stress, and even potentially lower your blood pressure. Here, a few ways you can reach out and give back:

*Help fellow Wilmingtonians rebuild post-Florence.

In the wake of Hurricane Florence, long-term recovery groups in New Hanover and Pender Counties continue to help many neighbors rebuild. "One of our main focuses is the disaster," says Annie M. Anthony, the co-chair of volunteer management at the Cape Fear Volunteer Center. "We send volunteers to our partners like Wilmington Area Rebuilding Ministry (WARM), Habitat for Humanity, Good Works, and Support the Port." The opportunities for involvement are numerous: You can help people move into new apartments or homes, deliver food to those staying in trailers, or even lend a hand with new construction.

*Be someone's Big Buddy.

"Summer is a great time to start being a mentor or Big Buddy, and we have tons of kids on the waiting list," says Anthony. Big Buddies spend two hours a week or eight hours a month with a child who shares their interests. "Your whole family can volunteer, too," notes Anthony. "Your Little Buddy becomes a part of your family, an extra playmate who comes along to the beach, cookout, or Fourth of July. You get to show them things they aren't going to see just sitting in their house." And, since food scarcity is a profound problem for many Wilmington children, you could provide them with a nourishing meal as well, she adds.

Register as a volunteer: The Cape Fear Volunteer Center can help you find volunteering opportunities that fit your interests and availability, from beach sweeps to festival set-ups. Fill out a volunteer registration form at capefearvolunteercenter.org.

Share your story and meet your downtown neighbors.

Another way to connect? Head to Foxes Boxes, a new American restaurant with a focus on social consciousness. Every third Wednesday of each month, the Foxes host 'What's Your Story Wednesday,' a neighborhood social in the Brooklyn Arts District. At each meeting, community members are welcome to share personal stories of life in the Port City, and representatives from a variety of organizations give details on how you can become involved with causes you care about.

Where: 622 N. 4th Street
When: July 17, August 21, and September 18 from 6:00 to 7:30 pm


Discover the best of Wilmington's art and poetry scene at Bottega's open mic nights.
Head just down the street to Bottega for a soulful, long-running series of open mics. "We have so many talented local artists from so many different mediums that it really makes you smile when you come in," says Addie Wuensch, owner of the art bar and gallery. Think: slam poets, rappers, bands, painters, drawers, songwriters, comedians, playwrights, and more. Even better? "We always have interesting drink specials, and we make fresh, homemade sangria daily — that's many people's favorite," says Wuensch. If you're feeling brave, you can share your own work as well. Just snag the sign up sheet and put down your name.

Where: Corner of Brunswick & 4th St.

*Fresh INK hosted by Israel Sorenson: Poetry and music the second Saturday of every month from 9:00 pm to midnight, $5 cover.

*Mics Wide Open hosted by Israel Sorenson, Adam Sparks, and TMI: Poetry the fourth Saturday of every month from 9:00 pm to midnight, $5 cover.

*Music Open Mic hosted by Jake Newman: Wednesday nights from 9:00 pm to 2:00 am, free to attend.


Jam the night away at Satellite's Bluegrass Night.
Any summer night, Satellite, a 1940s grocery-turned bar and lounge, is going to be packed thanks to its extensive beer list, laid-back ambience, and spacious back patio. But Sunday Evening Live Bluegrass Jams are a must-attend. Get down to the jams of the area's best bluegrass musicians and be sure to bring a dancin' partner with you!

Where: 120 Greenfield St.
When: Every Sunday, 6:00 to 9:00 pm


Rock out to local favorites in the shade of the Airlie Oak.
To experience the gorgeous Airlie Gardens and booming music from some of the Port City's best musicians, grab some tickets for the Airlie Gardens Summer Concert Series.

Where: Parking at New Hanover County Government Center Building, 230 Government Center Dr. Free trolley runs continuously from 5:00 pm.
When: Every first and third Friday of every month through September, 6:00 to 8:00 pm

*July 5: Wilmington Big Band, a 17-piece orchestra dedicated to the American art of big band music

*July 19: Signal Fire, a feel-good reggae rock band whose latest release, "Lift Up," debuted at #1 on iTunes reggae charts

*August 2: Massive Grass, an alternative bluegrass band featuring upright bass, banjo, guitar, mandolin, and fiddle, with tunes inspired by the foothills of North Carolina

* August 16: Bibis Ellison, a soulful singer and songwriter and "local favorite," says StarNews

*September 6: Jack Jack 180, a multi-genre group specializing in covers of high-energy pop and rock songs

*September 20: L Shape Lot, an Americana-folk rock-roots rock-bluegrass hybrid known for their four-part harmonies

Tickets: $3 to $10 at airliegardens.org