Sizzling Summer Eats
03 Jul 2019
Dive into the Port City's tastiest signature summer dishes
By CAROLINE GOBBLE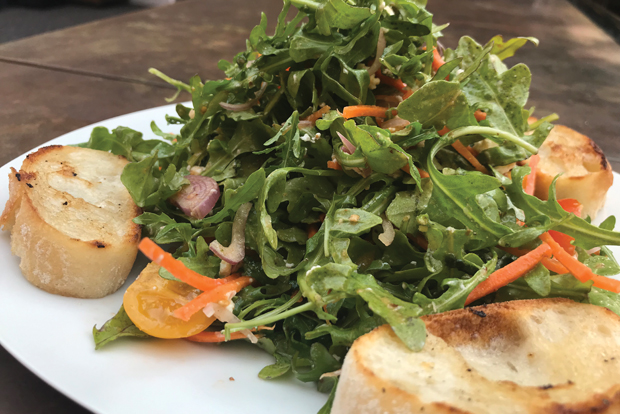 It's summertime, which means the days of grilling, succulent seafood, backyard barbeques, beach picnics, and poolside entertaining are upon us. Whether you are taking a vacation or spending your summer relaxing at home, local Wilmington restaurants and chefs are eager to share some of their signature summer dishes and cooking tips so that you too can enjoy the many flavors of summer.
Brasserie du Soleil
Brasserie du Soleil restaurant, located on Eastwood Rd. in Lumina Station, is the place to go for authentic French cuisine in Wilmington. Brasserie du Soleil is French for "eatery of the sun," which is fitting given it is just minutes away from Wrightsville Beach.
Executive Chef Marc Piscitello's featured summer dish is Plateaux de Fruit de Mer, French for Fruits of the Sea Plate. "There is no better way to celebrate the arrival of summer than with this amazing variety of North Carolina shrimp, chilled mussels, oysters and clams on the half shell, which are accompanied by mignonette, cocktail sauce and horseradish-lime aioli," says Chef Piscitello. "Compliment this crowd pleaser with a bottle of chilled Sauvignon Blanc for the perfect pairing."
Open for lunch and dinner, The Brasserie features extensive French fare including Pate, Escargot, Plateaus De Fromages, Bouillabaisse, Steak Au Poivre, as well as a full raw bar and entrees including tender cuts of beef and lamb. Lunch offers include The Brasserie Salad made your way or the Plaques de Dejeuner along with sliders, sandwiches and a wide variety of entrees. The Brasserie has a full bar and an impressive wine list to complement any meal. A limited menu is offered daily from 3pm-5pm.
For more information, visit brasseriedusoleil.com, 910-256-2226
1908 Eastwood Rd.
Open for lunch Monday-Saturday from 11:30am-5pm. Open daily for dinner at 5pm.
Dram & Morsel
If you are looking for a chic, modern lounge vibe, then Dram & Morsel is the place for you. A Tapas-style restraint, Dram & Morsel is "designed to incorporate the appeal of industrial elegance, a communal atmosphere, and a relaxed, more connected dining experience." The concept of Dram & Morsel was inspired by the aura of Metropolitan boutique hotel lobbies.
Chef Erin Wiley, Executive Chef of Dram & Morsel and Yosake, features a Panzanella Salad, which includes arugula, red onions, shredded carrots, tomatoes and goat cheese tossed in a house-made smoked tomato vinaigrette with toasted crostini. "What is unique about this salad is that we use a house smoked tomato vinaigrette as the dressing, as well as fresh goat cheese as the cheese component," explains Chef Wiley. Panzanella, or panmolle, is a popular summer dish and is a Tuscan-inspired chopped salad that is comprised of onions, tomatoes, and stale bread.
When cooking up your own summer dishes, Chef Wiley suggests "get what produce looks good and fresh in the market and treat it simply. This is the best time of year for stone fruits, berries and melons, which can be used grilled and also eaten fresh. The summer's bounty of produce can also be preserved by canning or pickling for the winter months."
Dram & Morsel is special because not only does it offer a phenomenal brunch on Sundays from 10am-3pm, it is also possible to rent for private events and parties. Fit with plush couches and a roomy bar area, the space is fantastic for mingling! "We offer a wide variety of wines, specialty cocktails, and food, and also have at our disposal a large projection screen, which can be used for karaoke, movie showings, or whatever else one can dream up," explains Chef Wiley.
For more information, visit dramandmorsel.com, 910-833-5999
33 S Front St.
Dram and Morsel is closed on Monday and Tuesday. Hours are 5pm-10pm on Wednesday and Thursday and 5pm-12am on Friday and Saturday. Sunday hours are 10am-3pm.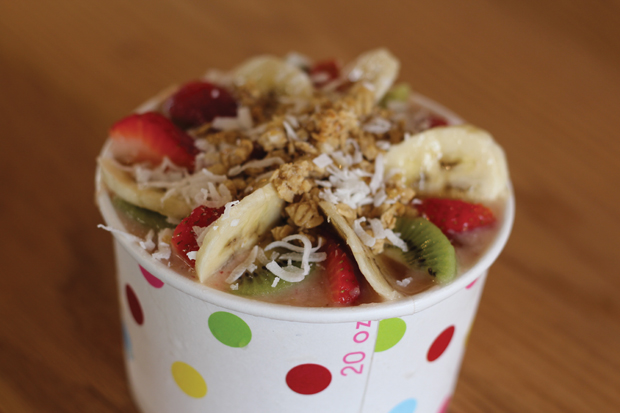 Heavenly Sweet Ice Cream
It would not be summer without ice cream! Remaa Mansour's Heavenly Sweet Ice Cream, located at The Pointe at Barclay, is the perfect spot for a sweet treat. Coming up on its 1-year anniversary, Heavenly Sweet offers a dozen flavors, including delicious vegan ice cream flavors, made with coconut milk. The cream used for ice cream is locally sourced from a southeastern North Carolina dairy farm, and Mansour makes ice cream right there in the store. Bowls are made fresh for each customer and can also be customized.
Heavenly Sweet's featured dish is called the Sunset Bowl, and the ingredients include almond milk, mangos, peaches, strawberries, pineapples, bananas, kiwis, granola, coconut, and topped with a drizzle of honey. "It's cool and fresh, healthful, guilt-free, and vegan," says Mansour.
"We are a local, family owned business and we care about what goes in our food."
For more information, visit facebook.com/heavenlysweeticecream, 910-765-1113
1611 Dusty Miller Lane #303
Open daily from 12pm-10pm.
Pizzeria Il Forno
Pizzeria Il Forno in Barclay Commons is an upscale pizzeria featuring Neapolitan-style pizza which has a signature dough made from double zero flour that's light, thin, soft, and chewy with a high crust.
Pizzeria Il Forno's featured summer dish is a pistachio pesto-based pizza with local peaches, wood fired with Burrata, prosciutto with a balsamic glaze drizzle. "We specialize in Traditional Neapolitan pizza, "fork and knife" as they do in Italy, and we are a scratch kitchen, always striving to create fresh ideas while staying true to the concept," explains Shannon Lawrence, General Manager. With a unique rustic meets industrial style, the restaurant offers amazing salads and pastas with fantastic bar selections. They also offer patio seating in the Courtyard of The Pointe. "The menu is a collaboration of Chefs, including a Chef from Tuscany and our owner, Ash Aziz. We have daily pizza, beer, wine and cocktail features. Half price bottles of wine Tuesday's and discounted bar menu daily from 4-6pm," says Lawrence.
For more information, visit pizzeria-ilforno.com, 910-765-1226
1474 Barclay Pointe Blvd., Suite 201
Open daily at 4pm, and open at 12pm on Saturday and Sunday.
Port City Chop House
"Life is better at the beach and so is lunch or dinner at locally owned Port City Chop House. Located only minutes from Wrightsville Beach, the Port City Chop House is the perfect place for a business lunch, dinner or just meeting friends for appetizers and drinks. Enjoy a meal al fresco in front of our outdoor fireplace. Port City Chop House also offers private dining rooms to accommodate any size group or event.
Port City Chop House's featured summer dish is Tide and Tundra, featuring a certified Angus beef filet mignon and lobster tail. The restaurant's Certified Angus beef steaks are aged 21 days to ensure better flavor and overall quality.
Chop House Restaurants are known for incredible steaks, seafood and chops, and its Corporate Chef Matthew Kahrs sets the bar. He creates inspired dishes with the highest quality ingredients available, like grilled tuna with a pineapple-mango relish and beef tenderloin with their famous Grand Marnier orange sauce. Kahrs, a Greensboro, North Carolina native, graduated from the Culinary Institute of America and has worked in the upscale kitchens from Wilmington to Boston.
For more information, visit chophousesofnc.com, 910-256-4955
1981 Eastwood Road. Closed Sundays
Monday-Friday 11:30am-9:30pm; Saturday 4:30-9:30pm; Lounge open until 10:00pm.