A Unique Find
03 Jul 2019
Something Old, Something New, Something for Everyone at Port City Peddler

By CAROLINE GOBBLE Photos by KELLY STARBUCK PHOTOGRAPHY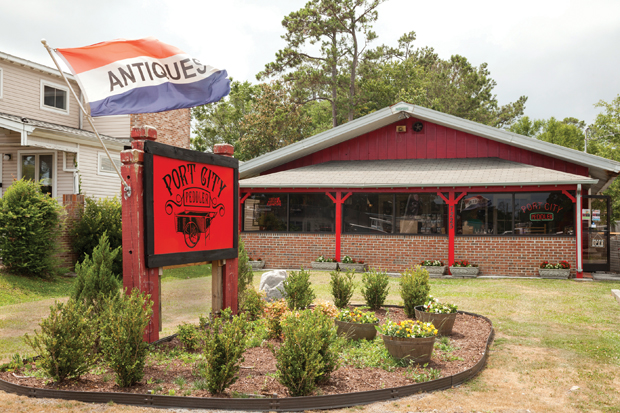 Are you looking for the perfect gift for a friend or that one-of-a-kind vintage accessory for your home? Are you interested in joining a community of local makers, crafters, and vendors? If so, the Port City Peddler is the perfect place for you! And, the story behind Port City Peddlers is just as unique as the many goods, booths, vendors it contains.

Conveniently located in the Market Street shopping district in the Cape Fear area, just outside of Wilmington, NC, Port City Peddler is a multi-vendor shop with the perfect blend of gifts, antiques, and eclectic finds.

Port City Peddler was founded by Melanie Kaye Hamm, known to many as Kaye, who has been in Wilmington for over 20 years. Prior to moving to Wilmington, she was an Environmental, Health and Safety Manager in both the power and chemical industries, leaving the workforce after her third child was born. "Many years ago, I had a booth in a vendor mall, and I really enjoyed it. In October of 2017 through a strange turn of events, the opportunity presented itself to me to open Port City Peddler. I literally did it on a whim. I made a phone call, and in 30 days I was in business," explains Hamm.

Hamm credits much of the success of Port City Peddler to several friends she has known during her entire time in Wilmington; friends who took the leap with her to open Port City Peddler and who all have vendor spaces. All of the employees at Port City Peddler also have vendor spaces.

"I was located about a mile up the road for a year, and we moved to our current location after the hurricane," says Hamm. "I had been looking for larger space, and thankfully, I had signed the lease right before the storm. We closed down the month of September and reopened on Market Street on October 1, exactly on my 1 year anniversary."
There are several sections to the layout of Port City Peddler: the front, the warehouse area, and the back. The front section is where one can find gift items such as candles, body butter, jewelry, home décor, new and used furniture, among others. "I like for customers to walk and be able to visualize the furniture and décor in your home," explains Hamm. "I like to stage everything the way it would look in your home. I really enjoy working with my clients to help them customize their space."

Port City Peddler is also the area's only premiere dealer for Dixie Belle Paint and the only dealer in the area for Wise Owl Paint and Cling On Brushes, so if you are a painter by trade or hobby, then Port City Peddler is a must-visit place for you. Additionally, Hamm does custom paint work and design upon request, and she teaches private paint classes for up to three people.

The warehouse area houses the shops at Port City Peddler. Here, individual vendors sell antiques, vinyl records collectables, jewelry, stained glass, plants and succulents, vintage watches, old tools etc. The shop in the back houses BarnBird Custom Woodworking. BarnBird designs and builds custom furniture, farm tables, and more. BarnBird also offers refinishing services. Sibyl, formally in the antique district of Castle Street is also located inside the shops. Sibyl specializes in Heisey, Fostoria and other collectable glass. "We also have a vendor that carries a good selection of Fenton, milk glass, Disney and Railroad collectables as well as Old Wilmington Memorabilia. I have a lady that makes jewelry from authentic sea glass, as well as a vendor that specializes in vinyl records," says Hamm.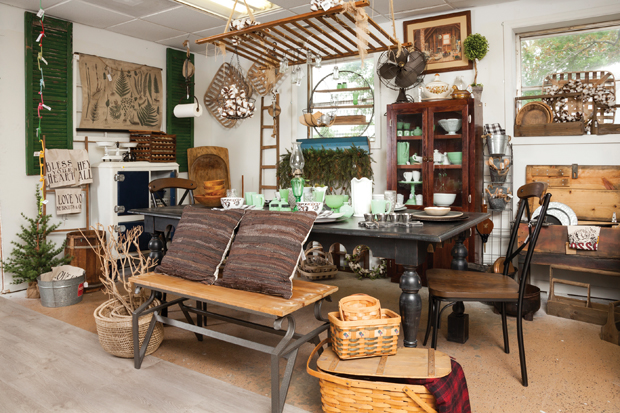 If you are interested in becoming a vendor, visit portcitypeddler.com to sign up. Currently, there is waitlist, but Hamm is always interested in supporting local artists, craftsmen, collectors, curators, and more. "Whether you are looking for the next piece to complete your collection or you have something special in mind for a client, we are here to help. Our locator service is perfect for those hard-to-find items," explains Hamm. Additionally, Port City Peddler hosts a Pop up Market once a month where outside vendors can set up on the lawn on a Saturday.

Be sure to visit what one customer calls a "beautiful hidden gem," one where you will be "welcomed with a warm smile." Another customer says, "What a great place to buy gifts or things for yourself! The owner is the best and so welcoming to guests and new tenants."

Port City Peddler, located at 7225 Market Street, is open Tuesday-Sunday and is closed on Monday. For more information, visit portcitypeddler.com. 910-444-8881, portcitypeddler.com