The Umstead Hotel
08 Sep 2015
Chic and eco-friendly, self-pampering awaits at this luxurious resort and spa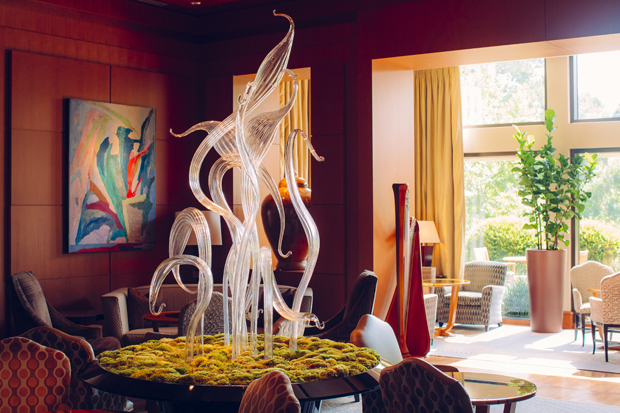 By KIM HENRY
Fusing Southern hospitality with simple elegance, and pristine nature with the convenience of being fifteen minutes from downtown Raleigh, The Umstead Hotel and Spa is an ideal choice for business conventions, weddings or a relaxing weekend away. Eco certified by 'Global Sustainable Tourism Council', this hotel sits on twelve stunning acres of tree-lined grounds around a lake, reflecting the ambience of tranquility and beauty that permeates this North Carolina destination.
Built in 2007 by art lovers and owners of the technology company SAS, Dr. James Goodnight and Mrs. Anne Goodnight have infused the Umstead with their passion for aesthetics, nature and effective practicality. The hallways are adorned with the art work of both local and national artists, and the seamless stream of blues and greens echo the Carolina skies and the acres of natural woodland that surround the hotel.
Honoring this nature is clearly demonstrated by the Umstead's many eco-friendly initiatives such as: composting all leftover food from the hotel kitchen, recycling any unused products through the non-profit A Cleaner World Foundation, installing motion sensitive lighting in every bedroom for energy conservation, and perhaps the most radical of all, is the hotel's very own farm. An acre of the surrounding land has been given over to growing food that actually supplies the kitchen with some of its fresh produce and a wide variety of wild herbs.
Once indoors, in addition to the 10,000 square feet of ideal convention space, is the hotel spa which facilitates a total rejuvenation of the mind, body and soul. Complete with a whirl pool, sauna, steam room, gym and swimming pool is an innovative array of healing treatments and massages to meet every need. You may receive anything from a mani and pedi, to a renewing European Facial or a full body Babassu Sugar Scrub. The experienced staff of health and beauty practitioners are on-site with their host of cleansing and relaxing treatments for both the hotel guests and daily visitors.
The Umstead's dining experience adds a range of culinary delights to its consistent standard of excellence. With a passion for locally grown produce, this hotel offers unique flavor combinations and beautifully presented dishes that can all be modified to suit any dietary restrictions that their cliental may have. Offering twenty-four hour room service, afternoon tea in the spa, wine tasting events, seasonal treats by the pool cabana or a full menu seated in the exquisite dining room, the hotel will not disappoint in the culinary department.
All of these areas combine to make the hotel an ideal place for a wedding. The tranquil three acre lake, plentiful lawns and natural forest create a beautiful back-drop for this special day. So from one of the most important days in a person's life, to simply wanting a little time out for some self-pampering, The Umstead Hotel and Spa appears to have it all. No wonder it is fast becoming one of the most popular hotels in North Carolina. theumstead.com, 877-711-0758