The Meditative Art of Coloring
08 Sep 2015
The art of coloring is an activity we can all easily remember and relate to from childhood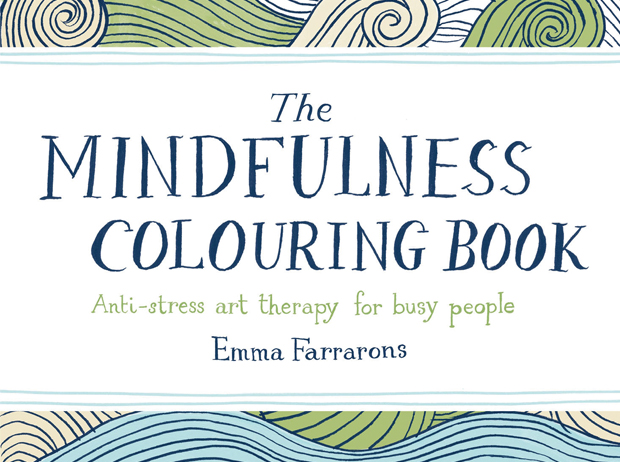 By COURTNEY WEBB
Who hasn't lost themselves in color selection and the continuous motion of a crayon across paper at some point in their lives? New trends in publishing suggest that coloring is not just for the kids anymore, and we shouldn't leave it behind as we grow older. Recently, the bestseller lists have been overrun with coloring books for adults as today's big kids try to re-connect with their creativity, lower their stress levels and boost their moods. Adult coloring seems to be taking hold in our busy culture like never before, and an explosion of exceptional coloring book choices is ready for both beginners and experienced colorists alike.
To understand why coloring is all the rage it helps to recognize what exactly happens to us when we color. Like other activities, the very motion of coloring can be seen as a repetitive act that leads to a state similar to active meditation. In active meditation we strengthen our focus and come back to a relaxed state which eases stress and pushes away those seemingly never-ending thoughts of worry from our minds. This keeps you in a state of mindfulness, and in the present moment no longer worrying about the past or future but remaining in this moment in time only. Finishing a page can even give a sense of accomplishment and gratification which can boost serotonin levels in the brain. Coloring can quiet even the noisiest of minds while also allowing a creative outlet to let your inner artist shine. Whether you enjoy animals, floral motifs, geometric patterns, natural scenery, iconic cities or even sacred mandalas, there is now a perfect coloring book available just for you.
Coloring Book for Grown-Ups: Discover Your Inner Creative Side by Metro Books
The Coloring Book for Grown-Ups has something for everyone and is a great place to begin your re-discovery of the joy coloring can provide. High quality paper is used with rich designs, varying from the most intricate to much larger repetitive patterns that will delight colorists while providing hours of rich coloring material with hundreds of illustrations.
Coloring a Stroll in London by Illustrator Thomas Flintham and Coloring Paris by Illustrator Tomislav Tomic
Travel enthusiasts will be delighted while they color their way through Paris and London with these sweeping vistas and detailed landscapes. Iconic monuments, buildings and scenery will take you away as you color your way through famous cities with talented illustrators providing elaborate and sometimes quirky drawings. Upon completion the unique fold out format allows for further showcase of your finished artwork.
The Mindfulness Coloring Book: Anti-Stress Therapy for Busy People by Illustrator Emma Farrarons
For coloring on the go, this pocket size coloring book provides the perfect miniature coloring book for travel so that you can color just about anywhere. The designs range from geometric patterns to scenery and intricate animal illustrations. The varied content allows for plenty of creativity and variation in color selection in an easy to stow miniature size. The smaller designs work splendidly with colored pencils or fine tip professional markers. It's the ideal solution to color your worries away while on the go.
Creative Haven Floral Mosaics Coloring Book by Jessica Mazurkiewicz
Creative Haven is by far one of the most prolific and varied producers of adult coloring books. Floral Mosaics is perfect for the beginning colorist and those seeking to remain on a floral theme consistently. It's larger than normal structural mosaic tiles provide an easy level for younger colorists as well as those that prefer a more geometric and linear subject. Creative Haven also boasts coloring books on just about any subject you could dream of, from cakes and desserts to fairies and animal themes. Upcoming holiday titles also include Christmas trees, winter scenery, holiday sweaters and even Christmas themed mandalas for all your holiday coloring needs.