'Tis the Tasty Season
03 Nov 2020
Our guide to festive noshing

By FANNY SLATER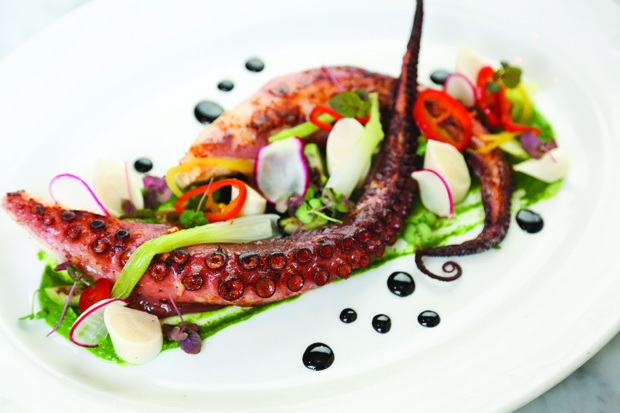 From brilliantly briny oysters to potent pumpkin ales and every seasonal specialty in between, 'tis the time of year for holiday harvesting. You may only be huddling up (safely distanced, of course) with several of your closest friends to ring in the hungry hour—thanks a lot, Covid—but that doesn't mean you can't wrap up 2020 with all of the city's most clutch culinary offerings.

Step right up to our roundup of Wilmington's most divine holiday rations you definitely won't be regifting.


Tarantelli´s
910-763-3806, tarantellis.com
What better way to ring in the cheerful season than with handmade ravioli? This fine dining family-owned Italian restaurant is renowned for decadent dishes like buttermilk-burrata topped eggplant parmesan and the exclusive Spaghetti al Formaggio Parmigiana—a tableside revelation where flamed whiskey and spaghetti are weaved to cheesy perfection in a colossal wheel of 24-month aged parmigiano reggiano. For less of a heavy hitter, a light bite like the luscious, locally-derived Frutti Di Mare (fruit of the sea) over linguine is a seafood fanatic's dinner-come-true. To keep things low-key, check out Tarantelli's fully-loaded family-style takeout menu where you can enjoy spaghetti and meatballs smothered in their righteous (don't call it red sauce) gravy in the comfort of your very own pajamas.

Indochine
910-251-9229, indochinewilmington.com
Indochine regulars know that the restaurant's extended wait times around the holidays are worth every hunger pain. Praised for its ability to knock a special occasion out of the park, this Asian eatery is a consistent champion when it comes to memorable cuisine. Chow down this Christmas Eve on the Crispy Bird Nest Noodles—a melody of stir-fried beef, pork, chicken, and tender veggies atop a crunchy lair of fried noodles. Speaking of knocks and parks—when one of those temperate Wilmington Decembers days sneaks up, park your party under one of Indochine's canopied outdoor huts and pretend like it's summer with a round of Naga Knockouts (a tropical blend of dark and light rum, triple sec, peach schnapps, and pineapple juice).

Havana´s
910-458-2822, havanasrestaurant.com
From the staff's jubilant cheer to the thoughtfully jolly décor, Havana's has rightfully earned its place again on this year's roundup. Nothing says "hello 2021" like a glass of bubbly partnered with some of the freshest catch the area has to offer. Go big (and go home full) with the Seafood Lasagna—a rich fusion of shrimp, crab, scallops, spinach, and mushrooms, or let the Cajun cream sauced-shrimp and grits melt-in-your-mouth. If a chill in the air calls for warming up from the inside out, don't miss Havana's legendary, multi-award-winning clam chowder.

Cape Fear Seafood Company
910-799-7077, capefearseafoodcompany.com
You may come to Cape Fear Seafood Company to celebrate the merry season, but you'll leave frolicking in delight over how life-changing the Bald Head Island Crab Cakes were. Casting out imaginative New American cuisine and sublimely prepared seafood in a polished, yet approachable environment—CFSC is a fan favorite for any time of year. Gluten-free accommodations, like the Lemon Pepper Sea Scallops in frothy beurre blanc, make the restaurant an ideal meeting place for groups with dietary needs. For a quieter evening-in, the takeout family meals will put a spark in your night. Don't socially distance yourself from the Smoked Salmon Alfredo.

Port City Chop House
910-256-4955, chophousesofnc.com
An exceptional staff along with superior steaks, chops, and seafood are just a few of the accolades that put this Carolina chop house on the meat-lovers map. Through sticking to their mantra of "serving the best cuts without taking shortcuts," the eatery has figured out the formula for a noteworthy dining adventure. Whether you're after a mellow supper with friends or planning an unforgettable private party where counting down the New Year includes Cowboy Ribeyes and Chilean Seabass with ponzu—PC Chop House is a cut above the rest.

Pinpoint
910-769-2972, pinpointrestaurant.com
Pinpoint has their finger on the pulse when it comes to making the most of seasonal ingredients, and you'll want to indulge in every morsel of their magical fall menu. Kick things off with warm-weather-inspired first courses like sticky sorghum-glazed roasted pumpkin with miso brown butter and crispy crumble, then loosen your pants for the braised short rib and grits with braised leeks and smoked scuppernong BBQ. Ice-cold coastal drafts, epicurean cocktails, and an astute wine list are always on deck to buzz up your experience.

True Blue Butcher & Table
910-679-4473, wearetrueblue.com
Known for their tasty triumphs, as well as the ability to pull off the synthesis of butcher shop, restaurant, and cocktail sanctuary—True Blue is undoubtedly one of Wilmington's triple threats. Steadfast patrons of this steakhouse flock to the roomy dining venue for momentous meals complemented by five-star service. But one peek into the meat case (flaunting fancy cuts like luxurious wagyu and dry-aged beef), and folks find themselves just as tempted to take the feast into their very own hands. Don't worry, True Blue's "cook at home" kits like sharp cheddar mac and cheese make side dishes a snap.

Circa 1922
910-762-1922, circa1922.com
Thanks to its modish setting in an opulently refurbished bank right in the heart of downtown, the skilled ensemble in front of (and behind) the kitchen curtain, and of course, those famously fabulous tapas—Circa is a long-standing treasure among locals and out-of-towners alike. And when it comes to gathering for a good time, the prix fixe and specialty menus always hit a homerun. Must-have vegetarian snacks include the charred Brussel sprouts, and the limey fried okra boosted with chaat masala, pop-able garbanzos, and fresh herbs stirs memories of Indian street food.

East Oceanfront Dining
910-344-2513, blockade-runner.com/dining-br/east-oceanfront-dining
Chef Jess Cabo and her extraordinary troupe at East are proverbial Wrightsville Beach culinary champions. When it comes to Cabo's flawless execution of flavor medleys (like her elevated take on pimento cheese with tangy yogurt, pickled okra, and woody lavash flatbread), it's hard to deny that her Cali-Mexican and Asian influence hasn't hitched a hint of new age southern flair along for the ride. East's advocacy for regionally-procuring ingredients along with their ability to provide an abundant variety of vegetarian options has made this oceanfront mecca a no-brainer for holiday herding.

Brasserie Du Soleil
910-256-2226, brasseriedusoleil.com
This quintessential café not only boasts a prevalent selection of classic French bites and sips, but they've got the European spirit and charming dining area to prove their Parisian credentials. Get lost in the silky lemon garlic butter escargot with fried capers and get cheesy with the plateux de fromages whose accoutrements like candied pecans and fruit gelée bring everything (and everybody) together. Ordering the breath-taking Bouillabaisse—a saffron-infused broth flowing with fish, mussels, and clams—for yourself? Don't be surprised when everyone asks for a bite.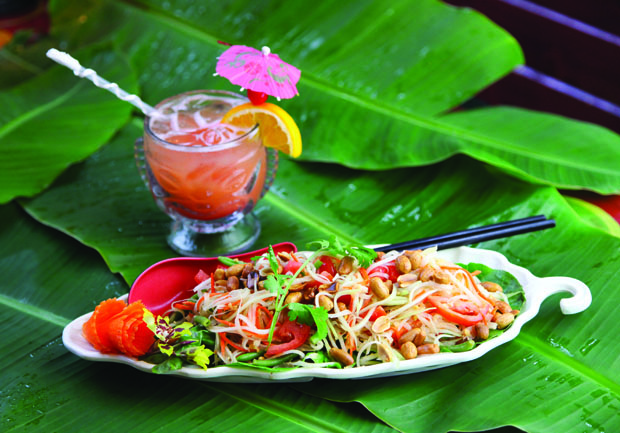 Boca Bay
910-256-1887, bocabayrestaurant.com
This beachy oyster oasis may be well-versed in Sunday brunch and humble southern comfort food like chicken and waffles, but Boca Bay's contemporary atmosphere equally speaks to deliciously diverse, tasteful seafood creations like crab-stuffed flounder floret with rich leek and lobster velouté. The hot seafood starters are hard to pass up, but that's also the case with the carb-heavy provisions. I mean, would you say no to surf and turf-style lobster mac-and-cheese draped in seared angus beef with grilled garlic croustades? I didn't think so.

Osteria Cicchetti
910-256-7476, osteria-cicchetti.com
Tucked into the trendy Forum shopping center, this pasta paradise (referred to by loyal followers as "The OC") gets rave reviews for their bounteous happy hour hovering with artisan meats and cheeses, Northern Italian noods (like the Tortelloni Michelangelo with salty pancetta tart sundried tomatoes, and parmesan cream), and reliable customer service. The spacious dining room makes an appealing backdrop for assembling a crowd, but it's the outrageous brick-fired pizzas that keep guests lingering until the last slice. The Fungi featuring wild mushrooms and intensely funky taleggio cheese is one of the best pies in Wilmington. There. I said it.

Henry's Restaurant
910-793-2929, henrysrestaurant.com
There's no question that this authentically American, self-proclaimed "crate-to-plate" eatery places their emphasis, first and foremost, on freshness. Henry's dishes out nostalgic North Carolina fare like slow-cooked pulled pork and slaw sandwiches, while also slinging eclectic regional staples like ambrosial shrimp and grits swimming in oniony cream sauce. With a dash of creativity and a hefty handful of local sourcing, Henry's advances each meal to an unforgettable level. Speaking of things you'll remember, don't pass up the sinfully stacked Wilmingtonian burger with house-made pimento cheese and panko-crusted fried green tomatoes.

The Basics
910-343-1050, thebasicswilmington.com
As someone who has celebrated several particularly eventful occasions (ahem, a birthday or two) starring The Basics' ginger-laced crab cakes, I can tell you firsthand that this homey café is the spot for jingling up a stellar evening. The Basics prides themselves on traditional Southern recipes with a modern sensibility and a talent for from-scratch cooking. Whether you stop in Monday or Tuesday for half-priced appetizers, Wednesdays and Thursdays for "date night," or for a weekend hankering for mustardy lamb chops with Vidalia jam and wild mushroom risotto—you'll leave with a smile on your face. I mean, mask.

Sweet N Savory CafÉ
910-256-0115, sweetnsavory.cafe
Leave a pocket of space in your stomach for Sweet n Savory's sweets, but don't let that stop you from ordering savory mouthfuls like the zesty pork enchiladas or the tender meatloaf with juicy heirloom tomato jam and golden-fried onion straws. This Wrightsville Beach brunch haven is a choice spot for zippy Bloody Mary's and soup-and-sandwich combos—but they turn up the volume when it's time to get festive. On the heartier, handheld side, the Belly of the Beast Grilled Cheese with pork belly on Texas Toast is an obvious belly buster and the chicken pot pie is like diving headfirst into a dream.

Second Glass
910-399-7486, secondglasswinebar.com
When it comes to distinguishing the subtle nuances of wine, Celeste Glass knows that the second glass is always better than the last. Her South Front District restaurant's enhanced southern fare spans from house-made pickles to lavish large plates like the pork shoulder with squash pancakes and spicy serrano jus. Though every member of the expertly-trained Second Glass crew is practically a sommelier, expect to find poignant wine descriptions that will guide you through each grape's quirky personality and vibrant character.

Floriana
910-504-0160, florianarestaurant.com
Who's up for a taste of Northern Italian cuisine on a private balcony overlooking downtown's Riverwalk? Yep, that's what I thought. The personal patios may be a major draw to the eatery, but it's the fluently Italian cuisine featuring handmade pastas, decadent cheeses, and authentic dishes that have earned Floriana a frontrunner spot in our foodie scene. Bring a hungry dinner companion for ample portions of Italian twists and classics alike. Be sure to try their famous béchamel-layered lasagna and Sunday Gravy, flaunting pennoni noodles tangled with short rib and pork belly and dolloped with fluffy ricotta.

RX Restaurant and Bar
910-399-3080, rxwilmington.com
Guided by a pledge of sustainability and a knack for gracefully highlighting every regional item that enters their kitchen, RX is a neighborhood favorite whose signature southern fare and proficient staff are praised all around town. The intimate, rustic dining room speaks to smaller, more intimate parties—and everyone will grab a fork when modern, yet familiar snacks like deviled eggs with smoked sheepshead and licoricey tarragon hit the table. Wash it all down with one of RX's seasonally-inspired elixirs. I'm a sucker for the scrupulously locally-crafted RX Old Fashioned with orange, North Carolina rye whiskey, and Eda Rhyne's fernet (a collection of southern Appalachian
aromatic herbs).

The Gazebo Bar at Dram Yard
910-782-2404, dramyard.com/gazebo-bar
Stunning plated, posh nibbles like fried beets with whipped goat cheese and a sesame-perfumed Japanese fried chicken sammy kindle eager appetites at this fresh-faced urban chic outdoor cocktail hub. Diners and drinkers can't get enough of cozying up in between the fireplaces and palm trees on the breezy courtyard garden—an idyllic landing zone for swanky nighttime get-togethers. Lust-worthy libations include the Half-Penny Buck (think: bourbon and fresh ginger with a tropical twist of pineapple and lime) and the icy strawberry-spiked frozés.