Topsail Steamer
05 Nov 2021
There's seasonal joy in these ready-to-go silver buckets of seafood

By BRIDGET CALLAHAN » Photos by G. Frank Hart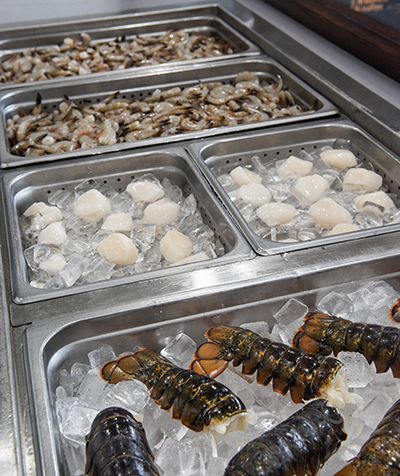 530 Causeway Dr., Unit 8
Wrightsville Beach, NC 910-679-5004
topsailsteamer.com


Seafood boils are an essential part of living on the coast. Fresh, steamed shrimp, crab, potatoes, and corn thrown down in the center of the table on brown paper is the perfect back porch dinner. Add in some butter for dipping and plenty of cold beers, and you've got a real North Carolina party. So it's no wonder that homegrown Topsail Steamers, maker of the iconic, one-time use silver bucket of boil, has been so successful.

Owner Danielle Mahon grew up on the beaches of New Jersey, and while life and family took her away from the coast for a while, she and her husband fell in love with Topsail Beach on family vacations, eventually buying a place in 2005. Mahon, in sales at the time, always knew she wanted her own business. But the perfect idea never really clicked until one trip to the Outer Banks, where she came across a restaurant creating take home steam pots for customers.

"I just thought, my gosh, what a great idea, and one that I thought could really stand on its own without a full restaurant or seafood market behind it," Mahon says. "I didn't invent the steam pot, by any means, but I loved that model – that we could create this product without cooking anything ourselves, just prepping and putting it together. The idea grew and grew, and things just fell into the place. My husband and I became empty nesters. The location presented itself. The timing was just right."

They sold their home in Raleigh, moved full-time to Topsail, and in March of 2017 the first store opened. Now just a few years later, Mahon's business savvy has paid off. The whole family is involved now, from her son and daughter who both work the corporate side, to her sister and brother-in-law who manage one of their New Jersey locations. From one small shop in Surf City, Topsail Steamers has grown into a full-blown chain with six bustling locations up and down the coast.

"Our first one (combo) was more traditional, with fresh NC shrimp, andouille sausage, sweet corn, and potatoes. In the Carolinas, that's known as a Frogmore stew or Low-country boil. The clambake bucket is a little bit more of the Northeast, with little neck clams, kielbasa, and onion thrown in with the corn and potatoes. When we first started out, our Full Steamer had a little bit of everything that we offered, which quickly became our most popular one. So in response we experimented with some new additions like scallops and lobsters," Mahon says.

Those include favorites like the Crabby Jimbo, which has fresh snow crab, the Wrightsville which includes crab, clams, shrimp, scallops, andouille, and kielbasa, and the Miss Emily topped with sweet lobster. But you can always build your own bucket using any combination of ingredients as well, making it perfect for pickier eaters. Just pick your favorites, then choose from four homemade seasoning blends, including classic (similar to Old Bay), Cajun (for the heat happy), Jimmy's (a mixture of both classic and Cajun), or a savory citrus herb blend of lemon, thyme, and basil. Get a Low Tider size for two to three people, or a High Tider to feed four to five. And to round out the meal, pick up some cornbread and Key lime pie.

Making the pot at home is deceptively easy. Just throw in about two cups of water, beer, or wine, set on the stove, and let it cook for 45-50 minutes. Each pot comes with cocktail sauce, butter, even paper for the table. The no-hassle preparation of the steamer pot is a large part of its popularity, and even though the kitchen may experiment with other flavors and combinations, Mahon has no intention of straying from that core concept.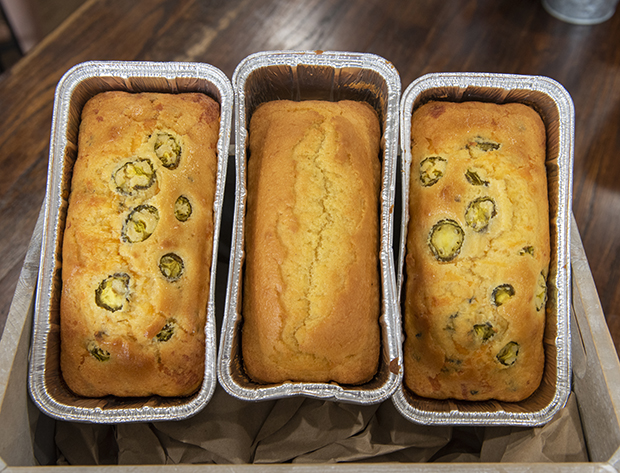 "Part of what makes our product so great is it takes something that people are often intimidated by, and it makes it really easy for them. So we want to make sure we continue to keep it simple," Mahon says.

Another core concept Mahon is passionate about is keeping their seafood sourcing as local as possible. Coming from a non-seafood background and suddenly finding herself in the midst of the coastal fishing industry has been a learning curve, but Mahon has embraced her new community.

"In the beginning I was worried about all the things I didn't know. But what got us through that first year were all of our partners, who would say 'No, it's okay, here's how you do it. Here's when we'll get it. Here's what to expect with supplies.' They really helped me, and now obviously I know a lot more. But it's been incredibly rewarding to establish these relationships with local vendors, and to be part of boosting the local economy. It's also been so much fun just to learn so much about them," Mahon says.

With tourist season waning, some of the mad rush for production has slowed down (upwards of 150 buckets a day at the store during peak summer), but it's still smart to call ahead for large family orders, especially as holiday season approaches and the weather gets cool enough for backyard bonfires and nights on the deck. Topsail Steamers paired with Goldbelly at the beginning of 2020, and now they find themselves shipping steamer pots all over the country as holiday presents or gifts for folks who can't get back home to the beach this year.

"A huge part of what made me pursue this idea, aside from the business part, was it was very much what I love and who I am. Whenever we had guests or family, we'd get seafood, cook it all up, then sit around the table for hours just talking and having fun. If we can build a product that brings joy to families when they gather, that's a home run for me. And the response we get from customers is just incredible. They're excited to share their experiences. They tell us 'This is our tradition now,'' Mahon says. topsailsteamer.com