Unexpectedly Amazing
04 Jan 2023
Views, surroundings, opportunities. In a departure from most cruises, Viking's new vessel is so well appointed and entertaining you forget how much you're learning along the way.

By Katie McElveen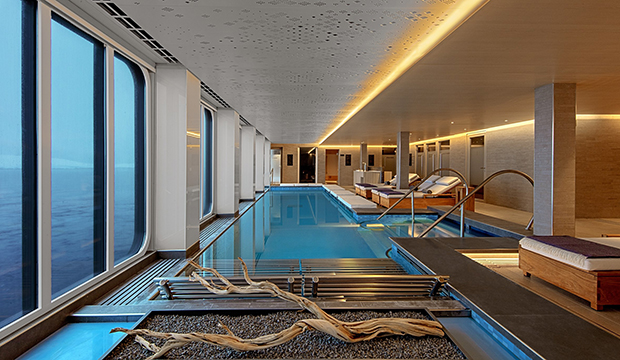 When I take a cruise, one of my favorite pre-trip diversions is sitting down with my itinerary and figuring out my plan for each port. Will I participate in an official excursion or tour the city on my own? If I'm on my own, will my focus be food, nature or culture? What neighborhoods might be fun to explore?

As I looked over the day-by-day schedule for my upcoming cruise through the Great Lakes aboard Viking's new Octantis vessel, I have to admit that I was stumped. After embarking in Milwaukee, where I wished I'd made time to take in the culture (and maybe a little frozen custard), we'd anchor in broad bays dotted with islands and small settlements. The more I Googled, the more curious I became. The scenery was stunning – but would there be enough to do?

I shouldn't have worried. Beyond outdoor excursions that allowed us to delve deeply into a landscape that was at once familiar and strikingly unique as well as a series of lectures and workshops, the ship itself, which is Viking's first expedition-class, was fascinating to explore.

At a time when technology allows cruise ships to carry nearly 9,000 passengers, Viking has gone the other direction: Octantis carries just 378 passengers in 189 staterooms. Instead of casinos, designer boutiques and water slides, the ship is outfitted with a science lab so advanced that the ship is considered a research vessel. Passengers are encouraged to tour the lab and, when possible, participate in research programs. Data gathered will contribute to research in partnership with institutions like the National Oceanic and Atmospheric Administration (NOAA) Scott Polar Research Institute at Cambridge University and Cornell University's Ornithology Lab. A key attribute of the venture is the continuous, simultaneous collection of these Great Lakes vital signs along the repetitive ship routes, which allows scientists to monitor changes on scales of season, years, and even decades.

Just beyond the science lab is another Viking first: a massive hangar where guests can hop aboard a wide variety of exploratory vessels that include kayaks, rigid inflatable Zodiacs and special op boats designed for the Norwegian Navy that zoom across the lake's surface at thrilling speeds. There are also two bright yellow submarines – they're named John and Paul – that allow for climate-controlled exploration far below the surface of the lake. The spacious landing on the second level has been transformed into a mini natural history museum where I discovered everything from a varied collection of maps of the region to a remarkably lifelike collection regional birds – Bald eagles, herons, warblers – constructed from felt.

The ship is also strikingly beautiful. Art, much of it devoted to exploration, (particularly Norwegian journeys, since Viking's owner is Norwegian) fills every nook and cranny. It's wildly varied, ranging from ancient tools to dramatic photographs of some of the sled dogs that allowed early Norwegians to explore the Polar ice cap. Exploration in one form or another also binds the 4,000 volumes that comprise the ship's library, which took two years to curate.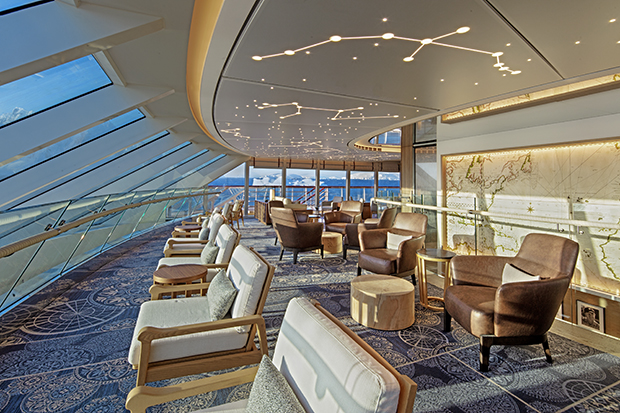 Cabins are spacious, soothing and come with little extras like heated bathroom floors, binoculars and a desk with a lighted cubby that kept my makeup corralled and out of sight. Even if you choose not to partake of a massage or facial, there are plenty of opportunities for free pampering at the spa, particularly the indoor-outdoor hot tub that looks out over the water. Octantis also has a full fitness center, something not always available on smaller ships.

Dining on Octantis resembles a treasure hunt: most of the ship's top deck is devoted to the World Café, which stretches nearly from bow to stern and is filled with food stations ranging from a grill that serves beef dry-aged in house to a sushi bar and a bread area that turns out fresh loaves, pizzas and focaccia. Once you've loaded your plate and found a seat – most look out over the water – waiters deliver cocktails, wine and other beverages. Two sit-down restaurants offer dining in a more intimate setting; all are included in the fare.

Surrounded by Michigan, Wisconsin, New York, Ohio, Indiana and Illinois, the Great Lakes are far more interesting than they might seem. Lakes Erie, Huron and Michigan were likely formed by a series of giant ice sheets that gouged the landscape; the presence of basalt leads researchers to believe that volcanos had a role in creating Superior and Ontario. For visitors, all that pushing and melting of rock means that the landscape is filled with gigantic natural potholes, arches, sea caves, sea stacks and other dramatic geological features. The region is so remote that sightings of bear, wolves and moose are common.

Viking makes it easy to take it all in. Sporty types can hike deep into thick forests that often end abruptly at the edge of tall sandstone cliffs that look out over water you'd swear was an ocean; amblers can walk the wide, even trails that loop through local parks.

The kayaks, zodiacs, submarines and special op boats were loads of fun, too. Regardless of how I explored, I was taken by knowledge of the expedition team, who, day after day, impressed me with their knowledge of everything from how fresh the moose tracks were that we passed (very!) to how the black and white striped rocks were formed. They did double duty, too, leading not only explorations but the onboard discussion programs as well.

Best of all, I finished every day physically tired, intellectually sated and ready to settle into my seat at the bar to listen to live music and share stories of the day with my fellow passengers.