Upping the SCORE
03 Sep 2019
New Chapter Chair, Alan Armstrong, brings years of consulting and problem solving experience to local chapter
By TERESA McLAMB Photos by KELLY STARBUCK PHOTOGRAPHY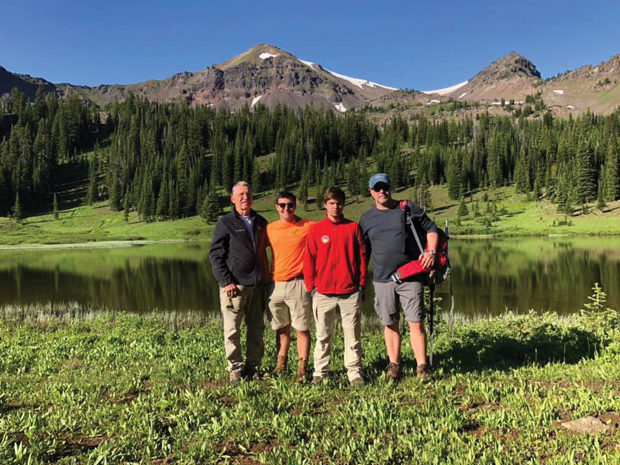 Ohio's Cuyahoga River is one of the few that begins and ends in the same lake, Lake Erie. It runs through Cleveland and Akron, and a suburb called Cuyahoga Falls where Alan J. Armstrong grew up, the oldest of six boys and a girl, 22 years his junior. His father worked in the rubber industry during a time when manufacturing was king, and the river was so polluted it fed huge fires on its surface. The most famous fire occurred in 1969 and is credited by many as spurring the environmental movement.
Armstrong takes the reins this month of the local chapter of Service Corps of Retired Executives (SCORE). Funded by the Small Business Administration, SCORE's volunteers have one mission: to help others become successful in their own business efforts.
Armstrong may be uniquely qualified as a coach. His background in the work world began as a youngster. During his time at Cuyahoga High School, Armstrong lettered in football, swam and ran track. Armstrong's summers were spent with his grandparents in Saratoga Springs, New York, where he worked in blister rust control. "It's a disease of the white pine," he said. Armstrong's job was to kill gooseberry and currant bushes, which carried the disease. "It was part of the Federal Conservation Department's effort to protect the cash crop of the white pine in the Adirondacks," he said. During his college summers, Armstrong worked at the town's famous horse race track.
Armstrong's grandfathers were both attorneys, but his father chose to study engineering at Cornell. Alan followed suit, as did his oldest son. One grandson is majoring in physics and math at UNC.
Armstrong said he favored the analytical nature of engineering. "The legal world is a little abstract. I like the analytics of [engineering] and the problem solving; the fact that there are answers. It's not as certain as people think, but it is less prone to redefinition and semantic problems," he said.
There were also many engineering job possibilities in the 1960s.
And that is where Armstrong's preparation to lead SCORE really began.
After marrying Charky, who he met senior year of high school, he began his career with Proctor and Gamble in Cincinnati as a production foreman, then moved to northern California for graduate school.
Armstrong said he always imagined that they would move back to San Francisco at some point. "We were there for Haight Asbury and the summer of love. Our first son was born in Daly City. We went back for the 50th college reunion. I loved San Francisco; it's a fabulous place. We had great fun there," he said.
After graduate school, Armstrong toyed with the idea of getting his PhD and staying in academia. He applied to a position being vacated by a friend at Appalachian State University in Boone, NC. "I'm grateful for the opportunity. I decided that wasn't the direction I wanted to go, so it served its purpose," said Armstrong.
Next, he moved to Detroit to try the computer world with Burroughs Corporation, then to 44th Street in New York City with a management consulting firm, Booz Allen Hamilton.
Armstrong left there to be Director of Logistics for Rampage Foods in New Jersey, then rejoined Booz Allen & Hamilton in their London office.
Next was a consulting company in Greenwich, Connecticut, then a system integration company based in Chicago. All the while he and his family lived in New York. "These were all consulting jobs; I traveled to where the clients were," Armstrong said.
Armstrong then struck out on his own and worked on multiple projects, the last of which took him to Saudi Arabia for five years before he decided it was time to retire.
He returned to a home he had maintained in Greenwich and began looking for his next location.
The Wilmington area won out. The extended family had spent summers at Topsail and the Outer Banks. The Armstrong's oldest son is in Winston Salem and all four grandchildren are nearby. They chose Brunswick Forest for its proximity to Wilmington's downtown. "People we met right away were very engaging and active, and it's fifteen minutes into town," Armstrong said.
Armstrong is a member of Cape Fear River Watch and Cape Fear Men's Club. He manages the garden at the Latimer House where his woodworking skills came in handy when the organization needed a coffin for a Halloween event.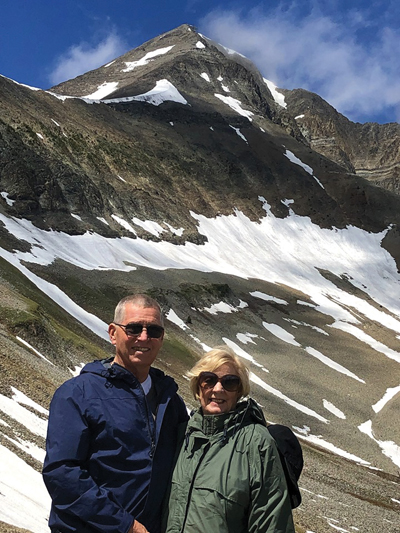 He was recruited to SCORE by an acquaintance. "It's very much like the work I've done which is consulting and a lot of problem solving with maybe 100 different companies over the years. It's a comfortable place for me to participate," said Armstrong.
"SCORE has approximately 300 offices and 10,000 volunteers across the US," he said. "It's 100% volunteer with no paid administrators. The organization has been around several decades but is under the radar in many respects."
"There's a national website; people can make inquiries and look for mentoring help on any subject. We maintain office hours and schedule mentoring sessions five days a week," said Armstrong. He works every Friday afternoon.
"We have people coming in just out of school, retirees who want to restart, people who've been laid off looking to open a business, and people who have problems with family operated businesses," explained Armstrong. They also conduct workshops jointly with the community colleges or panel sessions with chambers of commerce and work groups.
The local office covers from Jacksonville to southern Brunswick County and into Columbus County.
"Most people come to us, but we could probably do more outreach. That's one of the challenges. We have 50 volunteers in the Wilmington chapter," Armstrong said. "Some mentor, some run workshops, some are subject matter experts."
A volunteer for four years, Armstrong says the clients are better informed and more attuned than they may have been several years ago. "They have different tools available to them. Some of the old guys have been here 15 or 20 years, and they say the quality of clients is better. I think the mix may have changed. There are a lot more women. It's not uncommon to have wives of service men overseas bring in creative ideas. It's an interesting mix," Armstrong said.
SCORE mentoring often provides a friendly reality check. "Part of our value is to introduce a bit of realism. Some of the lack of reality is more at how much work it will take and how much you have to invest in the discipline," said Armstrong.
They also work through the basics like accounting and orderly planning and analysis. "Just putting together a business plan is a challenge from the point of precise and careful thought and segmentation of your ideas and communication skills," Armstrong said.
For his tenure as chairman, Armstrong would like to broaden the organization's client base by finding clients on their own turf, such as their churches and clubs. "We have a solid relationship with UNCW and CFCC and through the education community and some of the military, but I would like to see more people who are past the start-up stage and trying to improve their business performance. We can help people through that next step. We need a different outreach. We need to work more with the chambers and professional organizations. Given the mix of our volunteers, we have a lot to offer," said Armstrong.