Drawing from Energy
03 Sep 2019
Love and cyclical nature inspires art
By CAROLINE GOBBLE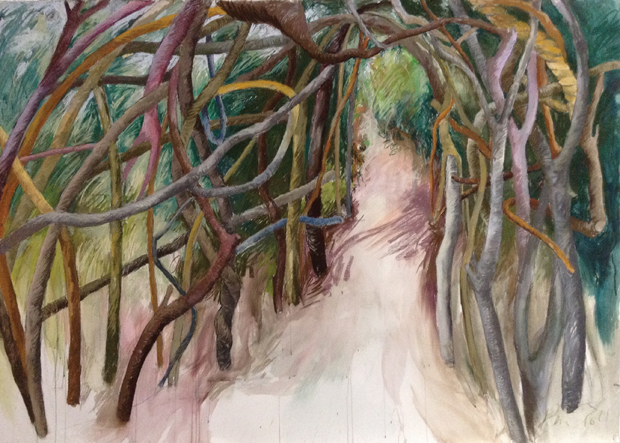 Dream. Memory. Myth. These are the themes that inspire and radiate from the work of local artist, Pam Toll, along with everything in her waking and dreaming existence. "I have spent years in landscape intrinsically linked to human narrative, history and myth," explains Toll.
Toll, an Associate Professor at the University of North Carolina Wilmington and cofounder of Acme Art Studios and No Boundaries International Art Colony, received a Bachelor of Arts in Art and English Literature from the University of North Carolina at Chapel Hill and a Master of Fine Arts from East Carolina University. She works with acrylic and oil paints, pastels and various drawing media and often adds in collage elements
When asked what inspired her to become an artist, Toll's short answer is: love. "I have been drawing and painting since childhood. My parents encouraged me with painting lessons at 11, visits to the NC Art Museum, books (art and otherwise), an easel at 13, figure drawing at NC State when I was a teenager, travel, and music concerts. I was given free range to play, read and imagine in the summer." says Toll.
"I have been drawing since childhood and this physical way of thinking is fundamental to my work," says Toll. "For my Landscape and Memory exhibition, I chose to look at the past twenty years of drawing. I found history of how I work. I wasn't surprised to find that my process is circular both physically in the act of drawing and in the cyclical nature of what fascinates me and provokes another round of making. This body of work, primarily a slice out of years pursuing energy around trees, comes from a lifetime spent among them."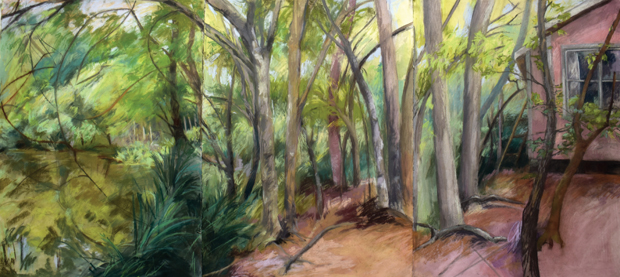 Since 1990, the primordial woods of Bald Head Island have been at the heart of her tree drawings, although trees from all over the world have been a source of inspiration. Toll has traveled to art residencies in place such as Ireland and Scotland, where she found herself amongst ancient trees and sacred landscapes. Toll recalls, "In Ireland, trees with entwined branches circled earthen ring forts. In Scotland, I drew spiraling oaks on a ridge above the Black Isle. In 2018, I drew in a grove of olive trees in Montenegro." And yet, Toll still finds the nature of home equally intriguing. "I drew behind my house in Wilmington in the diminishing wetlands. In June, I was among the world's oldest Bald Cypress trees on the Black River," says Toll.
Her current show, Landscape and Memory, opened August 12 and runs through October 4 at Cape Fear Community College's Wilma Daniels Gallery. The opening reception is 4th Friday, August 23rd, from 6-9pm. The tree drawings in her exhibition cover a span of time from 2013-2019. There are also powdered graphite drawings from 2013 and emotional drawings that combine abstraction and realism from 2000-2001. Additionally, the show features a mural drawing and a wall of drawings taken from her sketchbooks.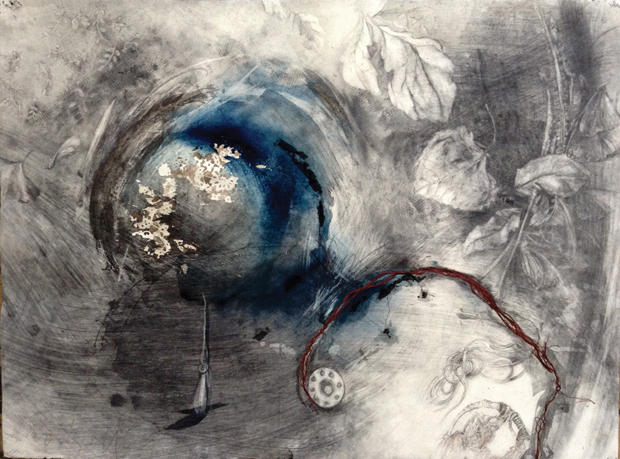 Recent exhibitions include Pepper, a group exhibition at MC Gallery in New York, NY (May 2019), The Familiar Distance in Going Home, Art in Bloom at PinPoint, Wilmington (2018), Bljarica Art, Marko K. Gregovic Gallery in Crena Komuna, Petrovac, Montenegro (2018), Paradise Does Exist, Llinden House of Culture, Demir Hisor, Macedonia (2018), and the 30th Anniversary Exhibition of the International Art Colony St Joakim Osogovski, Macedonia (2016);
Be sure to visit Toll's current exhibition to see her talent, creativity, and inspiring work at the Wilma Daniels Gallery. For more information, visit pamtoll.com or check out her studio, Acme Art Studios at 711 N 5th Avenue in Wilmington.