Visionary Clothes for Women
10 Jul 2017
A mother-daughter duo that's helping to bring unique styles to the Wilmington market
By CAROLINE GOBBLE
Photos by KELLY STARBUCK PHOTOGRAPHY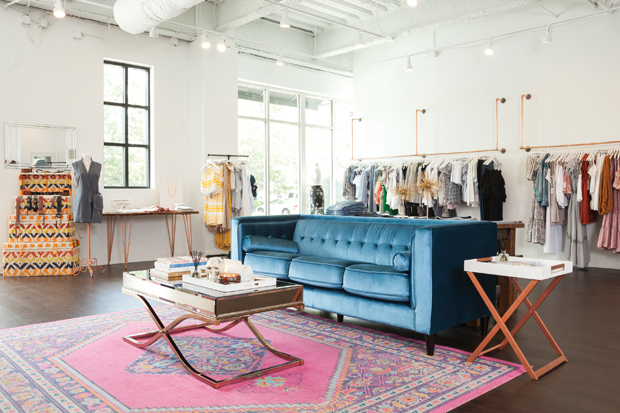 Mother and daughter duo Alycia James and Gabrielle Dorn opened the doors of their clothing and accessories boutique, elle, in the heart of Wilmington's major shopping region in October of last year. French for "she," elle represents the boutique's dedication to serving the style needs of the modern woman.
James has over 20 years of experience in executive leadership, marketing, and customer service. She has a Master's Degree from the University of Illinois and has worked in high-level positions with healthcare organizations across the country. James has a passion for helping future female leaders in her community develop their business skills, and serves as a mentor with the Cameron Executive Network at the University of North Carolina Wilmington.
Gabrielle's background is in fashion PR and retail, having worked for Jill Stuart in New York City. Her degree from Indiana University is in Public Relations and Apparel Merchandising. Gabrielle's métier is helping women find their own distinctive style.
"Historically, fashion has been perceived as being about rules, 'what's in.' For us, fashion is a way for women to express their individuality, try new things and feel good about themselves. We encourage our clients to embrace their uniqueness. We love helping them create their own style, one that makes them feel confident", says James. "We also wanted to create a social shopping destination that offers versatile styles women can carry throughout their busy lives, from the office to the weekend or a night out".
elle has a premier selection of contemporary clothing, shoes, and accessories for the fashion forward woman. The boutique's Closet Edit service is the perfect approach to developing your own sense of style and helps restore the life of your wardrobe. Gabrielle serves as the boutique's stylist and creative director. She takes care to understand each client's personal style goals, before helping them put together a wardrobe that suits them. Clients walk away with a closet that reflects their lifestyle and enhances the impact she has in her career, community, and social scene. "Because the boutique is family-run, it feels like shopping with your mom or your daughter. They know how to be honest with you and help people make the tough decisions. I know I can walk in the store, tell [Gabrielle] what I need an outfit for, and she will immediately go and pick out the most perfect thing every time", says client Chasity Chace.
The store houses over thirty brands, and each one has a purpose. As James explains, "Sometimes it's meeting a market need and other times it represents a story or a lifestyle that clients connect with. For example, Scotch & Soda adds character to each piece that accentuates its uniqueness." She further explains, "The inspiration stems from art and artifacts across the globe and the designs come to fruition in their studio, which is housed in an old church in Amsterdam. Each piece has its own name, some have a charm detail, some come with a necklace, some a pin, and some have embroidered detail. Another brand the boutique carries is Sarah's Bag. Each handbag is crafted by one of the trained artisans at Sarah's Bag in Lebanon. The company was founded to teach underprivileged women and former female prisoners a craft to help them get back on their feet. Each piece has a theme and many are adorned with hand stitched beading. One of the minaudières has a clasp made of a real toy car," says James.
The mother-daughter team behind elle strives to carefully select brands and styles that are unique to the market. "Our focus on high end customer service and personal styling are the pillars of our distinctiveness," says James. "Our number one priority is that each client leaves feeling good about herself!"
Visit James and Gabrielle for a personalized (and fun!) shopping experience. 910- 839-3033, elleclothing.com.