Warm Cups, Warm Hearts
06 Sep 2017
At Bitty and Beau's, it's more than a cup of coffee
By TERESA A. McLAMB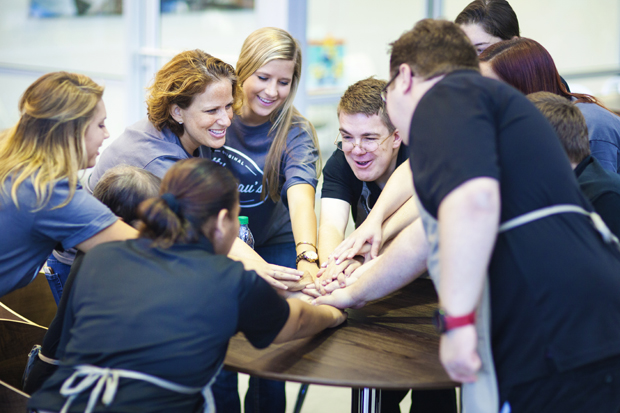 Concern for your child's future career when he's thirteen years old may sound a bit odd, but when your 13-year-old has Down syndrome, it's a concern. When your eight-year-old daughter also has the condition, it becomes a major concern.
A young man named Trevor approached Amy Wright in 2015 at the Cape Fear Buddy Walk, a fundraiser promoting acceptance and inclusion of those with Down syndrome. "He said 'I want a job.' I think that planted a seed early on. I thought 'What can I do with this fundraiser money that will create jobs?'"
For Wright, the solution crystalized while she was taking a shower. "It's always been at the top of our priority list for Ben (Wright's husband) and me to figure out ways to make the world a better place for Bitty (Jane Adeline) and Beau (Benjamin Jr.), and everyone else we know who has an intellectual disability," she said. She knew that when people spent time with their family, and particularly with Bitty and Beau, their perceptions changed, walls came down. What if that interaction could be amplified? Multiplied? "That's how the coffee shop came to me. This seemed like the perfect platform for advocating those with intellectual disabilities," she said.
Bitty and Beau's Coffee Shop was up and running a few months later. With no background in food service, Wright researched the industry online. She talked to people with expertise in the field. She reached out to friends who own a coffee business. "I took a leap of faith. I spent every moment of my day and sleepless nights planning and preparing for it. That's how I approach anything." In 2016, the business opened in a 500-square foot spot on the corner of Wrightsville Avenue and Kerr Avenue. With no idea how the community would respond to a business where almost every employee (including Trevor) has some type of intellectual or developmental disability, starting small seemed like a good idea.
"From the beginning, we couldn't accommodate the crowds. In a matter of weeks, Alan Rippy learned about us and offered the 5,000-square foot Hummer building on New Center Drive. The building, owned by Rippy, had been vacant for years, and the space was graciously donated. He's like a grandfather to everyone who works here. Everyone calls him Pops."
Like Rippy, the community has embraced the business. They typically serve from 300 to 500 people each day, with weekends being the busiest as tourists join the locals. Their glass enclosed meeting space is free for community use. A comfy sofa and chair section is constantly in use. Open seating at the bar is also in demand as customers enjoy talking with the baristas.
They serve coffee and specialty coffee drinks, like lattes and frappes, and smoothies. Their baked goods and sandwiches are made fresh and delivered each day by Farmin' on Front.
Total seating is about 50 people. "It's nice because we can accommodate large groups. We had the Harley Davidson group in from Myrtle Beach this morning," Wright said in June. "Field trips from schools come in. Our staff talks to them." Bitty and Beau's team members enjoy speaking on how it feels to work and to get a paycheck.
"Unemployment among people with intellectual and developmental disabilities in the country is about 85%," she said. As soon as Bitty and Beau's opened, she was overwhelmed with job applications. The move to the larger location allowed her to increase the staff. Her 40-team members all have IDDs (Intellectual and Developmental Disabilities), including Down syndrome, autism, cerebral palsy, and other undiagnosed conditions.
Their training is as individual as they are. Wright said there are no prequalifications for the job. Knowing how to count or measure or communicate isn't required. "We extended as many opportunities as we could to people and jumped in and figured out what their skill set was, and let them in accordingly. It's all part of making it up as we went," she said. Some employees are good with money, some are good at following steps (needed for making recipes), some are good at interacting with customers. "I think that's why it's been so successful for them. We have little turnover, and we get applications every day. The team is loyal and reliable. We haven't had any openings, and that speaks to the need."
Owned by a nonprofit corporation called Able to Work USA, Bitty and Beau's offers swag like t-shirts and bumper stickers. "It's a tangible way for people to show their support for our mission."
Their mission has not gone unnoticed. The shop was selected as the 2016 Coastal Entrepreneurial Award winner. They've appeared in numerous magazines including Southern Living. WRAL-TV did a multi-part documentary on the business. The family and team members have appeared multiple times on Rachel Ray's television show. In an interview via live stream, Ray announced on December 30, 2016, that Bitty and Beau's coffee would be the show's official coffee. "And we drink a lot of coffee here," she said on air.
At one point, Wright toyed with the idea of franchising the business. "We were bombarded from the beginning by people who wanted to open one," she said. "We thought franchising would be the best approach." They went through the process, but decided against it, despite having more than 500 people interested in opening shops. "We felt we were so early in this, we wanted to keep the mission pure and focus on raising awareness. We decided we were going to stay in control." She doesn't rule out franchising in the future, but "at this point, it's most important to us that we continue sharing our story and showing that people with IDD should be valued and included. We feel really good about the decision."
From that decision, they polled customers about where their first expansion should be. They heard from people around the world. Overwhelmingly, the choice was Charleston, South Carolina. "Its proximity to Wilmington and its historic nature makes it a good move," she said. At press time, they were still looking for a spot in the downtown Charleston area, but Wright hopes to be open in the fall.
It's a step closer to achieving Wright's mission which she said in the beginning was to solve the unemployment problem for people with disabilities in our community. "What I realized through opening was that I couldn't open enough coffee shops to solve the problem. But, I had found a platform for changing the way people [with IDD] feel, helping others to see value in their lives and accepting them, and other opportunities that flow out of that. Suddenly somebody might have an opportunity because somebody came into the coffee shop and saw what [a person with IDD] can do." Wright gave the example of Matt Dean, the shop's customer relations specialist. "His mom would say he was shy and reserved. He had a job in a warehouse where he had no interaction with customers. Giving him this opportunity has allowed him to blossom. Now he's an ambassador for what we're doing. He greets people at his church and is more social and doing things with peer groups."
As for the namesake children, Bitty and Beau, they visit the shop often. "The kids enjoy going there. They're learning from our team," Wright said. Beau enjoys watching Dean greet customers. Bitty likes cleaning tables and arranging chairs. "They look up to the team members. It's a happy place for them, and one they feel proud of. I wouldn't be surprised if they're running the show one day."
---
Amy Wright
Owner of Bitty and Beau's Coffee
Hometown: Chapel Hill, NC and moved to Wilmington in 1996
Family: Husband Ben; Children Lillie, Emma Grace, Benjamin Jr. and Jane Adeline
Education: Musical theater degree from Cincinnati College Conservatory of Music
Hobbies: Spending time with her kids.
Fact: Prior to having children, she and Ben were actors on Broadway with a national touring company.