Dedicated to the Cause
06 Sep 2017
Getting to the root of the matter with Carolinas Oral and Facial Surgery Center
By CAROLINE GOBBLE » Photos by KELLY STARBUCK PHOTOGRAPHY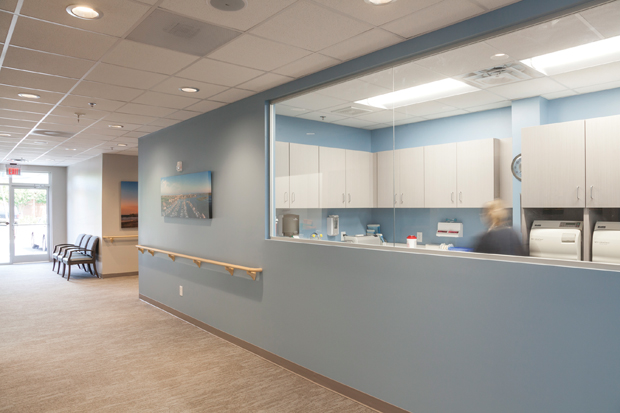 "We are known for being highly skilled and compassionate, combining an established reputation with cutting edge technology," is the mantra of Dr. Mark Bufalini and Dr. Michael Booth of Carolinas Oral and Facial Surgery Center.
On August 10, 2017, the practice hosted an open house to celebrate its recent relocation of the main office in Wilmington, from 1122 Medical Center Dr., where it had been seeing patients since 1975, to 1305 Physicians Dr. in Wilmington. The new building boasts a significant increase in dedicated clinical space with increased square footage.
As Andrea Rhodes, Practice Administrator, explains, "we have expanded parking for patients, as well as a covered patient discharge area. We decided to build a new office to update our equipment and improve our ability to serve our patients, both with new, high tech equipment, but also with a larger clinical work area, which allows us to see patients more efficiently and more comfortably. We are able to also have two providers working simultaneously without a bottleneck in workflow."
The practice currently has two surgeons seeing patients in all three offices, located in Wilmington, Jacksonville, and Whiteville. Excitedly, a third surgeon will soon join Dr. Bufalini and Dr. Booth.
Though Carolinas Oral and Facial Surgery Center is excited to relocate and launch the opening of the new main office, it is the dedication, compassion, and selflessness of the practice's surgeons that resonate with the Wilmington and surrounding communities.
Both Dr. Bufalini and Dr. Booth are Board Certified in Oral and Maxillofacial Surgery and routinely volunteer their time and services for the indigent. Rhodes explains, "Dr. Bufalini has provided free care to veterans in the past as well as volunteered with Missions of Mercy, and Dr. Booth volunteers at St. Mary's Dental Clinic on a monthly basis providing free dental care. As a practice, we sponsor many children's groups in the area, including Shop with a Cop, Youth Drug awareness programs, and sponsoring children for Christmas. We participate in the community through race sponsorships, such as the YMCA Live Strong Foundation, the Run for the Ta Tas, as well as sponsoring several youth soccer teams with Wilmington Hammerheads Youth Soccer."
After attending dental school at the University of Pittsburgh School of Dental Medicine, Dr. Bufalini completed both medical school and his residency at the University of Connecticut Health Center, where he was the Chief Resident. He was a staff surgeon at Womack Army Medical Center in Fort Bragg, NC, before moving to Wilmington. He served as the Oral and Maxillofacial Surgery Program Assistant Director and Implant Coordinator during his time at Womack Army Medical Center. Additionally, Dr. Bufalini mentored dental students through the AGED program. Most recently, he served as the President of the Wilmington Tri-County Dental Society from 2013-2014.
Dr. Booth, a native of Fayetteville, NC, attended the University of North Carolina at Chapel Hill for both his undergraduate and Doctor of Dental Surgery degrees. While on active duty with the United States Navy, he completed a General Practice Residency at Camp Pendleton, CA and his Oral Surgery Residency in San Diego, CA. He joined Carolinas Oral & Facial Surgery Center in January 2013. Dr. Booth also currently serves as secretary for the Tri-County Dental Society.
According to Rhodes and the providers, "For over four decades, people in southeastern North Carolina have trusted the specialists of Carolinas Oral & Facial Surgery Center for excellent care. Our surgeons are known for being highly skilled and compassionate, combining an established reputation with cutting edge technology. In fact, many of our patients have returned years later with their children and grandchildren when they are in need of surgical services."
Dr. Bufalini's and Dr. Booth's dedication to the field is evident in the fact that, as medical and dental specialists, oral and maxillofacial surgery requires up to six additional years of hospital-based surgical and anesthesia training. Along with diagnosing and treating a variety of facial pain injuries, the doctors offer a variety of services including: wisdom teeth and tooth extraction, facial reconstruction, oral pathology, pre-prosthetic surgery, exposure and bracketing of an impacted tooth, and anesthesia.
Make your appointment and visit the new main office, which is a full-service, state-of-the-art oral surgery center and also home to The Dental Implant Center, a division of COFSC, which is wholly dedicated to that procedure. www.carolina-surgery.com