Wilmington's Own HGTV Smart Home
04 Jan 2023
In exciting local news, Charter Building Group's latest project gets the attention of America's top home & garden channel


By Lori Wilson » Photos by Robert Peterson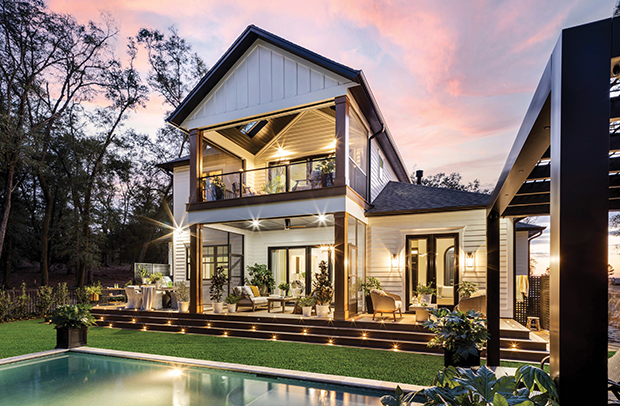 If you're reading this, you probably enjoy, or at least appreciate, the world of home design. You probably enjoy seeing the latest trends and knowing about the new projects of the area's finest builders, architects and interior specialists. Perhaps you love home design shows, and on lazy Saturday mornings you can be found sitting on the sofa with a fresh cup of coffee and several episodes of HGTV. But, did you know that our local Wilmington made it on screen to the coveted home and garden television empire?

It's true. The HGTV Smart Home 2022 was designed, built and filmed in Castle Hayne, NC, just minutes away from downtown Wilmington. For many months, the folks at Charter Building Group worked closely with the HGTV as production and filming took place in River Bluffs, a gated community where the building company often works.

"They reached out based on our website," says Holly Overton, vice president of Charter Building Group. "It was a quick turnaround. Within a couple days, they put the deal together."

Wilmington caught the attention of HGTV thanks to its vibrant coastal history and outdoor lifestyle that are both reflected in the house design. For Charter Building Group to be chosen for the HGTV Smart Home 2022 build was a huge honor—a decision the home design network made after only one meeting in May 2021. The family-owned company has been in business in the area for more than 25 years. Overton's father, Rich Donaldson, founded the building group.

"It was much faster than your typical design process," Overton says. "They quickly put faith in our building ability, and we had to put faith in their experience in tv production and timelines. Within a few days, we had a design and lot picked out."

To move quickly into construction, they picked a pre-designed home plan by Scott Sullivan, of Sullivan Design Company. Clients of Charter Building Group often choose to customize one of Sullivan's pre-designed plans to expedite the design process. Clients can also choose from one of Charter Building Group's 40 company portfolio plans (or, of course, modify any of those pre-designed).

"We worked closely with HGTV to incorporate the latest design trends into the home. They made sure every square inch was utilized," Overton says. "Scott was able to really help us turn the plan design around quickly." The plan template, dubbed "Oak Hill," is one designed with an open living concept and an exterior that "tips its hat" to the modern farmhouse trend, Sullivan explains. But the modified HGTV Smart Home 2022 comes with unexpected surprises such as a main level owner's suite with access to a private rear deck built with high performance, sustainably made composite decking materials and LED lighting, adjacent to an outdoor pool.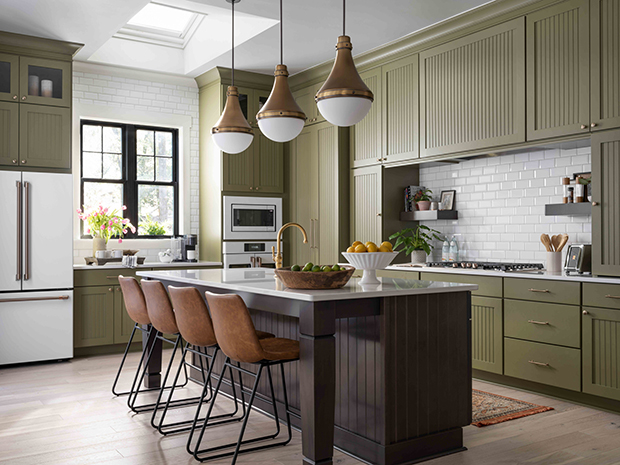 The privilege of working with HGTV on a smart home design was not just the television exposure, Overton explains, but the opportunity to expand their range with smart-living features under the guise of HGTV professionals, which they now pass along to their clients.

"It's not just tech features," she says. "They incorporate ways to live smart, which is less about tech now and more about lifestyle and well-being."

Sullivan explains the adjustments to the floor plan.

"There are unexpected surprises such as the hidden pantry accessed through full height cabinet doors, a laundry chute from the owner's closet to the laundry area, a drop zone for package delivery and a large second floor recreation room that extends to a second-floor porch," Sullivan explains.

Other notable features include a dedicated pet space underneath the stairs, as well as a wet-space combo in the master bathroom (a soaking tub inside the walk-in shower, so the homeowners can enjoy the body sprays of the shower one step away from their bath). And, if this ensuite spa didn't already seem idyllic, the digital Showering System includes built-in speakers and lighting customizations for a multi-sensory experience.

The house also incorporates modern technological resources, such as many voice-enabled devices and a wireless security system throughout the home. The Skylights can be operated from a tablet to bring in light and fresh air throughout the day (and they have rain sensors to close as needed, which come in handy for Wilmington summer surprise showers).

For the interior design of the home, HGTV design star Tiffany Brooks, of Tiffany Brooks Interiors, took the lead. While many of Charter Building Group's clients opt for a more coastal vibe, their HGTV partners on this project brought in a more national perspective.

"They're not tied to coastal decor," Overton says. "They wanted to do incorporate different finishes and textures that we do not see in our market every day. It was nice to sit out of the box with this one with murals, bold wall colors and black interior trim. Tiffany brings such a unique look which is what made this project a lot of fun."

The pops of color throughout the home make a statement yet blend seamlessly. From the moss green floor-to-ceiling cabinets to the burnt orange accents in the rug runner to the chestnut leather bar stools, the kitchen provides an earthy compliment to the background of pine trees in River Bluffs and the stunning landscape design by Carmen Johnston, of Carmen Johnston Garden, an on-air HGTV talent out of Georgia.

A quick 180-degree turn to the living room reveals a more romantic, cozy scene with deep blues that contrast with the bright white fireplace and cream-colored furnishings.

The bold hues continue into the upstairs bedrooms and the vaulted recreation area, which—no joke—boasts a real, live indoor-tree that was installed within the floor, creating a soothing transition to the second-floor porch.

Brooks came from Chicago to select finishes and plan for details with the Charter Building Group team.

"One thing about working with HGTV that might surprise people," Overton says, "is that they let us take the lead on who would install the products and finishes for the home. We were able to use our local partners and vendors whose trust and knowledge allowed us to maintain some quality control. Great exposure for them as well."

But the process was not unlike the Charter Building Group's usual process. They work closely with their in-house designer from start to finish.

"From the beginning, we identify finishes that are appropriate for [our client's] budget and neighborhood style," Overton explains. "We don't want our homeowners to feel they have run away with the budget, which has become even more important in this inflationary market."

In this case, the client was HGTV, but who's the homeowner?

The HGTV Smart Home 2022 was offered as part of a network sweepstakes, with a grand prize package of more than 1.2 million dollars. The winner, out of Columbia, South Carolina, was announced in August. She had the option to take the home package or a cash prize, and she chose the latter (perhaps due to her location).

As a result, HGTV asked Overton to list the home locally so it could find its perfect buyer. While the home was suited for a tech-savvy buyer, the Oak Hill floor plan design appeals to a broad market, Sullivan explains.

"The home office follows the remote work trend," he says. "The main level owner's suite makes it a great plan for retirees. The large second-floor bedrooms and recreation room make the plan a great fit for young families as well."

The home received its permanent owners in October of 2022

"The new owners are a wonderful fit for the home," Overton says. "It sold fully furnished, so it took the right buyer to fall in love with everything turn-key. The new owners are enjoying a piece of HGTV and Wilmington history."

With the HGTV Smart Home 2022 chapter closed, Charter Building Group looks ahead, incorporating more smart design and tech features to new homes. You can find more of their decorated models in River Bluffs, as well as the River Lights neighborhood.

"It was a big project to tackle," Overton says. "Our whole team works together. It's not just one person. The experienced team we have is the reason we were able to deliver and build as quickly as we did."

Patrick Kelly, the group's new home specialist, can be contacted for general inquiries.

If you haven't already watched the episode featuring the HGTV Smart Home 2022, Overton says it can be found on any HGTV streaming service. The show follows the build process from start to finish and highlights many Wilmington landmarks and local craftsmen.


Resources: Charter Building Group,
910-769-2440, charterbuildinggroup.com