Winter Hideaway
06 Jan 2021
Drive to historic resort, Ponte Vedra Inn & Club, for an easy getaway

By Katie McElveen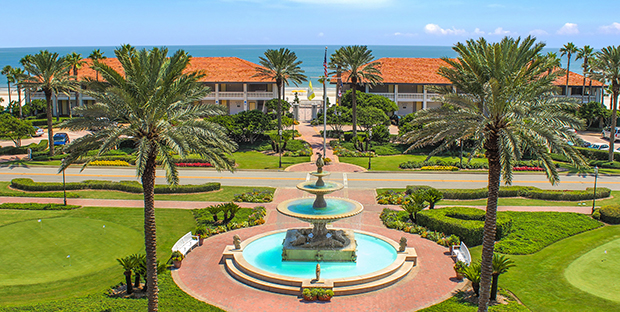 Long before Ponte Vedra, Florida became an exclusive beach retreat, that same stretch of sand it now occupies was known more for minerals than mansions: in 1912, mining operations had become so successful that the town was known as Mineral City. That all changed with the end of World War I and the opening of a nine-hole golf course, which raised interest in the locale as a vacation destination. By 1928, the town had renamed itself Ponte Vedra, the course had been expanded to 18 holes and the newly established Ponte Vedra Club offered lodging in a 12-room log cabin that also served as a clubhouse. Over the years, as visitors from the north discovered the region's sun drenched beaches (as well as the thrill of being able to play golf all winter long) the resort upgraded its offerings, trading in the log cabin for an elegant clubhouse and adding a formal dining room, a beach club, and a series of guest rooms that opened directly onto the beach.

Since then, considerable expansion has transformed the resort from an elite hideaway to a full-fledged resort featuring 262 oversized rooms and suites (most of which still have direct access to the beach), 36 holes of golf, a world class spa and racquet club, several restaurants and a number of shops.

Like many resorts, Ponte Vedra Inn & Club adheres to strict Covid-19 protocols that are listed on the resort's web site. Although there's no housekeeping, you can have fresh towels delivered whenever you'd like; we were also thrilled to discover a weekend's worth of turndown chocolates set thoughtfully next to the microwave in our room. They've gotten creative, too. One innovation is a reimagined Sunday brunch, which replaces the traditional shared buffet with portable, three-tiered lazy Susans laden with brunch favorites—think giant cinnamon rolls and other baked goodies, salads, dips and spreads—delivered to each table like a personal buffet. The seafood station also comes to you, thanks to a constantly replenished trolley that makes a series of unending rounds throughout the meal. Mains—prime rib, eggs Benedict, shrimp and grits—are served tapas style. Brunch is served with a view of the ocean at the Seahorse Grill, the resort's fine dining restaurant. There are several other dining options within the resort with notably casual outdoor dining near the pool at the Surf Deck Grill and at the Golf Club dining room. If the weather is cool, grab a drink and enjoy it in the club's antique-filled great room, which is flanked by gorgeous fireplaces and scattered with private seating areas.

Some resorts sprawl over so much territory that you practically need a road map to find the beach. Not at Ponte Vedra. Here, beachfront units—rooms and spacious suites with full kitchens—are lined up along the shore. Book on the first floor and you'll be able to step directly from your patio onto the sand. The only rooms without ocean access are those on the golf course or within the historic inn, where you'll also find boutiques, a clubby lobby bar, the breakfast restaurant, a coffee shop and, along one wall, a fascinating series of framed photographs depicting the resort's history.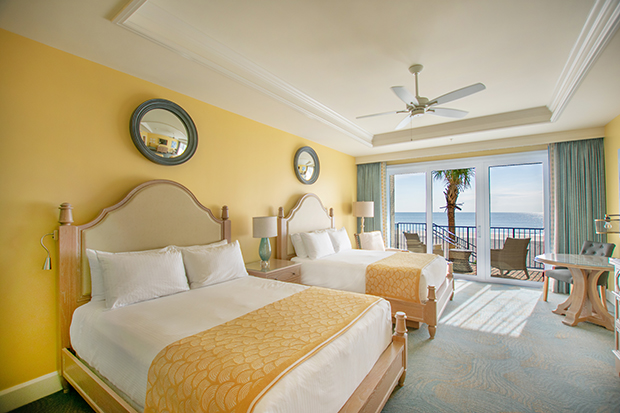 Golf has been at the heart of Ponte Vedra for more than 100 years; the original 9-hole course has been replaced by two distinct 18-hole championship courses: Designed in 1928 by famed British architect Herbert Bertram Strong, the 6,811-yard, Ocean Course is the region's oldest resort golf course; the signature 9th hole was constructed in 1928 with the help of 100 mules dragging slip pans to shape the its contours and mounds. Headed up by Bobby Weed, the course was renovated in 2020; improvements include rebuilding of all greens and tee boxes, regrassing of several areas, and expansion of the practice facility. The par-70, 6,022-yard Lagoon Course was designed by Robert Trent Jones and Joe Lee and later restored and enhanced by Bobby Weed.

Ponte Vedra's Racquet Club started 80 years ago with a single court; today, there are 15 lighted, Har-Tru courts, private teaching courts, shaded courtside pavilions and patio, a lounge and locker room facilities. Across the street, the 8,000 square foot fitness center is a gym rat's dream with more than 75 stations, dozens of classes per week and a lap pool.

It's tempting to ignore the suggestion most spas make to arrive 30-or-so minutes before your treatment—there are better things to do than sit around in a robe with strangers. If you book a spa appointment at Ponte Vedra, though, you might want to consider arriving several hours early, all the better to lounge at the gorgeous spa pool, prepping for your service with dips in the jet-laden therapy alcoves, sips of champagne and even lunch. Treatments run the gamut from relaxing massages to detoxifying wraps, microdermabrasion, and collagen-stimulating facials.

Though the resort is just 10 minutes from Jacksonville's lively beaches, consider staying on campus for the duration of your stay. Not only is there plenty to do, but since Covid protocols are consistent throughout the resort, you can relax just a bit more.