A Southern Home
30 Dec 2016
Making the move south, a retiring couple connects with Hagood Homes to build a home with space for all their treasures
By CHRISTINE HENNESSEY » Photos by G. FRANK HART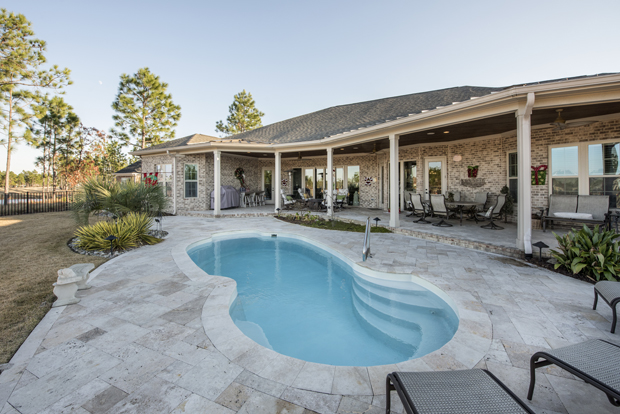 Terri and David Kennedy aren't from North Carolina but, as the saying goes, they got here as fast as they could. She hails from a large family in West Virginia, including 36 first cousins. He also grew up in West Virginia, though they spent the last few years in Pittsburgh, where David was the Vice President of a large pharmaceutical company. Like many people who live in colder, snowier places, the Kennedys and their three children spent years vacationing in Myrtle Beach, trading in their snowshoes and puffy coats for idyllic beach getaways. When David was ready to retire, they remembered those wonderful vacations and decided to make coastal North Carolina their permanent home.
New Hanover and Brunswick Counties are home to many different neighborhoods, each with a particular personality and vibe. The Kennedys visited many of these communities during their search but, much like Goldilocks, something wasn't quite right with each of them. That changed when they toured Compass Pointe. Located in the heart of Leland and minutes from white, sandy beaches, this private, gated community offers resort style amenities, including tennis courts, an impressive pool, and a beautiful golf course. "We also liked the fact that the developer was from Wilmington," Terri says. "Not someone from New York or San Francisco who was just dumping money here." It was exactly what the Kennedys were searching for and they immediately bought a lot. Finally, it was time to build their home.
"We talked to a lot of salesmen," Terri says. "We interviewed many different builders. We have three children who all live in different places and we didn't know where they would settle. We wanted a home with three bedrooms and three bathrooms so they could bring their spouses down for the holidays and still have some privacy."
It was a tough order to fill, and a lot of the builders they spoke with didn't seem to share the Kennedys' vision. It wasn't until meeting with Hagood Homes that they finally found their match.
Listening and Learning
Hagood Homes, much like the Kennedys, is a family affair. Owned by husband and wife team Jim and Troy Kenny, they've been in business for 20 years, building an average of 55 homes a year.
The Kennys met while working for a national builder right out of college. "The first day we met, I knew I would marry her," Jim says. They proved to be excellent partners, in marriage as well as in business. Jim oversees the construction of their projects, instilling every Hagood home with unmatched quality, while Troy, a talented designer, makes sure each floor plan is a true original. "She's the smart one," Jim says. Most of their homes can be found in Wilmington and Brunswick County, and their designs take inspiration from the area, leaning toward a southern, coastal vernacular.
It isn't just clients like the Kennedys that admire their work—Hagood Homes has won numerous awards, including the prestigious Parade of Homes Gold Award. Jim credits their success to three specific things. "We have quality employees, we have great homeowners, and we listen to our clients."
This last attribute—the ability to listen—is what pulled the Kennedys in. "After meeting them, I really trusted them," Terri says. "We knew we were going to get something that was beautiful."
Different Strokes
While the house in Compass Pointe was the Kennedys third time working with a builder, this project was different. "We'd never built a southern house before," Terri explains. "The styles down here are different from up North." One difference that concerned Terri was the lack of basements and attics. "I have a lot of treasures," she says, "and I needed somewhere to put them."
"This was also the first house we built for just us," David adds. "It was our retirement house, not one designed for a full-time family. That was different, too."
Hagood Homes understood what the Kennedys wanted, and they were excited to work with them to design a home that was just right. "They came to us with some ideas and maybe even some requirements," Jim says. "We did a good job listening and designing something that felt like what they needed and wanted."
While Hagood Homes has a portfolio of designs that are ready-to-go, they knew the Kennedys' home would require a lot of input and flexibility, which they were happy to offer. They were also happy to provide suggestions when Terri or David had questions or weren't sure how to proceed. "We had plenty of ideas," Terri says, "but with their guidance we were able to figure out what we wanted. There was a lot of direction and help."
Terri offers this anecdote about how flexible the process was. During their first meeting, Troy took pages of notes about what the Kennedys wanted. She ended up designing a beautiful two-story house that included everything they'd talked about. On their way to the meeting, Terri and David drove around Compass Pointe and realized a two-story house in that neighborhood would stick out like a sore thumb. They felt badly, because they knew how excited Troy was about the design. When they arrived at the meeting, Terri immediately told her the bad news. "I said, 'Troy, before we go any further, I don't think that house is going to fit in Compass Pointe.' She rolled up all the plans and said, 'Okay, let's start over.' That's when we knew we'd definitely made the right choice."
This flexible and collaboration spirit is even more impressive considering the fact that the Kennedys were still living in Pittsburgh while their Compass Pointe home was being built—a situation that Jim says isn't unusual for Hagood Homes. About 85% of their clients are building homes while living out of the area, and they're used to the challenge of making their clients feel involved and up-to-date. "We send photos and weekly emails so they know what's going on," he says.
It was a gesture Terri and David appreciated. "We'd come down to visit and walk through the house," Terri says, "and Jim and Troy were always available by phone to talk about any decisions we had to make or questions we wanted to ask."
Room to Spare
This July will mark the Kennedys third year in their home, and they still love it as much as the day they moved in. "There are so many unique features and things Troy designed," Terri says. "It makes the house feel comfortable, warm, and inviting."
Their lot faces the golf course, but it also embraces it. Because Jim and Troy were familiar with the area, they were able to design and build a home that fits the lot perfectly, without wasting any space.
The house itself has three bedrooms and bathrooms, offering plenty of room for out-of-town guests and visiting family. It also has a large pantry and generous closets to make up for any lack of storage space—Terri's treasures have a home, too. When they were designing the house, Troy recommended forgoing a formal dining room in favor of a larger kitchen and an open floor plan. While David liked the open concept—"Everyone always congregates in the kitchen anyway," he points out—Terri wasn't sure where to put all her serving ware. Troy solved this problem by designing a large hutch that easily stores and displays her things—a solution Terri loved. "We've found that the design is perfect for the way we're living now," she says.
In fact, the Kennedys were so pleased with their house and Hagood Homes that they've drummed up quite a bit of business for the builders. Hagood Homes has now built houses for the Kennedy's daughter as well as Terri's cousin, while good friends from Pittsburgh purchased one of their pre-built homes. Terri loves the fact that while each of them live in a Hagood Home, none of the houses feel like copies of one another. "Each one is totally different," she says. "I love that our home was designed specifically for us."
After building three homes, Terri offers the following advice to those thinking of doing the same. "Find a builder you trust and listen to them," she says. "That's what we did, and we got exactly what we wanted."
Resources
Hagood Homes, 910-256-8284, hagoodhomes.com