Fall Travel Roundup
07 Sep 2019
Stateside Fall Travel Destinations
By Katie Mcelveen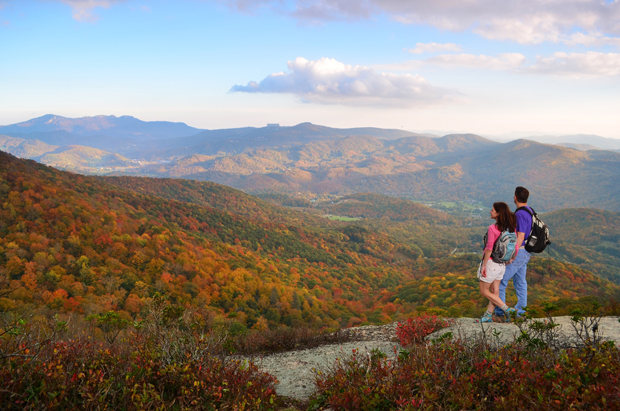 Summer vacations bring the joy of family; winter an escape from, well, winter and spring a celebration of warmth. Fall, when school bells ring and new work projects begin, may not be a traditional time for travel, but there are benefits to swimming against the tide: crowds have dispersed, children are in school and cooler temperatures make it a pleasure to enjoy the outdoors, be it on a hiking trail or a rooftop. Here are a few destinations to consider.
Aiken, South Carolina
Gilded Age northerners transformed this former railroad town into a posh winter colony complete with polo fields and sprawling mansions; today, it's a laid-back getaway where you'll find a compact, gallery-strewn downtown, terrific restaurants and a spate of lodging options.
Do This: Ancient live oak trees, winding garden paths, arching bridges, a labyrinth and an arboretum trail are just of few of the reasons to visit Hopelands Gardens, a 14-acre estate and public garden that's also home to the Thoroughbred Racing Hall of Fame.
Top Table: Locals have adored Malia's grilled chicken salad for decades, but the ever-changing menus at this downtown bistro offer plenty more to explore including fresh seafood, vegetarian options and homemade red raspberry pie for dessert.
Stay Here: Winston Churchill, Franklin D. Roosevelt and the Astors were all guests of The Willcox Hotel, a grand 19th-century inn set with massive stone fireplaces, polished heart-pine floors and an antique-filled lobby. The inn is well-suited to set up unique activities like an afternoon picnic while watching polo at Whitney Field or a guided horseback ride through nearby Hitchcock Woods. Pre-dinner drinks in the lobby bar is a local-tradition, particularly before dinner in the elegant dining room or, for romantics, in your equally elegant guest room, many of which have fireplaces.
Cool Fact: Three times the size of New York's Central Park, Hitchcock Woods is the largest urban forest in America.
Beech Mountain, North Carolina
The east coast's highest-elevation town may be best-known as one of the top snow-skiing locales in the south, but consider a visit during fall, when mountaintop views from 5506-feet offer a peep at fiery foliage in North Carolina, Kentucky, Tennessee, Virginia and West Virginia. Even better, the top of the mountain is rife with shops, restaurants and lodging options, meaning you don't have to make that long trip down until it's time to leave.
Do This: Hang out outside! Serious hikers, trail runners and mountain bikers can hit the Emerald Outback, a seven-mile network of perfectly maintained single and double-track trails. Designed by runners, hikers and cyclists, the trails are challenging but safe, easily accessible and dotted with stunning overlooks specifically constructed to offer exceptional views. There are also a number of beginner trails that meander through open meadows and offer gradual elevation changes. If you luck out and it happens to snow during your trip, you can explore the trails via snowshoe.
If you'd rather mountain bike in just one direction—down—rent a bike at White Wolf Lodge, which will give you access to a dedicated trail that leads directly to Banner Elk Winery. After your tasting, White Wolf Lodge will pick you up and deliver you back to town, bikes and all.
Top Table: After a day of high-energy outdoor fun, nothing hits the spot like pizza; Beech Mountain's Famous Brick Oven Pizzeria fits the bill with giant pies (including gluten-free options), big salads and even a margarita bar. For date night, head to The Alpen, a chalet-style inn that just happens to be home to one of the most romantic restaurants in the region. If the crab bisque is available, it's worth every creamy calorie. For dinner, try the local trout, which arrives with a crunchy pecan crust.
Stay Here: Hotels are great, but when you want more room to roam (and a place where you can have breakfast in your robe), consider renting a home or apartment. Offering everything from multi-bedroom houses with Jacuzzi tubs, fireplaces, decks and views to one-bedroom condos, Beech Mountain Chalet Rentals can find the right option for your family.
Cool Fact: Not many ski resorts can claim they own a brewery, but Beech Mountain does and they've given it prime real estate near the top of the mountain, so the views are as fabulous as the beers. The brewery features three distinct ales created on-site, with consulting from award-winning brewer Will Young of Blind Squirrel in nearby Plumtree. Heading the list of beers is the 5506 Pale Ale, followed by the Liberty and Yard Sale Ales. Flights are available.
Healdsburg, California
Settled in 1854, this Sonoma County village charms with a pretty town square surrounded by galleries, shops (including three bookstores), cafes, restaurants and, of course, tasting rooms. More agricultural than neighboring Napa, Sonoma is a wine-tasting wonderland where you can visit favorites like Jordan, Sonoma-Cutrer, and Silver Oak or smaller, hard-to-find producers like Copain and DaVero.
Do This: Take a morning off from wine tasting and hike amid the 1,000-year old redwood trees at Armstrong Redwoods State Natural Reserve. On the way back, pull into Big Bottom Market in Guerneville where BLT's arrive on fluffy, sky-high biscuits. Rather stay in town? Wraps and massages at the spa at Hotel Healdsburg utilize local lavender, honey and wine to soothe and restore.
Top Table: Starting with addictive, citrus-drenched olives continuing through traditional California cioppino—a rich, tomato-based fish stew—local cheeses and sugary beignets, Spoonbar makes it nearly impossible to show restraint.
Stay Here: It's hard not to adore a hotel that greets guests with a glass of champagne; Hotel Les Mars follows up with sumptuous rooms filled with extras like hand-crafted bath salts and a bottle of local wine. The lively lobby bar is a fun last stop.
Cool Fact: Sonoma County is larger than Rhode Island and extends from the mountains all the way to the ocean. Nearly all of the county's 425 wineries follow sustainable growing practices; many also produce (and sell) honey, herbs, lavender and olives.

Jackson County, North Carolina
Haute hippies looking to offset rugged outdoor fun—think hiking, paddling and fly fishing—followed by p.m. pampering will find it in Jackson County, which is located about an hour southwest of Asheville and is speckled with funky mountain villages.
Do This: Try your hand at fly fishing. This corner of North Carolina is one of the best places in the state to cast your fly; patient guides from Brookings Anglers provide waders, gear and access to private streams where you won't run into another soul. You can even request barbless hooks that make it tougher to net your catch but reduce stress for the fish.
Top Table: No matter what time you plan to dine at Canyon Kitchen, be sure to arrive early enough to have a drink at the outdoor bar, which opens onto a glorious meadow hemmed by sheer granite walls that reach hundreds of feet toward the sky. The food—ambitious, upscale, seasonal fare that makes wonderful use of local produce, meats and fish—is worthy of the setting.
Stay Here: The luxury homes available for rent at Bear Lake Reserve offer glorious views of the lake, the mountains and the forest. Even better, the clubhouse is laden with amenities that include restaurants, a fun bar with live music most nights, a pool, hot tub, game room, gym and concierge; there's also tennis, golf, hiking on a 20-mile network of trails, and a water sports center offering stand-up paddleboards, canoes, kayaks and other water toys.
Cool Fact: Dozens of waterfalls dot the region; many of the most dramatic cascades, including Whitewater Falls, Dry Falls and Silver Run Falls, are as accessible as they are beautiful.
New York City
Manhattan is an island of neighborhoods; for a different twist on a fall trip to the city, pick one and spend your weekend getting to know it. One to try is the area around Gramercy and Flatiron, where you'll find a great mix of old and new.
Do This: Located just around the corner from the Flatiron Building, Rizzoli's four-year-old flagship New York bookstore is elegant with murals, chandeliers, soaring columns and what seems like miles of carved wooden shelves crammed with books. Staff members can do more than ring up your purchase: the store hired actual book junkies who are well-versed in a variety of topics. Afterwards, stroll over to the green market at Union Square for fresh cider, coffee, artisan baked goods and mountains of gorgeous produce.
Top Table: For an elegant, European-style lunch, head to Bouley at Home, the newest restaurant concept by Chef David Bouley. The lush, gorgeous space feels like a private club, albeit one with a large open kitchen. For something a bit less pricey, pop into Hall for what might be the best burger in New York.
Stay Here: Open since 1925, the Gramercy Park Hotel has hosted celebrities from Humphrey Bogart to Lady Gaga. The 190 rooms are decked in warm velvet, leather and bronze; some have fireplaces, all have access to Gramercy Park, the only private park in New York City.
Cool Fact: Each of the buildings that surround two-acre Gramercy Park are given keys to open the wrought-iron gate; each key is numbered; locks and keys are changed every year. Key holders can bring up to five guests into the park at any one time. Don't try to sneak in: a key is required to exit as well as to enter the park.
Scottsdale, Arizona
If you've avoided this upscale desert oasis because it seems too much like a giant country club, it's time to take a second look. The city's downtown has become a cultural hub filled with galleries, art installations and museums.
Do This: Late October kicks off Contemporary Month in Scottsdale, a 30-day celebration highlighted by immersive art installations and exhibitions. Top of the list are Standing Wave, which will use sound and 600 suspended orbs of light to create a wave of color over the Arizona Canal and Murmuration, a swirling mass of lights that will whirl about the Scottsdale Museum of Contemporary Art. Both works are produced by Squidsoup, a UK-based international design collective whose digital and interactive media experiences have been produced in venues ranging from Salisbury Cathedral in England to the Sydney Opera House.
Top Table: A bright, bustling vibe and lots of shareable plates—bruschetta, bacon-wrapped dates, flatbreads—make Olive & Ivy great for a crowd; but the food at this canalside hot spot is fresh and delicious as well.
Stay Here: The sprawling JW Marriott at Camelback is said to be a favorite of the Marriott family and it's easy to see why: the grounds are filled with flowers, the pools deliciously cool and the spa a mini-resort with its own pool, restaurant and relaxation areas.
Cool Fact: The best way to handle the 4-or-so mile trek to the top of 2,680-foot tall Camelback Mountain is to catch a pre-dawn ride to the slightly shorter (and more challenging) Echo Canyon Trailhead, where bathrooms and a water fountain await. From the summit, the slightly meandering Cholla Trail will save wear-and-tear on your knees. Just be sure to save enough battery on your phone to call for a ride back to your hotel.