CRUZ Restaurant
07 Sep 2019
Carolina meets California and brings a baja-fresh menu in a bright and modern space

7225 Wrightsville Ave.
Wilmington, NC
910-415-2789
liveeatsurf.com/cruz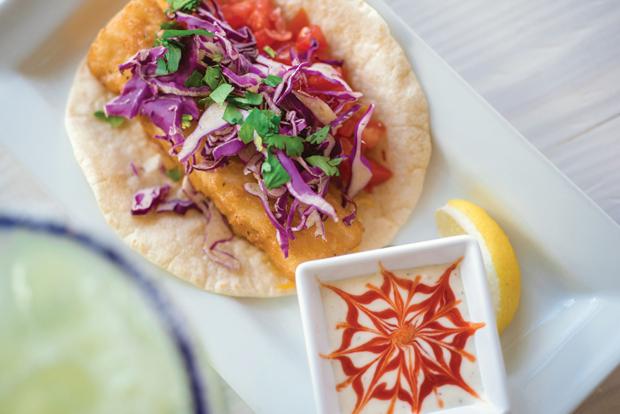 Since it opened in 2017, CRUZ Restaurant has remained Wrightsville Beach's best kept secret. Part of Josh Vach's Live Eat Surf restaurant group, which includes favorites like Tower 7 and K38, CRUZ eschews the beach-party scene of Tower 7 and instead evokes a brighter, more casual vibe.

"It has the same warmth and quality, but it's a little light, bright spot here. It's blue and white and clean. It's like being inside a seashell honestly," says Valerie Gerstle, manager of CRUZ. Gerstle has worked for the Live Eat Surf for four years. Before moving to Wilmington, she managed a fine dining restaurant group in Los Angeles.

"When I moved here, I kept saying to everyone "When I get another job here, whatever I do, I want to be able to be comfortable, to not be so dressed up. I want to be around people who are just relaxed and enjoying themselves, and not acting like taking pictures of food is their job. Everything there was about presentation and precision, and food is fun! Eating and drinking is what brings people together. I just wanted to be at a place where people were having a good time," Gerstle says.

Josh Vach, the creator of Live Eat Surf, unfortunately passed away earlier this year. But his vision of bringing the California coast and the North Carolina coast together is still holding strong and especially so in the CRUZ menu. Baja is represented with dishes like the Pacifica Del Mar enchiladas, stuffed with shrimp and scallops and covered in a sweet corn sauce, or the popular Steamer Lane stacks of avocado, cucumber, arugula, and roma tomatoes topped with fresh lump crab or seared Ahi tuna. But North Carolina's influence is strong on the menu as well, with dishes like the Masonboro Shrimp Bake, shrimp sauteed with BBQ sauce, bacon, and corn, and served with fresh tortillas.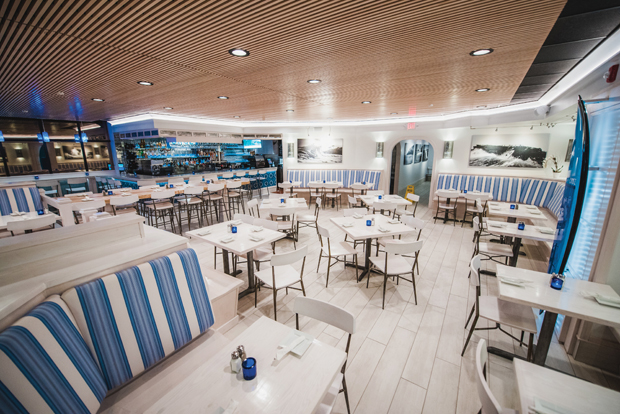 In fact, if you're into shrimp, CRUZ might become your go-to. Besides the Masonboro, there's also their wildly popular Huntington Roll, shrimp and mahi rolled with red cabbage, avocado, Monterey Jack, and Green Goddess dressing. Or the Shrimp Po Boy tostada, the Low Country quesadilla, the garlic shrimp tacos, the citrus shrimp tacos...and if you come on the right weekly special you might even find shrimp and grits. Point is, CRUZ takes its shrimp seriously.

"When this restaurant was being built Josh was very specific, and he knew what he wanted here. He went out of his way to find the right culinary support. Most of our top kitchen people came from outside, and a lot of our top staff people came here from the other restaurants. He wanted people who really understood his values at the front of the house," Gerstle says. CRUZ's chef, Justin Belcher, came in from outside the group, but trained with Brian Williams at Oleander's K38 location to get the menu feel.

"People love our biweekly specials, because they're always creative and always changing. If you go to a restaurant frequently, eventually you work your way through the whole menu. Every couple of weeks we try to come up with more creative and fun food items. It gives our chefs the opportunity to flex their creative muscles," Gerstle says.

And despite the upscale location and pretty dining room, CRUZ is still very much a neighborhood spot, with regulars hanging out at the bar and specials practically every day of the week. On Monday, you can get three dollar specialty sliders and two dollar beers. Tuesdays, their popular San Felipe fish tacos are only five bucks, which pairs well with the five dollar margaritas. And Wednesdays, it's six dollar martinis and specialty rolls.

"It looks super fancy," Gerstle says, "but the price point can really appeal to everyone."

There's always been a strong California/Wrightsville Beach connection, which is one of the reasons why Vach's vision has done so well for each of his restuarants. As a California/Carolina transplant herself, what does Gerstle see as the biggest difference between the two coasts?

"In all the Live Eat Surf restaurants, I've worked at several locations since I worked for Josh, it's just more of a community. It's people coming with their families, their children, their visitors from out of the town. And the expectation is just to have a good time, it's not to justify a price point. In Los Angeles, people would spend a lot of money to eat at our restuarants and the expectation was everything had to be perfect. There were pictures being taken, more of a "look where I am" posts on social media. Here, after a hard day at work, they take their family out to dinner, we have women having a girls nights out. Everyone just wants to enjoy themseves, and they know if they come here they will. And if they bring someone new here, they're gonna be impressed," she says. "Everyone considered CRUZ "their find." It's a hidden gem that people feel a lot of ownership over. You see people that know each other, and the customers become your friends, and it's a whole different scene here. What Josh did with his restaurants was really remarkable."

Good places rarely stay secret for long though, so next time you find yourself headed to the beach, stop by and try those enchiladas for yourself.