Two Teams, One Dream
07 Sep 2019
What you need to know before kickoff

By BRIAN MULL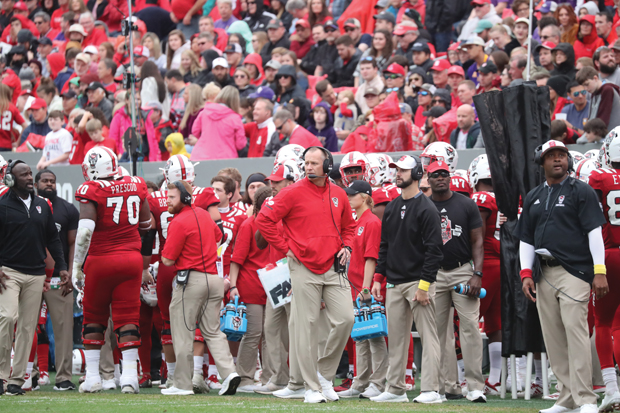 With consecutive 9-win seasons, N.C. State has surpassed North Carolina on the football field and in recruiting, forcing the Tar Heels to turn toward the past in hopes of a brighter future.

The Wolfpack has yet to attain any of its championship goals under coach Dave Doeren, a problem inherent to belonging to an ACC Atlantic division that national champion Clemson dominates. Still, in Doeren, they've found a coach who wants to be in Raleigh. He signed a contract extension for the second consecutive offseason and has turned down offers from SEC schools Tennessee and Ole Miss.

He keeps turning out top level NFL talent - 14 defensive players have been drafted or signed a free agent contract in the last three years alone. And he's one more 9-win season away from becoming the first N.C. State coach to accomplish the feat.

Giving the Wolfpack fans even more satisfaction and strengthening their bragging rights, Doeren led his squad past the Tar Heels 34-28 on the Saturday after Thanksgiving, writing the final verse in Larry Fedora's seven-year run as coach. N.C. State has won four of the last five meetings between the schools and 9 of 12.

UNC fired Fedora the next day and subsequently shocked much of the college football world by hiring former coach Mack Brown, who led the Tar Heels to a 69-46-1 record from 1988 to 1997. Brown departed for Texas where he won a national championship in 2005 and resigned in 2013. The 67-year-old coach is revered in Chapel Hill for resurrecting the program during his first stint? Can he turn the trick again? Perhaps. Despite a late start, UNC snagged the nation's 32nd best recruiting class.

At this moment though, the gap between the programs is wide and clear. N.C. State won five ACC games last season, or as many as UNC won against all teams the last two years.

The Wolfpack finished 9-4 last season and reached No. 16 in the AP poll. That's the good news.

It was the program's fifth consecutive winning season, marking the best stretch since Dick Sheridan and Mike O'Cain strung together seven winners from 1988-94.

(O'Cain and his successor, Chuck Amato, engineered six in seven years from '97 to '03)

The Pack got smashed by Texas A&M 52-13 in the Gator Bowl, ending the season on a sour note. Also, it's difficult to be taken seriously as a football powerhouse when you lose to Wake Forest two years in a row.

Still, the program has enjoyed unprecedented success under Doeren. Sustaining it this season may be difficult. Improvement seems unlikely.

The reliable 247Sports composite rankings tabbed N.C. State's incoming class 29th in the nation (higher than UNC for the first time in 11 years) and fifth in the ACC. A quartet of in-state four-star prospects highlight the 24-man class, which includes Wilmington's Chris Toudle, a physical 6-4 wide receiver from Hoggard HS.

When he took the job in 2013, there were 45 players from North Carolina on the roster. "Now there are more than 70. Looking close to home is an option," Doeren said, "because North Carolina offers a surprising wealth of football talent, ranking in the top 10 states for active NFL players."

"It's nice for those young men to have their families close. I think the transition for a lot of people is hard from high school to college. Sometimes having that family nearby helps them through those struggles," he said. "Then being able to have them come to the games easily, less expensive, all those things. But it starts with having the talent to do that."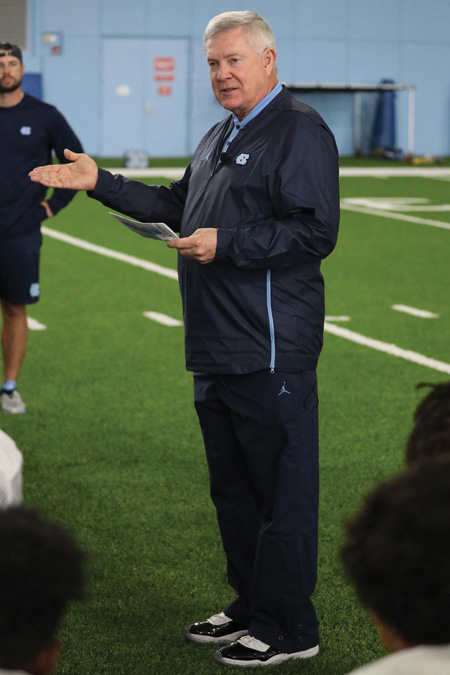 N.C. State fans couldn't care less where their next quarterback hails from as long as he produces somewhat like his predecessor, Ryan Finley, who departed Raleigh as one of the program's all-time greats. A three-year starter, he threw for more than 10,000 yards and 60 touchdowns and looks to continue his career in the NFL with the Cincinnati Bengals, who drafted Finley in the fourth round.

Matt McKay, a 6-4 redshirt sophomore from Raleigh, emerged as the favorite on the strength of a strong spring. He's also the lone candidate to have thrown a pass in Division I, completing 7 of 8 attempts in five games last season. Devin Leary, a redshirt freshman, possesses enormous potential but still needs seasoning. The most intriguing potential QB may be Bailey Hockman, a redshirt sophomore who went to Florida State as a 4-star recruit and redshirted last season at Hutchinson (Kan.) CC. He's the top-rated junior college pro style quarterback in the nation.

N.C. State opens the season on Aug. 31st vs. East Carolina in Raleigh. Doeren planned to take whatever time is necessary to evaluate the candidates and name a starter. He's interested in measuring their performance on the field as a passer and decision-maker and in the huddle as a leader.

"I think when it shows itself to us, we'll know," Doeren said. "There's a lot of data that we accumulate on a day-to-day basis when we start practice from completion rate to touchdown interceptions to who can stay on the field, create the most first downs, to our red zone opportunities, what happens down there, do they score, kick a field goal, turn it over, two-minute drills."

"You want that guy to be an inspirational part of your offense where they trust and fight for him. It takes time to find that."

The N.C. State offense was potent last season, scoring 31.8 points per game (31st in the nation). With the veteran Finley at the helm, N.C. State terrorized opponents through the air but averaged a measly 3.8 yards per rush (99th in the nation).

Not only has the star quarterback departed, his top three receiving targets are gone and offensive coordinator Eliah Drinkwitz is now the head coach at Appalachian State. The running attack better be able to keep the offense alive until the passing game reaches full speed.

"Our offense is trying, constantly evolving. One thing that does remain constant is I want to be a balanced football team," Doeren said. "I want to run it when I want to run it, I want to throw it when I want to throw it, and be able to have the confidence with our offensive line that they can do both. I think if you get too one-sided … it gets really hard to shift to the other when you need it in a football game."

Anchoring a deep group of running backs is Ricky Person, a 6-2 senior from Wake Forest who overcame nagging injuries to run for 520 yards last season. He's healthy and poised to become the Wolfpack's fourth consecutive 1,000-yard rusher. Zonovan Knight, a freshman, enrolled in the spring semester to become acclimated to college and more comfortable on the field. He's the fastest of the backs and should provide a spark and change-of-pace.

An offense can only be effective if the linemen win the battle up front. The Wolfpack lost three starters off last year's unit - including center Garrett Bradbury, whom the Minnesota Vikings chose in the first round of the NFL Draft - and welcome a new position coach, John Garrison, who spent last season at Florida Atlantic.

Justin Witt started every game at right tackle last season and was on the field for more than 800 snaps - more than any other returner. The redshirt junior has embraced his role as a leader among the linemen.

"I like to be a vocal leader. I like to lead by example," said Witt, who is likely playing his final season at N.C. State "I feel like if I'm doing the right things, younger guys can look at that, 'All right, I want to model my game after that, I want to act like that outside of the field.'"

N.C. State's defense was adequate last season, although weak in the secondary (11th in ACC in passing defense) and riddled for 92 points in consecutive losses to national champion Clemson and Syracuse, the two teams that finished ahead of the Wolfpack in the Atlantic Division. The Wolfpack returns five of its top seven linemen, all but one linebacker in the rotation and every member of the secondary except for Dexter Wright.

The Wolfpack can't rely on its offense to mask the defense's deficiencies this season. Forcing punts and turnovers on a routine basis must be part of this team's DNA.

Over in Chapel Hill, immediate improvement is almost a given. The program was a train wreck under Fedora the last two years (5-18 overall, 2-14 ACC).

Brown's introductory press conference last November was a celebration, a coronation and a gathering of powerful alums ready for a fresh start. Amid the requisite blue-and-white balloons, administrators smiled, fans laughed at the new coach's jokes and UNC greats such as Dre Bly, and the most powerful coach on campus, three-time national champion Roy Williams, showed his support in a room abuzz with optimism.

Brown made Carolina football respectable once before, lifting the Heels from a similar position in the cellar to top-10 national rankings, positioned a rung or two below Florida State, who dominated the ACC in that era. There's a strong belief he can do it again.

Why return to the sidelines at age 67?

"You miss the relationships with the players," Brown said. "You miss having a piece of their lives. You miss having a staff."

When he was working as a college football analyst for ESPN the last five years, Brown's wife, Sally, told him she'd support his return to coaching in three locations - Hawaii, the Bahamas or Chapel Hill. After the Browns spent time in Chapel Hill in August 2018 for a Hall of Fame ceremony, she told her husband, "There's a void in your life and you love mentoring young people and you can't do that right now on TV."

There's plenty of help to give in Chapel Hill. The Heels require rebuilding across the program. The defense, riddled by injuries a year ago, was one of the nation's worst, struggling against the pass and run, allowing 34.1 points per game. Penalties were also a problem.

"We've got to be tougher physically and mentally," Brown said after the team's intrasquad spring game.

On offense, Brown wants to run a version of the Air Raid offense designed by Washington State coach Mike Leach, only combining it with the power running game similar to what rising coaching star Lincoln Riley has done at Oklahoma.

"I think it's the best way. To me, you need to be able to run the ball to win all the games," Brown said. "The best teams in the country can run the ball. That hasn't changed for years. It's not going to change. It also helps your defense because if you're going to throw it three straight times, you get three incompletions, you're off the field quickly, your defense is on the field too long."

He hired Phil Longo from Ole Miss as offensive coordinator to implement the attack.

Of course any offense is only as good as its quarterback. The Tar Heels entered preseason camp with a three-way battle for their new field general. Sam Howell, Cade Fortin and Jace Ruder will spend August fighting for the starting role, and Brown may not make that decision until the week before the season opener, Aug. 31st against South Carolina at Bank of America Stadium in Charlotte.

It's going to be a long, uphill climb for Brown and the Tar Heels. Home games against Miami and Clemson in the first half of the schedule will give a barometer of the distance the program must travel to become a factor in the ACC again.

Brown has been there before in Chapel Hill.

"When we left, we were fourth in the country I think. We had just won 10, then won 11. We were recruiting as well as anybody in the country. We were getting most of the guys we wanted out of the state of North Carolina, some out of Virginia, some out of South Carolina and Georgia. We were really on a roll," Brown said. "We want to come back and get it back like it was. But even better, we'd love nothing more than to win a national championship here.