Dream Catcher
07 Nov 2019
The inspiring work of local artist Rachard McIntyre proves that diversity is the spice of life

By KIM HENRY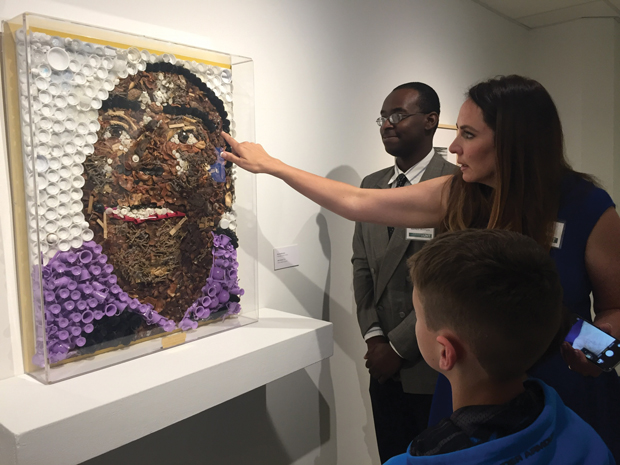 Imagine how bland the world would be if we all looked the same and thought the same? What if we didn't have an abundance of artists expressing their own unique perspective in their own unique way? Luckily this is not the world we live in and here in Wilmington, we embrace a thriving art scene with a healthy diversity of artists. Time to meet Rachard McIntyre. An innovative local artist whose body of work includes pen and ink drawings, watercolor, multi-media creations and a series of images made entirely from words.

Diagnosed with Asperger's, a form of Autism, at four years old, McIntyre has never let this label stand between him and his immense artistic talent. "People are often amazed when they see my work," explains McIntyre with his quiet demeanor, "but I always say never give up on your dreams."

From a young age it became clear that McIntyre was a gifted artist. Carrie McIntyre, Rachard's mother, recalls the day her son's second grade teacher called to say how advanced his artwork was. "I told her that I had seen a piece of work on the kitchen table and wasn't sure if it was Rachard's but she told me, "Believe it. He's amazing!""

Born in Brooklyn, McIntyre moved to Wilmington in 1999, with his mother (and manager). For Carrie it was a welcome return to her roots and family after twenty years of providing the very best for her son up North. "There was much more available for Rachard up North so that's where we stayed. We would ride the subway every day and Rachard would draw the entire skyline from memory," says Carrie.

McIntyre has an impressive collection of exceptionally detailed pen and ink portraits but one of his most signature techniques is creating images out of words. This began when he decided to research the history of the Eiffel Tower. He then took the information and literally drew the tower by using the words of its own story. Inspired by this technique, McIntyre went on to use the biographies of some of his hero's to create their portrait, including JFK on what would have been his
100th birthday.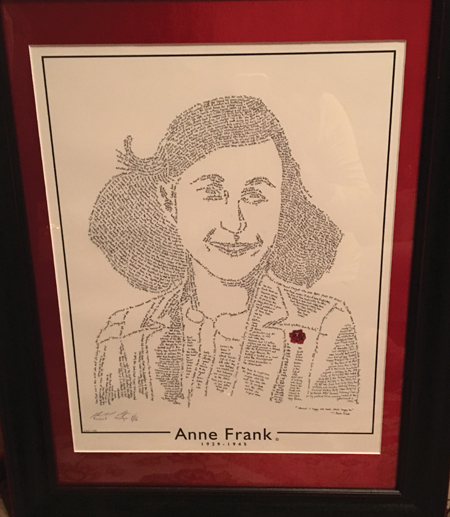 A poignant addition to this collection followed the events of 9/11. In 2010 McIntyre made a series of five drawings of the towers formed entirely by the names of people who lost their lives, placed in alphabetical order. Another image in this series is of a fire truck, which is also created from the names of the first responders who died on that day. In recognition of this powerful collection of work, the former president, Barak Obama sent McIntyre a signed card from his whole family.

On a more local note, McIntyre has used the history of the battleship to depict this iconic boat and even made a picture of the Cape Fear College out of its history after attending some art classes there. This technique is particularly close to his heart although his detailed pen and ink drawings form the foundation of his artistic expression. "Every time I do a word project I see how much I like the combination of the stories and the art," smiles McIntyre surrounded by his impressive collection.

His work has been displayed in Dallas, TX, Brooklyn, NY, Washington D.C. and of course here in Wilmington, including at the Cameron Art Gallery, The Hannah Block Theatre and the Landfall Country Club. McIntyre's work is going to be the main feature of a new exhibit at the Bottega Art and Wine Gallery on 4th street opening in November, which will be hosted solely by artists with a range of different abilities.

"If we were all the same, it would be such a boring world!" laughs Carrie McIntyre. "There's a reason for all of us being here, especially people like Rachard. His work is a constant source of inspiration to other autistic individuals and their families and one of the many reasons why it's important to get his work out there."

Diversifying from his pen and ink, and pencil drawings, McIntyre has also explored watercolors and more recently some multi-media pieces. One of these is a self-portrait created from random objects including bottle tops, bits of bark and tiny brown army figures. "I wanted to do a self portrait but it took some time to find things that were the right skin tone," explains McIntyre.

One of the many reasons we gravitate towards art is because it allows us to experience someone else's perception. Rachard McIntyre may be a man of few words but his art speaks volumes. Revealing stories through his passion and unique artistic talents, we are inspired to move beyond limiting labels and celebrate diversity in all of its many forms.