Contemporary Abstract
07 Nov 2019
Surrealism, music and dreams influence the work of local artist Barton Hatcher

By TERESA A. McLAMB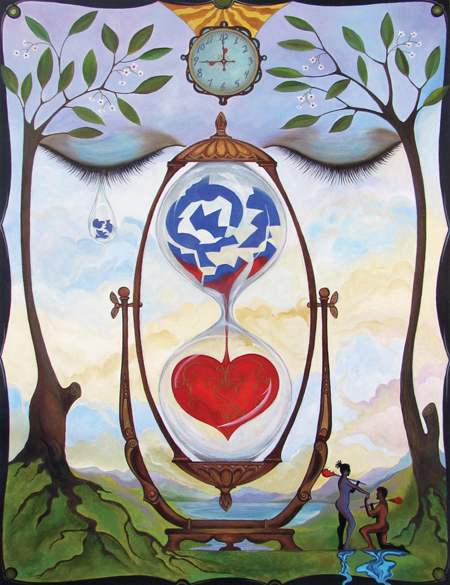 As a child, Barton Hatcher had no less than fifty playmates within a half-mile of his Bladen County home, most of them related to him. "They weren't poor," he said, "but they also didn't have a lot of money. What they did have was the wealth of creative young minds."

"My brother and I built our own toys. We made all kinds of things. During the summer we built Indian tee-pees in the woods, race cars, tractors. The things we enjoyed the most were the things we built. We were very creative like that, my youngest brother and I especially. When I was about six or seven, I made ship models from scratch with wood, paper and tobacco twine," says Hatcher. He recalls sitting and drawing for long periods of time, even as young as five years. All of his siblings drew as youngsters, but Hatcher kept at it, learning more at every opportunity.

Hatcher was fortunate to have an art teacher in high school that encouraged him. "Ed Harris. We continue to be very close friends, and he's a terrific artist. He influenced me a lot, made me see where art could take you and how you could express it," says Hatcher. Harris encouraged students to find their own means of expressing their creative side. "I've been able to take my art into many directions because of that," Hatcher says.

Hatcher also credits DNA for his inclined creativity. "We got our talent from my mother's side of the family. My mother's father would not have thought of himself as an artist, but he was. He could draw. He did lots of crafts," Hatcher says. A first cousin is a professional artist in Philadelphia. For years, the cousin's work "took on a kind of Grandma Moses feel," Hatcher says, "but his current works have more of an urban expression." In a recent conversation, the two spoke of exhibiting together. "We're discussing it. Our works are polar opposites," says Hatcher. He thinks it would be an interesting presentation.

Hatcher's plans to study art beyond high school dissolved when his father was injured in an accident. He took a job at Cape Craftsmen in Elizabethtown which sold decorative, some hand-painted, wood and metal items.

Within three or four years, Hatcher was running one of the departments. Before long, he was offered the chance to design products. "I left the floor, went upstairs and was a designer for 20 years: home décor, lighting, outdoor furniture, small indoor furniture pieces, whole lines of things," says Hatcher. He created several metal lines that were successful, including one for the Charleston Historical Society. Becoming a designer inspired Hatcher to paint again. "I had a show with three of my friends in Wilmington: Six Artists, Six Months," he says. The success of that show made Hatcher realize he could build upon his talent.

When Cape Craftsmen was purchased by a company that relocated employees to Virginia, Hatcher chose to stay in Wilmington and concentrate on his two main loves: art and gardening. "I always loved growing things. I invested time in my own landscaping. People said it was beautiful," Hatcher says. He bought a mower and tools and started Gardens by Barton through which he designs, installs and maintains landscapes.

Hatcher estimates he spends 60% of his time landscaping and 40% creating art. He'd like to reverse that, spending more time creating landscape design rather than doing the physical work himself. As we move into winter, Hatcher plans to spend more time with his art. "My goal is to just do artwork," he says.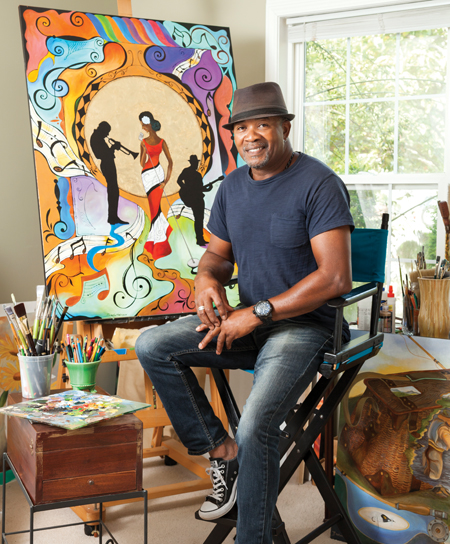 Hatcher spent much of his youth on his grandfather's 120-acre farm and that subsequently impacted his art. "I'm a big nature freak. I spend a lot of time in the mountains fly-fishing and photographing. For a long time, all of my artwork was influenced by nature. I did landscapes, florals, and those kinds of things. As time went by and I matured, I was exposed to other types of art and all types of crafts. I experimented. My work came to have more of a contemporary feel when I started doing sculptures, especially the vessels which are mixed media pieces with metal, wood, glass and paper," says Hatcher

Surrealism influences his work. Keyboards and other objects often appear swirling or weaving. "I like to require my mind to figure out what's going on. If you look at it, there are other things happening in it," Hatcher says. He describes his work as contemporary abstract. "It's contemporary in design and abstract as far as placement of color and whatever. I paint what I'm feeling, and I love that," says Hatcher. He leans towards primary colors alongside jewel tones and the occasional splotch of a pastel to confuse matters. "I mix a lot of stuff together," Hatcher says. His work is bright, often accented by deep dark lines.
Many of his ideas come from doodles. "Those things turn into some of my most creative paintings," Hatcher says. Hatcher awakes at night and sketches his dreams. A painting he considers one of his best, Dreamscape, was painted three months after the dream occurred.

Music is his other big influencer, particularly jazz and classical. His paintings include musical notes, instruments and scores. Hatcher's work has been selected for the official poster design for the Pleasure Island Seafood and Jazz Festival and for the poster and t-shirt design for the Ocean City Jazz Festival.

Hatcher finds himself on the road a lot these days, participating in art shows in North and South Carolina, Virginia and Maryland. He participates in Wilmington's Orange Street Art Festival and Art on the Avenue in Alexandria, Virginia, shows that are advertised as art shows or art and music collaborations, such as the Columbia Jazz Festival in Maryland. He'll join 19 other artists for a show at Durham's Hayti Center in October and mount a one-person show in Chapel Hill in November. Hatcher is also looking at a potential gallery space in Southport.

Most importantly, he's on track with his plans. "This year I started creating more garden designs, and I'm creating more artwork than I ever have," says Hatcher.

In addition to the shows, he's begun printing limited edition giclees of his originals. "I want my work out there for the masses, but only a few of the masses," Hatcher says.

While some artists charge by size, Hatcher prices his work by effort. "I have a feeling for how much time and how much of me I poured into it," he says. "When someone buys my work, I'm selling them what I've poured into it."