A true sense of place awaits at Airlie at Wrightsville Sound

By CAROLINE RUTLEDGE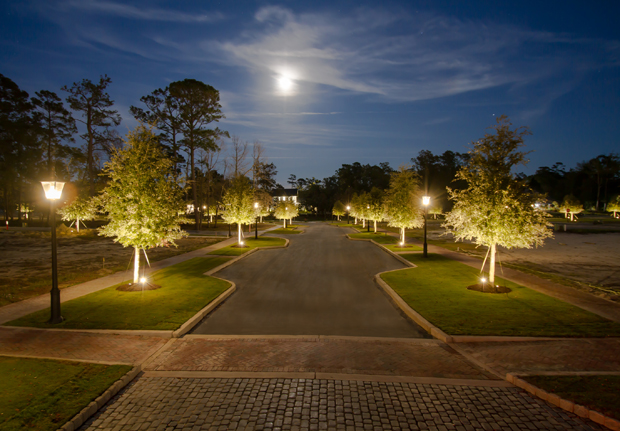 Beaches. Gardens. Parks. Coastal

Sounds. History and culture. A neighborhood where livable luxury meets coastal living. If you are looking for a new place to call home in an unforgettable community, then Airlie at Wrightsville Sound is the place for you.

Airlie at Wrightsville Sound is a new residential community whose beauty, intentionality, and location will take your breath away. Developed by State Street Companies and marketed by Fonville Morisey Barefoot, Airlie is based on traditional neighborhood design principles and the historical patterns which shaped Wrightsville Sound.

According to Beth Brinkman of State Street Co., "Airlie draws upon the architectural and lifestyle traditions that shaped the region as inspiration to create a new community that delivers a fresh, modern reflection of the rich historical and cultural significant of Wrightsville Sound. The thoughtful architecture is inspired by the coast's oldest, most beautiful homes. From heritage materials to designs that marry traditional charm with modern convenience, the community gives a nod to the past while keeping an eye toward the future."

Airlie at Wrightsville Sound has assembled a critically acclaimed team of builders to help you build your dream home. This new community features 49 homesites and gives owners the opportunity to choose from hand-picked custom builders to design and create homes dreams are made of. Airlie at Wrightsville Sound is located just steps from the entrance to Airlie Gardens. Airlie Gardens is a premiere 67-acre garden with walking paths, formal gardens, wildlife, 10 acres of lakes, seasonal blooms, mighty live oaks and historic structures. With sweeping views of Bradley Creek, the gardens are open year-round, offering visitors a serene spot to discover a place where life is always in bloom.

Brinkman explains, "Our preferred builders are adding to our coastal charm with new home designs that honor the traditions of the low country, without sacrificing any of the modern features or luxuries. Architectural design guidelines create harmony among neighbors, preserve property values and ensure consistency in the character of the neighborhood." As you plan you and build your dream home, a design team will assist in consulting to ensure that the architectural direction remains consistent from home to home as well as with the established character of the community, ensuring lasting memories of idyllic streets for all.

The four open green spaces at Airlie work in harmony with the architecture to create exceptional public spaces and pocket parks including Pergola Park, Central Park, Montage Park, and Lebanon Chapel Park. "The beauty and care taken to make each green space distinct enhances the community's natural setting. Sidewalks are paved with herringbone brick, and open grassy areas provide areas for gather and play. Native trees help shelter paths and sidewalks, while ornamental plants bring color throughout the year," says Brinkman.

Airlie at Wrightsville Sound is located on a gorgeous natural landscape with mature live oaks, recapturing the treasured history of Wrightsville Sound through the use of authentic materials and the positioning of active open spaces. Brick sidewalks along the meandering, tree-lined streetscape provide tranquility and comfort while encouraging interaction with neighbors. Cobblestone street accents and permeable paver alleys provide a genuine connection to the settlement era of yesteryear.

Located at the doorstep to Wrightsville Beach, Airlie at Wrightsville Sound combines

a relaxed beach aesthetic with low country vernacular architecture to deliver a refined residential neighborhood. Airlie has been thoughtfully designed as a residential retreat for those seeking quiet streets, custom homes, and the ability to walk to nearby destinations to satisfy most of their daily needs. In fact, residents will enjoy convenient pedestrian access to restaurants, shops, and an abundance of recreational amenities.

"Homesite sales began in early October, and we are pleased with the response" says Blake Frazier, Director of Sales. "There are only 49 homesites, so there are limited opportunities to become part of this one of a kind neighborhood located on Airlie Road. We anticipate the initial phase of homesites to be selected before year-end with home construction beginning shortly thereafter." There will also be a grand opening party in Spring 2020 to celebrate the launch of this new and beautiful community.

According to Brinkman, "Every detail of our residential community pays homage to the treasured history and cultural significance of Wrightsville Sound. Building upon Airlie's traditions, values, and assets, our neighborhood is designed to promote health and happiness, help cultivate new relationships and improve your well-being."

To join this incredible, breathtaking community, please contact the sales office at AirlieNC@FMBNewhomes.com or call
910-899-5002. For more information, please visit: airlienc.com.