Lumina Station
07 Nov 2019
Port City's charming shopping village by the sea

By EMILY GORMAN FANCY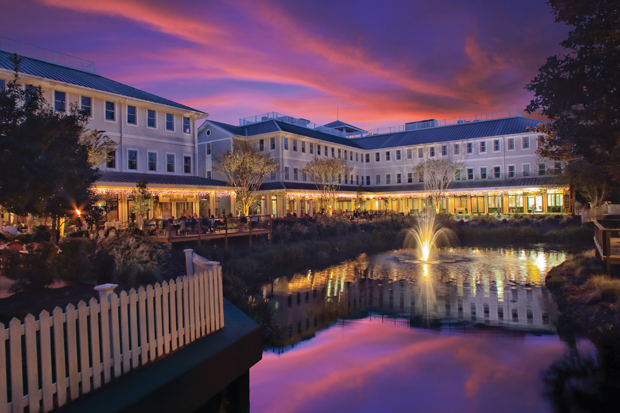 Tucked away a short distance from Wrightsville Beach, Lumina Station presents a shopping and dining village unlike any other in the Cape Fear region. The charming ambiance, inviting landscaping, and unique collection of locally-owned businesses make Lumina Station a one-of-a-kind shopping experience.

When you stroll through Lumina Station, instead of the cookie-cutter feel of a typical shopping mall, you'll find rocking chairs, whimsical sculptures, and story brook bridges – all of which come together to create a unique and pleasing experience for visitors. Lumina Station was designed with a nod to the area's historical roots. Indeed, the design of Lumina Station is inspired by Lumina Pavilion, the three-story, 25,000-square foot dance hall that served as the hub of the East Coast social scene from 1905 to 1973.

A Fixture of Local Shopping

Opened in 1996, Lumina Station features many sought-after stores that have become fixtures of Wilmington's shopping scene. Are you looking to spruce up your space and need inspiration? Or perhaps you need a gift for that hard-to-shop for friend? Look no further than Airlie Moon and Paysage Home. Airlie Moon, a staple boutique of Lumina Station, carries vintage-inspired home decor along with jewelry and clothing. Paysage Home offers everything you need to make your home your own, from personalized interior design services to unique home furnishings.

Lumina Station is known for featuring some of Wilmington's premiere women's clothing stores, such as Beanie + Cecil, Island Passage, and Monkee's of Wilmington. At Beanie + Cecil, owner Kellie Woodbury has curated an innovative collection of some of the fashion industry's top designers, including Ulla Johnson and Sea. Island Passage's Lumina location carries all the brands customers know and love like Free People and Z Supply plus accessories to complement any outfit. With brands such as Tory Burch and Maven West, Monkee's maintains a strong repeat clientele base due to their personalized service and wide array of clothing, shoes, and accessories.


Delectable Dishes and Complementary Cocktails

Lumina Station's three restaurants offer many options for lunch or dinner, from casual to fine dining. Winner of OpenTable's Diners' Choice Award, 19 Hundred Restaurant and Lounge features a regional Americana menu of small plate dishes complemented by premiere cocktails. Locally sourced ingredients add a fresh flavor to 19 Hundred's lunch and dinner entrees. Later in the evening, 19 Hundred transforms into a lively lounge with a DJ and dance floor, making it the perfect spot for an evening out.

Brasserie du Soleil serves authentic, creative French cuisine seven days per week in a bright and airy café. At Brasserie, you'll find an extensive menu of French fare stapes like pate, escargot, and steak au poivre as well as a full raw bar. Additionally, the create-your-own Brasserie salad remains a popular lunch choice.

With a focus on fresh farm-to-table ingredients and new Americana cuisine, Port Land Grille has been a mainstay of Wilmington's fine dining scene for nearly 20 years. Port Land Grille's menu features hearty selections from the sea, land, and wood-burning grill. On the lighter side, a large array of small plate options allows you to sample various dishes without the commitment of a full entree.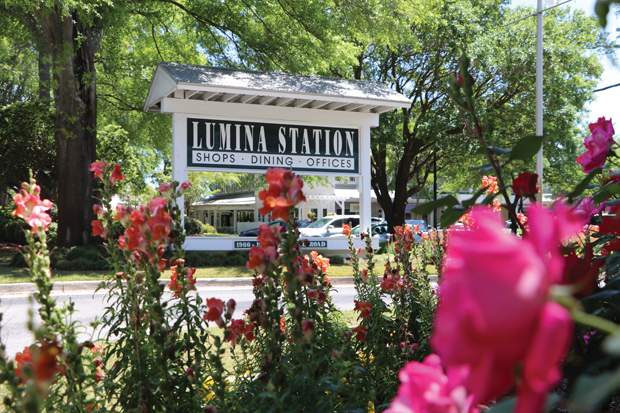 Rejuvenate and Get Fit

While most people likely associate Lumina Station with shopping and dining, it is also home to some of Wilmington's best services for health and wellness. Amidst the stores you'll find a tranquil escape in Harbour Club Day Spa, which is known for personalized beauty and body treatment services in a relaxing, soothing environment.

With the motto "a place to get well and stay well," Sito Chiropractic treats the whole patient through a range of services, including chiropractic care, physical therapy, and massage therapy. AXIS Fitness + Training opened in 2016 and offers high-energy group fitness classes and one-on-one personal training sessions.


Lumina Station Believes in Being a Good Neighbor

Lumina Station merchants value being a good neighbor, and they take advantage of opportunities to give back to the community. Last summer, several Lumina businesses participated in a drive to stock the shelves of the Good Shepherd Center. Airlie Moon held a special event where customers could bring donations of dry goods and food products for Good Shepherd to the boutique, during which time they could enjoy complimentary hors d'oeuvres and goody bags.

Additionally, J. McLaughlin, Island Passage, and Lillies & Lace hosted in-store donation drives in which customers received generous discounts to their stores in exchange for Good Shepherd donations. Lumina merchants were impressed by the generosity of their customers, who provided more donations at the one-day event than Good Shepherd typically receives in a two-week collection drive.

From shopping to dining to services, the locally-owned businesses at Lumina Station offer everything you need in one convenient location. Browse the numerous specialty boutiques, pamper yourself at the day spa, work out in a fitness class, and enjoy a fantastic meal in one of the restaurants, all without ever getting into your car.

1900 Eastwood Rd, Wilmington, NC 28403, 910-256-0900, luminastation.com