A Fresh Start
07 Sep 2019
Big Sky Design Creates a New Look in Landfall
By CHRISTINE HENNESSEY Photos by G. FRANK HART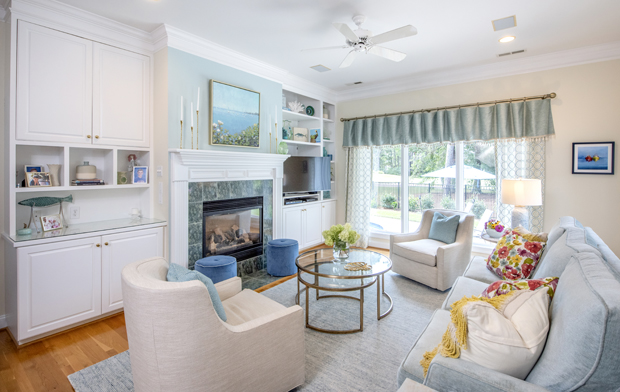 When Lou Brooke and Rob Goldstone dreamt about their retirement, they always pictured themselves on the West coast, in a place like Laguna Beach or Newport Beach. Then reality struck.
"We were getting disgruntled with life in the Bay Area, the high cost of living, the traffic," Lou says. "I always said I'd love to see North Carolina, but we'd only ever driven through it. I kept hearing about what a wonderful place it is, full of great people. I kept nagging Rob to go on a vacation, and we finally did."
The couple settled on a road trip, driving through places they'd spotlighted on a map and avoiding bigger cities for smaller, more charming communities. "When we got to Wilmington, we went downtown, had a few glasses of wine, and met a local professor and his wife who were new to the city," Lou says. "We had a ball!" They were supposed to head to Raleigh that night, but opted to stay in the Port City instead.
The more time they spent in Wilmington, the more they found themselves drawn to its energy, architecture, and historic buildings. They also appreciated North Carolina's diverse landscape, especially after driving through so much of it. Between the mountains, the lakes, the beach, and the Research Triangle, they couple was smitten. It wasn't long before they decided to leave California and make Wilmington their permanent home.
A New Beginning
The official move happened a few months later. Lou, a recently retired certified hand therapist at Stanford Hospital, and Rob, who'd been in the banking business, purchased a home in Landfall. "We didn't bring a lot of furniture with us," he says. "Not only that, but we bought a much bigger house than we'd had in California. As soon as we got here, we needed to buy furniture."
Because they were replacing almost everything, they decided to enlist the help of an interior design firm. After interviewing a few options, the couple chose Big Sky Design. The firm came highly recommended from some friends, but Rob in particular had another reason for choosing them.
"They had an opening to take us to the national furniture market in High Point," he says. "My dad was in the furniture business and would go to High Point twice a year, so the opportunity to go there with Big Sky and select our furniture in person was a big plus."
Lou was also excited about the market, but she was also eager to hear the perspectives of design experts who could help them zero in on the perfect look and style. "We had different opinions about what we liked," she says, "and Big Sky helped us find that middle ground."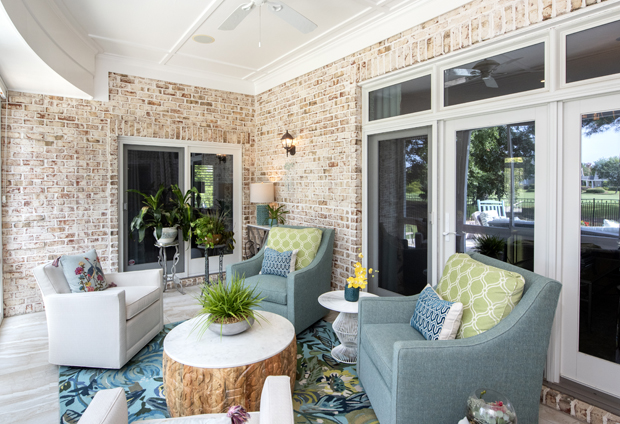 Big Sky, Big Dreams
Big Sky Design has been in the interior design business for 23 years. Led by owner Jennifer Kraner, they've put their creative stamp on a range of local spaces, from commercial interiors, such as schools, clubhouses, hotels, and offices, to residential homes.
When clients come to Big Sky, they often have an idea of what they want, but need help defining, refining, and bringing that vision to life. That's why the Big Sky Design team is so valuable—they're passionate experts in their field who thrive on bringing their clients on a true design journey.
"What we bring to the design is a very creative vision that we translate into a design concept board. This allows the client to see how the colors, furnishings, decorative lighting, and all the other elements come together," Jennifer says. This experience provides a focused vision and a specific concept that the whole team—designers and clients—can use as a road map that will take them from idea to reality.
When starting on a new space, the Big Sky team takes the lead throughout the process, working with the homeowners to guide them to the perfect expression of themselves and their lifestyle. "It means getting to know people personally," says Bethany McLaughlin, an interior designer at the firm who worked alongside Jennifer on Lou and Rob's Landfall home. "Knowing what they like and where they want to take their home is important to Big Sky. We want to elevate the design and bring our own ideas in, but also make it comfortable for them."
One way they accomplish this is through the Big Sky Shop & Studio. "We host events that help people understand the resources that are available," Jennifer says. "As designers, we have many trade resources at hand. So our idea for the Big Sky Shop & Studio is to open our doors and invite people in to look at wallpaper or get ideas. We also offer special events that showcase these trade resources."
For example, they're hosting an event this fall called "Dining In Style," which will feature six uniquely themed tablescapes to help inspire ideas for the holidays. These events have been a great opportunity for their clients, and they're looking forward to hosting and welcoming more people to their upcoming events.
Achieving Coastal Elegance
When it was time to begin designing their new space, Lou was ready for something entirely different, inspired in part by their new city. "Rob calls it 'coastal elegance,'" she says. "Not beachy, per se, but a little more sophisticated."
Back in California, they'd been using older, dated furniture, things they'd had since raising their children, and they were looking forward to trying something totally new. It was an impulse Big Sky Design understood.
"When you're retiring and moving to Wilmington, you're ready for a new chapter," Jennifer says. "They were thrilled to be in Landfall and wanted to embrace that Wilmington lifestyle."
Lou kicked things off by looking for inspiration on Pinterest and forwarding her favorite ideas to the Big Sky team. Jennifer and Bethany also came to the house and interviewed the couple to get a deeper understanding of what they were looking for.
Lou and Rob may have been new to interior design, but they caught on quickly. The furniture market especially was a great learning experience. "We accompanied Jennifer and a few other people to THE High Point Market and spent two or three days there," Rob says. "We went to stores and galleries all day long and looked at furniture and sofas and chairs and carpets and picked colors. We were able to see things in person, which is easier than seeing it in a magazine or online."
"Going to the High Point Market is something we love to do if the client is interested," Jennifer says. "By the time we go there, we've already made 90% of our decisions. It's really a great opportunity for our clients to see and experience the furniture we'd chosen in person."
Speaking of decisions, the couple was surprised at how many were involved in the process. From interior colors to subtle patterns to fabric weight to the design on the back of each chair—at times, it felt a bit overwhelming. Luckily, the couple had Jennifer and Bethany to lead them. "It was easy for us to make decisions, and that's largely because they did such a good job of getting close to what we wanted," Rob says. "It wasn't trial and error, it was this or that." If they liked this better than that, the decision was made.
Picture Perfect
As the couple's home began to take shape, a beautiful vision emerged. "We were definitely the arbiters of design and really pushed them forward into a new direction," Jennifer says. "But people always bring their own influences, and that makes the design more interesting."
The color scheme throughout the house features beautiful blues and greens, but also mixes in some coral and other colorful aspects, striking the balance of "coastal elegance" that was so important to the couple. The rich interior palate of livable neutrals and classic furnishings is upbeat, yet calming.
"I love the living room," Lou says. "Jennifer knew I wanted a Chesterfield sofa. I was looking at pretty shocking colors, like deep purple, teal. We ended up with a royal blue, and it's perfect. I don't even want to sit on it, I just like looking at it!"
Rob's favorite piece of furniture is the sofa in the family room, which they found at the High Point Market. "The seats at both ends recline," he says. "It's elegant yet still comfortable."
One of the few pieces of furniture the couple brought to Wilmington was a dining room table that had been in the family for years. It was a more traditional piece, and figuring out a way to incorporate it into the design while still achieving the sophisticated coastal look they wanted was a challenge. "Our goal was to update some of those more traditional pieces by pulling in something a bit more modern and contemporary," Bethany says.
At one point, Lou visited the Big Sky Design Shop & Studio to attend an event that showcased mixed metals and saw a sample of Philip Jefferies wallpaper with a metallic overprint, and it was love at first sight. It became a focal point of their dining room and was a perfect way to set off their antique table.
By the time the project was finished, both Big Sky Design and Lou and Rob felt that they'd accomplished their goals—a beautiful home, but more importantly, a happy couple.
"We have a great team of designers that love working together," Jennifer says. "Our designs are really personalized to our clients, which makes us so happy in the end, that we can help people in that way."
As for Lou and Rob, their new home, new city, and fresh start were all made even sweeter thanks to Big Sky Design. "They figured out what we wanted and made it happen," Lou says. "They absolutely hit the nail on the head."